Witches & Werewolves
Kevin Kindle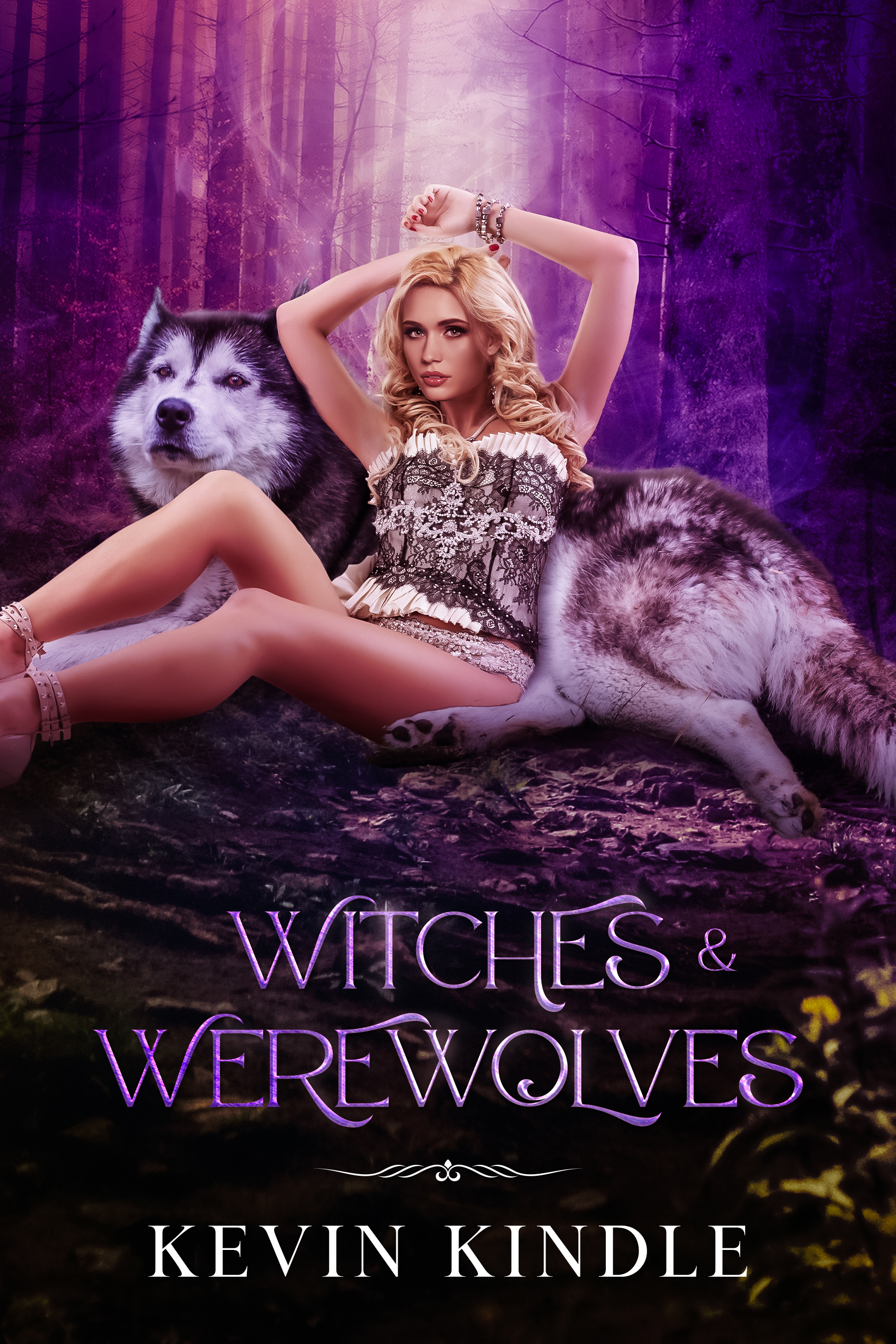 WITCHES AND WEREWOLVES
Kevin Kindle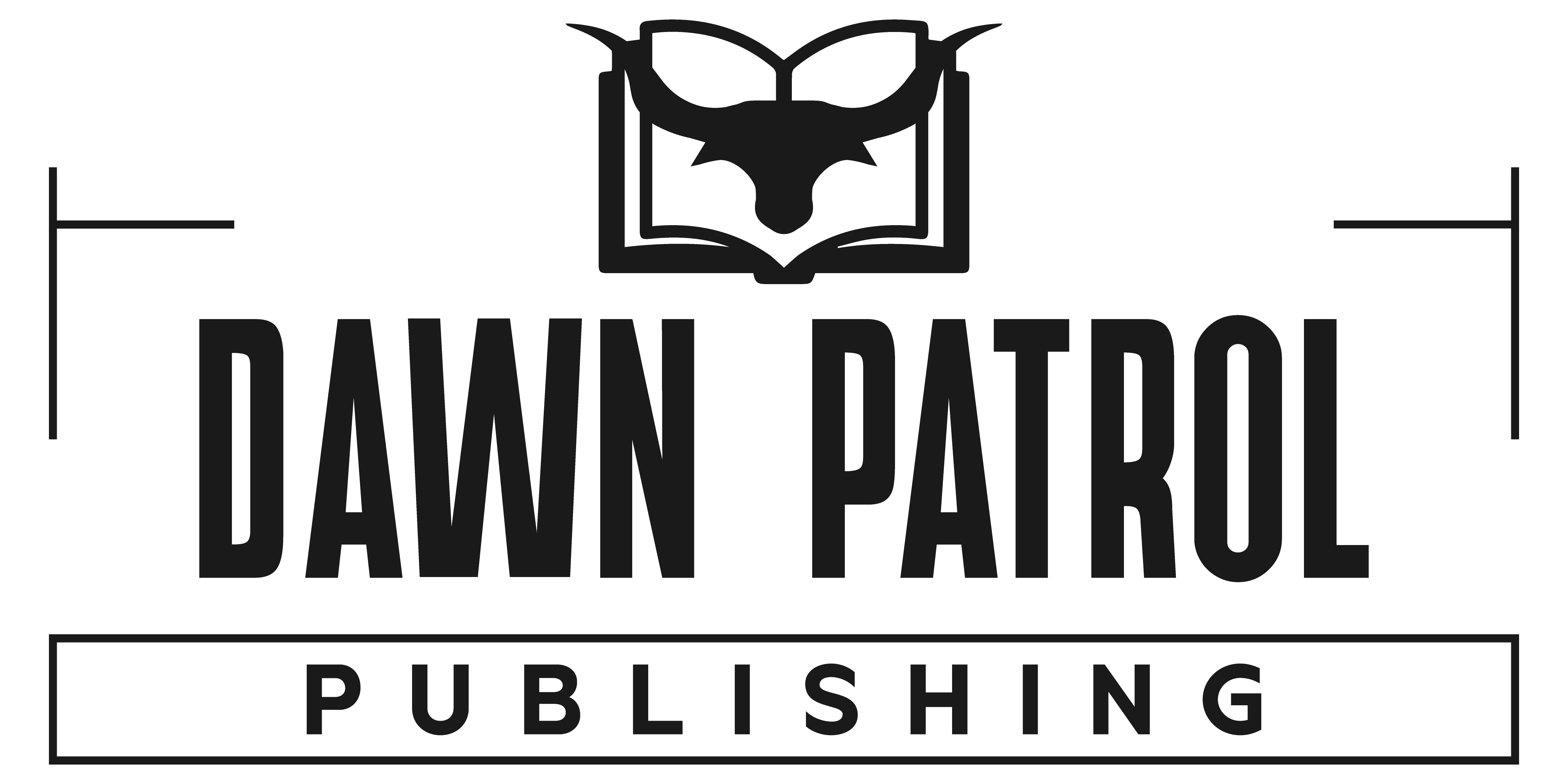 Copyright ©2022 Dawn Patrol Publishing
All rights reserved. No part of this publication may be reproduced or transmitted in any form or by any means, electronic or mechanical, including photocopy, recording, or any information storage and retrieval system, without permission in writing from the publisher. Requests for permission to make copies of any part of the work should be submitted via e-mail to info@dawnpatrol.pub.
This is a work of fiction. Names, characters, businesses, places, events, locales, and incidents are either the products of the author's imagination or used in a fictitious manner. Any resemblance to actual persons, living or dead, is purely coincidental.
This book is intended as adult entertainment. It contains material of an adult, explicit, sexual nature. The author does not necessarily condone or endorse any of the activities described.
Cover Design by GetCovers.com
Original Publication: Feb 2, 2022
Latest Revision: Jun 24, 2023
ISBN: 978-1-7770471-4-6
53,529 words.
Good Times
Ahh September, summer holidays are over, students go back to school and everyone else settles back into their regular work routines.
This was an unfamiliar experience for Jake.
After graduating high school in June, he spent the summer ramping up the odd jobs business he and his best friend, Bruce, had started in grade 7.
Though they lived in a very affluent community, Jake's parents did not spoil or coddle him in his teen years, they merely mentored him. If he wanted something, he had to work for it.
It started off with the boys mowing lawns and shovelling snow up and down the street. Then, once he got his driver's license, his dad used his connections to help Jake buy his first truck.
His dad worked for a large corporation and they were always auctioning off older vehicles, but staff always had the chance to buy them before they went to auction. The trucks may have been older, but the price was right and they were all 4-wheel drive.
The truck allowed Jake and Bruce to service the whole neighbourhood. Then the next summer, Jake's dad used his staff status to help Jake buy a second truck, which allowed more of Jake's friends to work for him and they added garbage removal to their services. They added a third truck after graduation, and then a fourth truck in August.
Besides himself, his company now had 6 full-time employees and a handful of part-timers—mostly friends from high school. His mom worked part time for the company as the accountant, and the software they used handled the scheduling, invoicing and even the VoIP phone system. It was a pretty efficient company, and the plan was to expand the commercial business. He had a few small business contracts, but they were strictly landscaping contracts and sidewalk shovelling, no large-scale parking lot snow removal—yet.
Each truck had 2 people, and they kept them booked solid. 2 trucks for garbage hauling, 1 truck with a covered trailer with all the snow/lawn equipment and the remaining truck was his for everything else and a spare for when one of the other trucks was in for repairs. The plan was to venture into the more lucrative commercial snow clearing contracts this winter. They just needed to put salt/sand spreaders in the back and snow blades or blowers on the front.
The software he used made scheduling and billing easy. His mom, the accountant, took care of the payroll, taxes and also helped with dispatching. Since the trucks and phones were all tied to the software, anyone could see where everyone in the company was at any moment. Plus, having the VoIP phone system managed by the software saved all the photos, videos and emails out in the cloud. It was a beautifully efficient and redundant system, which had a messaging app, but could also redirect calls as required, from a single phone number. Jake just did all the scheduling, business development and also helped whenever required.
The neighbourhood was conducive to their business success, being one of the more affluent communities that bordered the river valley. All the houses along the ridge had large yards and driveways—they had money—and were more than happy to support the local teen. They were along the south side of Fish Creek Provincial Park, one of the largest urban parks in North America, bordered on 3 sides by the city of Calgary and on the west side by the Tsuu T'ina Nation. Then it met up with the Bow River on the east end, which snaked through the entire city, so although the park stretched 19 kilometres, it connected to natural areas on both ends that just weren't part of the park. The park comprised hundreds of kilometres of pathways and various amenities, but most of the park was still in a natural forested state.
His parents' house overlooked the park from the low ridge. Like most houses along the ridge, the basements had been developed into separate residences and almost all had full-width balconies, which made for covered patios for the lower residence.
So, despite living under the same roof as his parents, he had his own place. This practice was actually quite common along the ridge. As kids graduated high school, they could have their own place with separate entrance yet still be close to home. Then, when they did eventually move away, the parents could rent out the basement.
Moving out of the basement wasn't a priority for Jake, but the way his business was growing, he hoped he could afford his own place by next winter, but it had to have a garage, as that would be the maintenance shop. Although he was also entertaining the idea of just leasing an actual shop.
Saturday was usually the busiest day of the week, but with it being the first weekend of September, it was even busier than normal. Everyone finally realizing all the tasks they kept putting off during the summer were still outstanding and getting them done now that work and school schedules were returning to normal.
This meant most of the business was garbage removal and he had all 4 trucks doing that today.
To speed up the garbage removal process, Jake had a deal with a nearby mechanical shop and, for a small fee, they allowed them to park a large commercial dumpster at the edge of their lot. This saved a ton of time for garbage loads, as each dumpster held the equivalent of about 16 truck loads and the trucks didn't have to drive to the city landfill or wait in line. They normally emptied the bin twice per week, but in anticipation of this weekend, they had actually ordered a second bin.
Bruce didn't live right on the ridge, but was only one street over. Though they started the business together, Bruce never wanted the leadership or management role. He hated doing business development, administration and sales. So he would step up and take control if Jake was sick or gone, but solely to manage crews. He was happy to just be an employee.
Fortunately, since the company was expanding so fast, new customers were calling them and they weren't having to go out and drum up new business. Although Jake did meet with the new customers to write up the contracts.
All the full-time employees in the company were friends from school. Now that they had graduated, two of the full-time guys switched back to part-time so they could go to post-secondary schools. So Jake just partnered them together and scheduled garbage hauling jobs for after their classes.
***
To celebrate the end of another busy week, it was almost a ritual to visit the neighbourhood pub and enjoy a beer and a steak sandwich. Usually most of the crew showed up to steak sandwich Saturday, as they called it, but not always. People arrived straight from their last tasks for the day and they all gathered at their usual table. It was just nice to relax with friends.
After the meal though, Jake, Bruce and Mario were going to a nightclub because Mario had recently met this girl, Kate, from across the park and she had planned to go out with a couple of friends on Saturday night.
So Jake and Bruce were going as Mario's wingmen. They were all single with fit, athletic type bodies. Jake was the youngest at 18, but he was also the tallest at 6-foot-2, with dark brown hair that was buzzed short, brown eyes and tanned skin.
Bruce was heavier set, but still in great shape. He was roughly 5-foot-9, with red hair buzzed short. He was the oldest at almost 20 since he had to repeat a year in elementary school—it was that repeat year when Jake and he became best friends.
Mario was the stereo-typical tall, dark and handsome. He was 19, an even 6-foot, with black hair, brown eyes and dark skin, partially tanned from working outside all the time, but also from his Mediterranean ancestry. He was always the ladies' man and was rarely ever single throughout high school or since graduation. Mario had moved to the community in grade 10, so while he didn't have the history Jake and Bruce did, they considered him a close friend. The three amigos, as Jake's dad always called them.
He was also the main reason Jake and Bruce ever met women. For the last few years, Jake was always working when he wasn't in school and Bruce was usually helping him, plus Bruce was quite shy, which is likely why he didn't enjoy doing sales. It was usually friends of Mario's latest squeeze that Jake and Bruce hooked up with.
They left the pub after their meals, and went home to shower with plans to meet at Jake's at 9PM, since everyone was within walking distance. They would then call for a ride to the bar, so they could all enjoy themselves and no one would drive drunk.
Around 8:45, the two friends arrived at Jake's place. Jake had already ordered a lift for 9, so they had a few minutes to talk. Although Mario had already been texting Kate.
As the girls arrived at the bar, she video called him and told him where they were going to be. Her friends leaned in to see who she was talking to and Mario then panned to show Jake and Bruce.
The girls were definitely attractive—maybe the change of scene wouldn't be so bad tonight?
As their ride arrived, they disconnected the call, promising to see them soon.
Minutes later, they were arriving at the bar and Mario texted Kate to say they had arrived.
Kate actually came and met them at the door and led them to their table at the back. It was slightly quieter at the back, but Jake still couldn't figure out why people go to nightclubs. They're just too loud and all you do is yell at the person you are trying to talk to.
Fortunately, the DJ took a break after the current song ended, allowing everyone to introduce themselves. Kate was a dance instructor and model, which fit Mario's type. He always went for the tall, skinny models. She was 5-foot-8, maybe 100 pounds, with A-cup breasts, brown hair that flowed down over her shoulders and hazel eyes. Jake guessed her measurements to be around 33-23-35.
Jake had always been good at estimating weights and measures, which was helpful when trying to price the size of a driveway or lawn for service and for estimating the size of a garbage load.
Sofia was a busty Hispanic beauty. Shoulder-length black hair and brown eyes. She was 19, 5-foot-5 and around 160 pounds. She was exactly the type that Bruce preferred, since he also had a few extra pounds. Jake guessed her measurements to be 38F-24-35. She was currently studying veterinary medicine at the University of Calgary.
Gabbie was the one that caught Jake's eye, though. She was 18, 5-foot-7, around 115 pounds, with green eyes, long blonde hair and incredible natural breasts. Jake guessed her measurements at 34E-22-36. She had plans to become a teacher. Jake normally would've classified her as out of his league, but the smouldering look she gave him caught his attention, and he was hers.
After more than a few drinks, everyone was getting tipsy and flirtatious. The mixture of the two groups had been perfect. Bruce and Sofia seemed to hit it off. Roman and Kate disappeared onto the dance floor frequently, and Jake and Gabbie had already exchanged phone numbers and made plans to go out next week.
As the night progressed, Mario and Kate eventually left, likely going back to his place.
By the time Mario and Kate left, Bruce and Sofia looked like they were going to fuck right there at the club. Gabbie and Jake were also rubbing each other, getting hot and bothered and discussing going back to Jake's place.
Until Gabbie received a text message.
As soon as she saw the message, the flirtatious, sexy look on her face evaporated.
Sofia recognized the look immediately as she asked, "Is it your mom?"
Gabbie nodded as she excused herself. Sofia immediately followed her, but not before at least informing Bruce and Jake about what was going on. "Gabbie's mom can be a real bitch. If she senses Gabbie is about to have a good time, she'll intentionally spoil it."
Since it now looked like Jake would not get lucky like his friends, he said, "It sure looks like Sofia and you are going swimmingly."
"Yeah, she's great. Not sure I'm going to get lucky now, but I hope we can continue to see each other. Gabbie sure is hot, and she's totally digging on you, man! Did you get her number?"
"Yeah, we already exchanged numbers."
"So have Sofia and I, so what's the plan? Mario and Kate already left, and something tells me that Sofia and Gabbie will leave soon after they come back."
As if on queue, Sofia and Gabbie returned. Gabbie didn't look like she had been crying, so maybe not that bad?
It wasn't until Gabbie kissed Jake and said, "I'm so sorry. My mom can be a bit controlling and I have to go. Would you like to go out, just you and me, on Monday night?"
That kiss was proof enough that Bruce and Jake's fun was over for the night. "I would love that!"
"I'll text you on Monday when I get home from class and we can make plans then."
"Sure! That sounds good."
Gabbie gave him a kiss and let her hand roam down to the bulge in his pants. "I really am sorry. I'll see you Monday night and make it up to you."
Sofia more or less repeated the same actions with Bruce and promised to call him and make plans for Monday, as her phone dinged. "Our ride is here."
Both girls gave their beaus another smouldering kiss before leaving.
Jake then pulled out his phone and called for a ride as he and Bruce made their way out into the cool night air to wait for its arrival, which was just a couple of minutes later. Then it was just a few more minutes until they were dropping them both off at Bruce's place.
Jake just walked home from there.
***
Before the Monday morning meeting, Mario asked Bruce and Jake how they fared with Kate's friends on Saturday night. He was completely unaware of the drama that had unfolded with Gabbie's mom. He, of course, had a great weekend with Kate—and told them all about it.
After going over the tasks for the day, the crews went to their trucks and were soon on their way. Unfortunately, Jonathan, the new guy, had called in sick, so Bruce didn't have a partner for the day. With Jake taking Jon's place, it was going to be just like old times for them, which was beneficial since they both had dates tonight and could likely complete their tasks faster than working with others.
Around 3PM, both Sofia and Gabbie started texting the guys. Sofia's text messages were simply arranging the date for tonight, whereas it sounded like Gabbie wanted to play around. She said they would have the place to themselves if he got there by 4PM, because her mom wouldn't be home until 6PM. They could have some fun before going out on their date.
Jake suggested she could come to his place, but she declined, saying her life would be a living hell if she broke her mom's rules.
To make matters worse, Gabbie kept sending him racier and racier texts, which made working difficult, but they got done their list early and had enough time to grab a quick shower before it was time to leave.
Bad Times
Jake arrived at Gabbie's house around 4PM, parking his truck on the street in front of the little patch of lawn that was shared between their house and the neighbours.
They had a nice big house on the ridge that overlooked the park, and right beside their house was the public pathway leading down into the park. The house was multi-level and had a front-attached double garage. It looked like most of the other houses in the neighbourhood, with a single tree on the small front lawn off to the side where the front door was.
The tree had long since died, though, with only a couple of weird ornaments that looked like Halloween decorations hanging from its cold, dead limbs. In contrast, it looked like there were lush, full-grown trees in the backyard, which likely added to the privacy that Gabbie had alluded to.
Before getting out of his truck, he set the AWAY function on the VoIP app, so any business calls would route to his mom and the others. He also put the phone on silent, so there would be no interruptions when he was with Gabbie.
As he started walking up their driveway, a black cat ran out and sat in the middle of the sidewalk off the corner of the garage. It was meowing and hissing like crazy and shaking its head. Jake wondered if it was their cat or just a stray, but it didn't look friendly.
Gabbie opened the front door and said, "Don't mind him. He's a stray that animal control can't seem to catch. Just give him a kick and he'll move."
Jake didn't kick the cat, but he used his foot to shoo the cat away as he started up the stairs toward the front door.
Gabbie was wearing nothing but a bathrobe and a sultry smile as she invited him inside and closed the door behind him.
The place had quite a large entrance, but as you stepped inside, the dining area was off to the left side. It had weird looking tall backed black chairs, and the table looked like some ancient wooden table that was about 3 inches thick and had steel bands with carriage bolts holding it together.
There were some used candles on the table, and on shelves mounted around the room. The paint was dark and looked gloomy. The ambience of the room, along with that weird table, actually reminded Jake of a horror movie where they strapped sacrifices to a table like that with candles all around.
Gabbie jumped up and wrapped her legs around his waist before kissing him with fervour. Her hands were on his face and neck as her crotch was rubbing the bulge that was already present in his pants. Since she wore only a bathrobe, Jake's hands were cupping her naked ass to hold her after she jumped on him.
They broke the kiss and, with a mischievous smile, she whispered, "Follow me." Standing on her own, she grabbed Jake's hand and lead him to the living room at the back of the house.
As they walked through the house, Jake mentally noted that they had a LOT of odd, almost macabre, decorations. His thoughts of the decorations faded quickly as they reached the living room, which had a large sectional sofa with the end of the sofa forming a day bed with no sides. She pushed him back onto the sofa and climbed on top of him. He briefly thought she was moving too fast, but as her bathrobe opened and exposed those large, beautiful, natural breasts, he lost his train of thought as he began suckling those nipples that were right in front of his face.
She extracted his cock from his pants and was rubbing it between their bodies, coating his cock with pussy juice. Her rubbing strokes got longer and longer until his cock almost slipped inside on every stroke.
Looking up to meet her eyes, she had this odd sparkle to her eyes as her lips formed into a wicked—almost evil—grin, and he could have sworn her eyes turned from green to purple for a brief second.
As she climbed off Jake, the bathrobe was wide open, exposing her nude body to his purview. As he stared at her gorgeous body, he didn't see her grab a stick from a nearby vase as she stood there with that evil grin and said, "You were such an easy mark on Saturday night!"
"Wait! Did she just call me a mark?" That thought causing Jake's mind to go through self-preservation scenarios, as he tucked his cock back into his pants, concluding that this was some twisted game that she did to pretend she was a witch.
Witches aren't real—are they?
Step one of his self-preservation plan was video of this twisted game she was playing, as he tapped the back of his phone that started video recording without having to unlock the phone. Then held up the phone and tried to explain. "I don't know what you are up to, but this is just too weird. Gabbie, it was nice to have met you, but I can show myself to the door."
Gabbie shook her head. "You're not going anywhere, you stupid boy!" Again, Jake was sure her eyes just changed from green to purple.
As she said that, she pointed her wand at him. If you could call it a wand—it really just looked like a crooked twig of a tree, except very polished.
Just as he was about to speak, Gabbie waved her wand and said, "Silence!"
"Yeah, as if!" Jake said—but no sound came out.
Fuck! Witches are real! He thought, as flipped the phone to selfie-mode to record that he couldn't talk. With some proof they were up to no-good, he closed that video.
Gabbie's evil grin then turned malevolent. "All men are dogs!"
He started another video, but as he turned it toward the witch, she said something—it wasn't English.
First his clothes disappeared, then his whole body was wracked with excruciating pain, although he still held on to the phone, trying to keep it steady. Fortunately, as his hands started transforming, he stopped the recording before he dropped the phone. His phone backed everything up to a cloud account, so the first video should be uploaded by now and this video would be short, so hopefully it would upload as well.
Through a mirror-backed cabinet, he witnessed his transformation into a dog—nay wolf!
His heart raced as he struggled to stand. It was so much different with four legs and paws, but his body seemed to adjust quickly.
Once he gained his balance, he was in fight mode. He was a wolf now. He could attack the witch, but as he turned to face her, Gabbie kicked him in the head and sent him sprawling.
Laying on the floor, he saw his phone, but he couldn't pick it up with his paws.
She pulled one of the macabre decorations off the wall. It was a morning star, with 2-inch spikes around the end. The witch took it and put her hand through the wrist strap to keep from losing the weapon. Then, with a cackle, she started kicking him. The morning star was probably just in case he tried to attack her, or to finish the job when she had her fun.
Unaccustomed to his new form and not wanting to face that gnarly weapon, it was time for flight, with the only option for escape being the large picture window into the backyard.
With little time to think, he crashed through the window in an explosion of glass shards, falling to the grass below—good thing she hadn't taken him upstairs or to the basement.
Everything seemed to spin as he tried to gain his bearings. He didn't think the glass cut him, but the radical turn of events—going from steamy to sadistic in the blink of an eye—coupled with the changes brought on by his new dog form was overwhelming. The eyesight was the biggest change. He seemed to remember that dogs were near-sighted and colour blind, but he seemed to have the same vision he had as a human. He just had a wider field of view from the new position of his eyes.
As his head cleared, he could hear the witch unlocking the back door of the house. As she opened the door, Jake saw she still had the morning star in their hand. He did not want to get hit with that thing!
The fence around their yard was about 7-foot high, likely to mask whatever weird rituals witches did. There was no way Jake could jump that, but the fence facing the park was only a standard, black chain-link fence, just like every other house along the ridge. Needing to escape, Jake simply jumped over the chain-link fence and tumbled down the steep embankment on the other side.
He should be safe in the river valley. He knew the valley well and there were lots of hiding places among the trees. Plus, his home was just on the other side of the park.
He stuck to the trees and bushes as he made his way across the valley towards his home. There were a few times he had to crouch down and let people pass, fortunately all of them were on bikes or jogging and didn't have dogs. He used this time to get used to some of his newly enhanced senses. His vision, sense of smell and hearing were all improved.
Once he got to his house, he easily jumped his own chain-link fence, but then found he couldn't open the door. He didn't remember locking the door as it was in the backyard and there were motion lights and cameras, so he rarely ever locked it, but he couldn't push the lever handle down.
Rascal, the neighbour's dog, started barking.
"Thanks Rascal, but I don't need the extra attention!" He said, although he realized it came out as a series of growling sounds.
After a minute, Rascal's barks sounded different, almost understandable. Then finally, on one bark, he understood, "Run!"
Just as he understood that bark, he caught a strange smell and saw the two people through the cracks in the fence, likely animal control officers, walking down the public pathway to the park. The one guy could really use a shower!
A surge of adrenalin coursed through his veins as he turned and ran, jumping the fence and running back into the river valley.
As he ran, he remembered finding a small cave when he was 12. If it was still there, and he could remember where it was, it would give him a place to hide and figure out what to do.
Sticking to the trees, avoiding people and their dogs, Jake eventually found the little cave. Well, it wasn't really a cave, more or less a hollowed out area under a large tree. He found it was currently unoccupied—much to his relief.
As he curled up in the hollow, the adrenalin wore off and he drifted off to sleep.
***
Jake awakened to the sound of something approaching the hollow. He hoped it wasn't the animal control officers, or worse—children.
Then he caught a fresh scent. It wasn't the animal control people, this smelled too—wild. It must be an animal.
As the animal approached, Jake readied himself to either evacuate the hollow or attack.
From outside the hollow, he could hear dog sounds that said, "I'm a friend. I mean you no harm." Then a smaller wolf peeked its head inside the hollow and said, "My name is Brent."
Wow, he totally understood what the wolf said! The sounds he made were like a dog, but Jake heard the words in his head. Jake thought before saying, "Hi! My name is Jake."
Brent asked, "Are you an actual wolf, or did you get turned into one?"
The question surprised Jake, but not really after what had just happened. "I just got turned. Did you used to be human too?"
"Yup! I met this hot babe named Gabbie at a bar and we went back to her place. That was when I learned she was a witch and she turned me into a wolf. That was about 6 months ago—I think! I've kind of lost track of time. I just know there was still some snow on the ground."
"Are there others like us?"
"Yes, Nina is a female wolf, but I haven't seen her in a while, so who knows what has happened to her and you'll eventually meet Larry. He's a cat that got turned more than a year ago. He usually hangs around us for protection from the real animals, so if you see him, don't hurt him. If there're others, I've never met them and they've never mentioned them either."
Jake asked, "All lured in by Gabbie and turned?"
"Not all of us. Larry was just being a good samaritan and helping them with groceries. Both Gabbie and her mom, Cassandra, are witches. Larry faced both of them, but the rest of us just faced Gabbie."
That statement made Jake mad. Those witches were doing this for their own enjoyment. "Any ideas on how to change us back? I don't want to be a dog—err, wolf."
"Actually, you're a werewolf, well—reverse werewolf. You'll turn human on the full moon and then back into a wolf in the morning."
"So, not permanently a wolf. That's at least something to work with, but how do we break this curse? Confront them on the full moon and demand they change us back?"
"Larry can probably tell it better since it was before I got turned, but there was a guy named Dean that tried to do just that. The cops came and took him away. Not sure what happened at sunrise if he was still in their custody, but no one has seen or heard from him since. They probably have him locked up in some secret facility and experimenting on him."
That was a preview of Witches & Werewolves. To read the rest purchase the book.