Power Tool ~ Revised 2021 ~
Ernest Bywater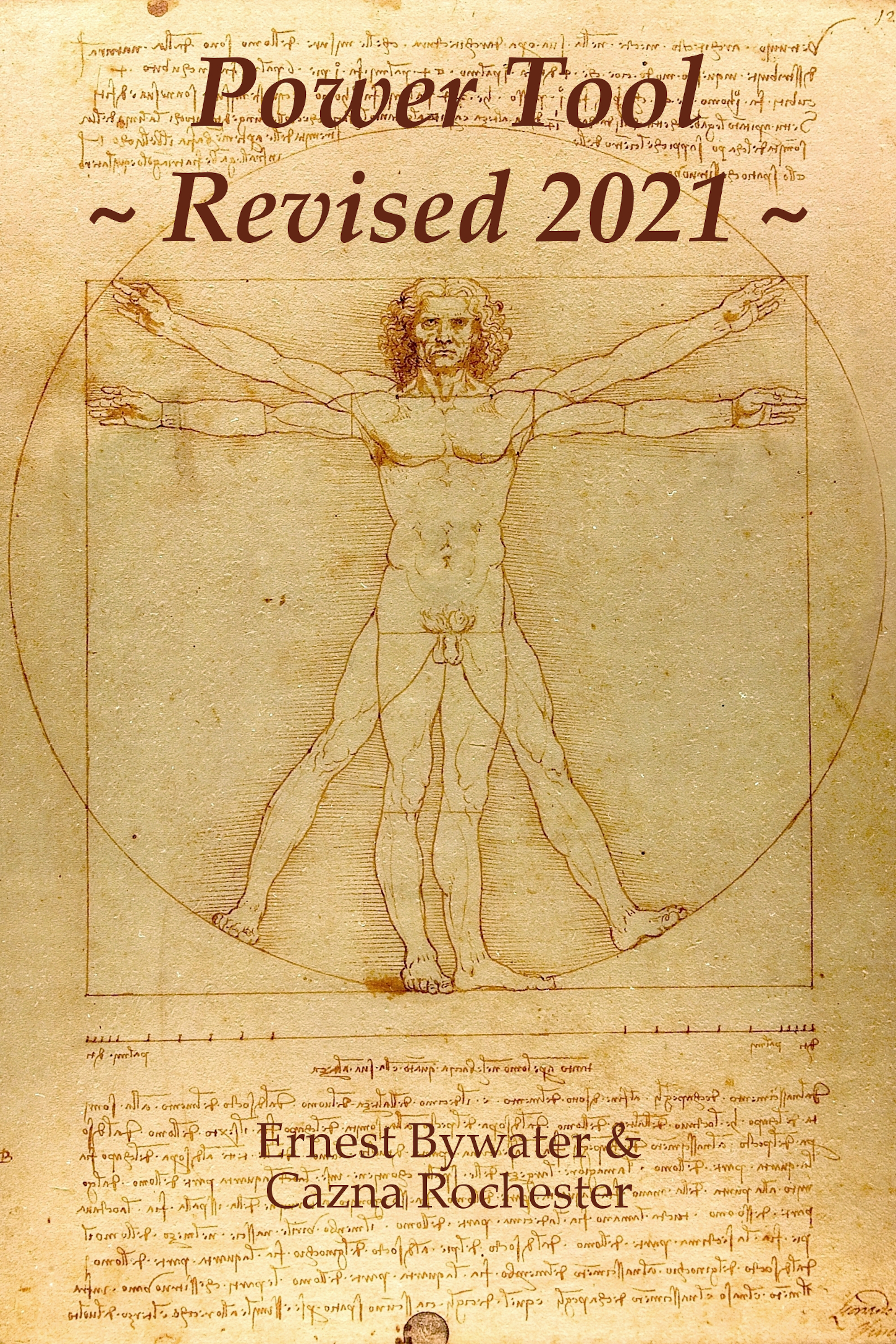 Power Tool
~ Revised 2021 ~
All rights reservedand copyright © 2006 & 2021
This is a work of fiction. All of the characters and events portrayed in this book are fictional, and any resemblance to real people or incidents is purely coincidental. All rights are reserved by the author, including the right to reproduce this book or portions thereof in any form.
Product names, brands, and other trademarks referred to within this book are the property of their respective trademark holders. Unless otherwise specified there is no association between the author and any trademark holder, nor are any expressed or implied. Nor does it express any endorsement by them, or of them. Use of a term in this book should not be regarded as affecting the validity of any trademark, service mark, or registered trademark.
This story was originally written by Cazna Rochester in 2006 from an idea by Ernest Bywater with some later revisions. In 2012 Cazna asked Ernest to revise and edit the story as he transferred the copyright to him.
Cover Art
The image used is Vitruve by Leonardo Da Vinci, this image was created by Luc Viatour of www.Lucnix.be, and is in the public domain. The trimming, manipulation, and adding of text is by Ernest Bywater. All rights to the cover image are reserved by the copyright owners.
__________________________________
25 September 2021 version
Published by Ernest Bywater
__________________________________
Special Edition with revisions to meet changed Australian laws so I can email it to editors and to post it on the Internet.
__________________________________
The titles in use are a Week, a Day Chapter, a Sub-chapter, and a section.
__________________________________
Images
The First Level
The Second Level
The Renovated First Level
The Renovated Second Level
The Renovated Third Level
All images are also available in high resolution at:
https://www.dropbox.com/sh/ebk8ve052m0c1rs/AACohN7e_x8OuRFrn0EbQ2L6a?dl=0
__________________________________
Note: This story was originally written in an A5 book format then it was reformatted for a 6 x 9 inch book. This caused a few odd widows and orphans in the print edition which I worked on to minimise. At the same time the story was reviewed to have some word choice and sentence structure changes made to provide a smoother read and a clearer understanding of the story in some places due to more space available on the pages for extra words.
Ernest Bywater
October 2018
__________________________________
Week 01
Background
John Smith is a tall blond man of average build with fair looks who lives a very quiet life. It's like he's hiding from the world, which he is. Despite this lifestyle he's well known and liked in his local community. His only family is his niece, Brooke. His older brother married a much younger girl while in high school, she was pregnant at the time. John was nine and his brother was eighteen when Brooke was born. She was nearly eight when an explosion and fire destroyed the home of John's parents, killing her parents and grandparents. Both John and Brooke were injured too. Brooke needed blood transfusions to survive. She's type A, while both of her parents were type O. It's clear John's brother isn't Brooke's biological father and she's no blood kin to him. However, John takes on responsibility for the young girl because he's the only living relative to either parent and they have a strong emotional link. The two have lived together since the explosion and they're very close. John has been living a life centred around her care and welfare since she was released from the hospital after the fire. He's very devoted to her, and she to him. John is determined she won't suffer due to those events and he has surrounded her with all of his love. They were very close friends before the fire and they've grown much closer since then. He thinks of her as his 'little girl.' Brooke is no longer a little girl, but he doesn't know that - yet. She's short for her age and a 'late bloomer.' A slim brunette with an athletic but petite build who looks to be younger than she is due to her size and build, but she'll soon be eighteen years old. John went to work as a security guard at Preston Industries when he took over Brooke's care after the death of their families.
Several years later John is working night shift when he suffers serious injuries as a wall falls on him when part of the facility explodes and is destroyed in a fire. In order to save his life and give him some sort of quality of life Dr Elizabeth 'Liz' Preston, the majority share owner and Chief Executive Officer of Preston Industries, uses John as the humanoid element in her Powerman Project. Without this help he's a basket case as John has no limbs and is on permanent life support. His destroyed body is replaced with an integrated mechanical one. Surviving core elements of his biological being are retained inside the unit, thus he becomes a cyborg. This is possible because his brain, spinal cord, and essential organs are intact. They're safe inside the Kevlar and composite torso with his nervous system linked to the computer and mechanical components. Full sensitivity nerve receptors are placed in very limited locations to save on weight, control circuits, and costs. Much of his arms, legs, and body have only one tenth of the overall sensory capability of normal human limbs to keep the weight and control systems within manageable limits of the software. Thus many of the control and feedback parts of his biological nervous system used for surface sensitivity are redirected for use in the control of the many other mechanisms inside the mechanical body. The artificial outer covering looks, feels, and reacts like normal skin. Full sensory capability is extended to areas where Liz feels they're needed: the hands, the face, the feet, the neck, and the groin. John's body is a lot stronger and more durable than his original was due to it being made of carbon fibre and Kevlar. His sight, hearing, strength, speed, and endurance are mechanically augmented. He has built-in tools that are activated by verbal or mental commands, and most of them use the command prefix of 'Pman.' To ensure he gets the command right he's trained to vocalise it. The system is tuned to respond to both his and Liz's voices. One good side effect is he'll never again be hurt by something being over hot or over cold as his body will adjust to the environment as well as all he touches or consumes. He now has microscopic, telescopic, infra-red, and ultra-violet vision. He can hear the full audio spectrum, and he can also imitate any voice range. The eye, ear, and voice enhancements use thoughts to activate them without the formal command formats of most of the other components. He no longer needs sleep to rest his physical body but he does still needs to rest his mind from time to time, so a few hours of sleep each night is best for his long term welfare.
The firm's injury insurance company is unaware of the top secret project and they don't expect him to live, or be a productive person again if he does live. John is paid one million six hundred thousand dollars in compensation based on the company injury compensation schedule in the policy. It's a one time payment for all of his injuries and medical costs. As Preston Industries pays for all of the medical costs while he's in hospital due to it being part of the Powerman Project John gets to keep all of the insurance payout money.
John spends many months in hospital recovering from the trauma. During this time he's often visited by Brooke and they talk of many things. They even plan some changes to their house. Thus Brooke has builders visit John in the hospital so they can get it started as it will help to distract him from his other concerns.
The most significant change is the building of an enclosed area of twenty metres by twenty-five metres with a twenty metres by ten metres swimming pool on one side and a grassed sunning area beside it as well as a section between the pool and the main house. Its amenities include four toilets and an open shower rinsing area abutting the house as part of it. All of this is inside a roofed structure built against the back of the house. The structure has three metre high brick walls topped with two metres of tinted Plexiglass plus a tinted Plexiglass roof. The structure is designed and built as energy efficient as possible with minimal heat loss through double layered Plexiglass sections and windows. It's designed to stay at twenty-four degrees Celsius with automatic heating and cooling controls to maintain the temperature. The walls have murals of hedges painted on them to make it look like an outside area. The work is very simple, thus it's completed well before John is ready to be released from the hospital. The water is also kept at a comfortable temperature.
During his time in hospital John is worried about Brooke's welfare so he asks an old friend, Police Sergeant Steve Katz, to keep on eye on her and their house. John is aware of a great mental turmoil going on inside of him because of what has happened, and his biggest concern is hurting Brooke by leaving her alone with no family. Adding to this is his thoughts that the destruction of the building at Preston Industries is likely to have been aimed at killing him. Thus, he realises he needs to totally re-evaluate his life and how he lives, but he can't concentrate too well on these thoughts due to his current emotional mess about Brooke and life in general.
__________________________________
The New House Plans
Both Brooke and John are pleased with the planned renovations when they're given to the builder to do the work. It's all new construction being attached to a sound existing building without making any structural changes to the existing building so the work is simple and done very fast. Brooke likes the look of the finished work.
Renovated House First Level
Renovated House Second Level
__________________________________
All images are also available in high resolution at:
https://www.dropbox.com/sh/ebk8ve052m0c1rs/AACohN7e_x8OuRFrn0EbQ2L6a?dl=0
__________________________________
Testing Times
When John is recovered from the physical trauma Liz gives him an extensive set of training and testing procedures to be sure he knows how to use the built in mechanical tools of his new body in a safe way. This is a complex process as he's got a prototype Search and Rescue (SAR) body. Most of the tests are done in the main lab with the specialists on hand. He handles normal movement well, but he has trouble mastering the use of some of the special equipment. He'll think of using one item while saying another. This is due to him changing his mind about which to use, and this causes some interesting results. For example: to check something in a pile of material he starts to vocalise the command to use the infra-red sensor then he thinks the ultra-sound sensor may be better to use, and this confusion activates the remote pulse sensor. It takes some weeks, but one Thursday afternoon he's passed as having an acceptable level of control of his body and the SAR sensors in it. From now on he'll always have the right tool for the job, whatever the job is; except for a gun.
The next morning Liz and her senior assistant, Mary Jones, take John to their special lab to verify the working and control of some special equipment that uses a different set of control commands. When she leads Mary and John into the smaller, warmer, and more comfortable lab that looks more like an executive office than a lab Liz double locks the door behind her so no one can disturb them.
Liz says, "John, please don't get embarrassed, but we need to do some special tests. I've been putting them off until you had full control of the rest of your equipment. In the accident your penis was severed and badly damaged but your testicles are perfectly OK. We've retained them within your new body while we installed a very realistic mechanical penis and testicles that look and feel real." He looks at her with surprise, and is embarrassed by the talk. "Your genitals have full sensory capability and are as sensitive as your original equipment. However, you've a much higher level of control in reaching an erection and in maintaining it for as long as you wish. Ejaculation is at your command and your sperm is very potent so you can get your partner pregnant, as we tested that before including them. To allow you to satisfy a wide range of partners your penis has four lengths and three width sizes. Also, being erect or flaccid is at your discretion, thus you may ejaculate and keep your erection."
On seeing where Liz is heading is embarrassing John, and he isn't sure he wants to get this personal with his boss, especially at such short notice. Liz says, "You control your penis in the same way as your other mechanicals by verbal or mental orders. The command is 'dickman' not 'Pman,' followed by an instruction word. They're 'floppy' to go flaccid for a limp one hundred and fifty millimetre long by thirty millimetre wide dick; 'stiffy' for an erection, with numbers and letters for size and width. If you leave out the number or the letter, 'stiffy' will give you the default setting of a 'one T' penis. The length setting are 'one' for two hundred millimetres, 'two' is two hundred and fifty millimetres, 'three' for three hundred millimetres, and 'four' is four hundred millimetres. The width diameters are 'T' for thin at forty millimetres, 'M' for medium of sixty millimetres, and 'W' for wide of eighty millimetres. The command to ejaculate is 'coom.' Each ejaculation is a set amount, so it takes over a dozen ejaculations to empty your storage. We need to test the settings and sensors work. Mary and I'll assist you in this. Please get undressed. You may as well relax and enjoy this session as you can't leave without me opening the door and your penis will also respond to my voice."
John is embarrassed as he hums and haws while backing up. Mary slides up behind him to reach round and undo his shirt buttons. While he's distracted Liz steps up and undoes his trousers. She's quick to slide his trousers and shorts down. They soon have all of his clothes off of him. Then women start to undress. They're both lovely women and John is no longer against the tests. He's always liked them as people and he always found them physically attractive, but he can now see all of their physical charms as they remove their clothes and he really likes what he sees. Liz is a tall willowy woman of athletic build with firm well shaped breasts of more than a handful each while Mary is shorter and Junoesque with larger breasts. Both are very pretty. Looking at all this beautiful flesh has only raised a smile on his face. This also gets him thinking on his life etc.
Mary slips a hand down his chest and starts playing with his penis. It feels wonderful, but no erection. Liz says with a big grin, "Dickman stiffy." He instantly has an erect penis 200 mm long by 40 mm wide and the sensitivity doubles. Dropping to her knees Mary examines his dick, leans forward, kisses it, and takes it in her mouth. It feels marvellous. As Mary lifts her mouth away from his penis Liz says, "Dickman four W." It's clear they've worked out the test schedule in advance. His prick is now 400 mm long by 80 mm thick. Stretching her mouth wide Mary goes back to sucking it. She's so good he moans with pleasure. She tickles his balls, his moans grow louder. Mary releases his penis and Liz orders a 1T, it shrinks. She puts his dick through all of the length and thickness combinations with Mary giving it a good suck between adjustments. After thirty minutes Liz has his penis at the 3M setting as Mary is giving it a good sucking. She has an excellent deep throat technique. Liz drops to her knees and takes over sucking on his penis. Mary stands up, walks over to a couch, and pulls it out into a bed. She lies on the bed with her legs spread wide, so the next test is obvious to all involved.
This situation has reawakened thoughts John had in the hospital. His life is completely changed because of the explosion and fire. His body is different and he's now a public figure in the city due to being front page news for months. He's no longer one of the faceless crowd. He'll have to take a lot more control of his life as he goes back to directing it instead of just living it. Also, he's not happy with Liz having control over his dick as it's just too personal. Time to make a major change to his behaviour again, and one he thinks he's going to like a whole lot more than the last one he made several years ago. Putting his hands on the back of Liz's head John holds it still while he looks down at her as he thinks the command 'coom' to come in her mouth. She keeps sucking as she glares at him and swallows it all. When he finishes ejaculating into her mouth he stands back while saying, "I want your voice activation of these commands removed right now!" Neither woman has seen John in such an authoritative manner before, so they're both very surprised by his 'take command' approach at the moment. He's always been so shy and unassuming, so quiet and obedient, a very retiring type you overlook.
Looking up at him Liz gulp, and says, "Pman, program command, security protocol, root access, authority change, user ID Preston, delete access DM command authority." A short wait, "Dickman one W." His penis doesn't change its size so John smiles at her, and his smile makes her feel happy.
A smiling John walks over to Mary as he waves his dick at her. She says, "I'm a size queen, can you please use a four W and fuck my brains out."
He grins down at her as he changes to a 4W. John kneels on the couch bed to settle himself between her thighs while thinking, 'This looks like being a very nice test.' He places his dick head at her vaginal entrance and lowers himself into her waiting pussy which is very wet. He slides in until his groin rubs against hers. He pulls out and slides back in. He increases the pace with each thrust until he's pounding her pussy at top speed. She's moaning and coming on every entry. At first she heaves her hips up at him as he thrusts forward. Many minutes later she's very tired and she lies there unmoving with a huge smile on her face as he thrusts in and out. She's having an orgasm each time he slides in to her. Deciding it's time to pleasure Liz he thrusts into Mary and holds still. As she has another orgasm he comes in her twice. He holds her tight with his dick deep within her as he fills her with his sperm. Her eyelids flutter as she moans in orgasm. When he finishes flooding her with his sperm he withdraws and stands up. He smiles at her and she smiles back.
Mary says, "Bastard, you weren't supposed to come in me. I've been on antibiotics for the last two weeks and not taking the pill. You were so far up me it's likely you got me pregnant." She's smiling as she loves being fucked hard and fast just like he fucked her. She also loves his current alpha male action and behaviour which she finds is a real turn on for her.
He smiles, "You should have spoken with me about this before organising to mouse trap me into fucking you senseless. I expect you'll be available to me whenever I want to repeat this exercise!"
She grins, "Bloody hell yes! That's the best fucking I've ever had."
He turns to Liz, "Your turn now, Liz. What size and where do you want it, desk or floor?" Shaking her head she backs away. He leaps across the room and grabs Liz by her arms. After lifting her up he holds her to him, so close her breasts are pressing into his chest, a very delightful feeling. Bending his head down he kisses her as he swaps to a 1T. His dick shrinks to half its length and width. John slides a hand down to her arse. Cupping an arse cheek in his hand he slides the other down to cup her other arse cheek before he lifts her off the floor. He maintains the kiss as he walks to the nearest wall. He keeps his mouth on hers as he leans her against the wall while moving his hands to grasp the inside of her thighs. She struggles as he pulls her thighs apart. He keeps up the pressure until her legs are wide apart and in a splits like position. He lifts her whole body to move her vagina up along his dick. With the head of his dick pressing at the entrance to her vagina he lowers her until his dick head is just inside her love tunnel. Her eyes are wide in fright as she struggles hard. She prefers to be in control and his aggressive behaviour is scaring her. It scares her a great deal, but it also excites her much more; and that worries her a great deal more.
Like this he can't lower her any more without increasing the risk of dropping her. He changes to a 2M and his penis enters her further. Her eyes go wider as she realises he's fucking her by adjusting the size. He changes to a 3M, and his penis lengthens inside her vagina to fill it. Realising he's going to fuck her regardless she resigns herself to the situation by relaxing into his embrace and returning the kiss to enjoy herself as she does. He breaks the kiss, smiles at her, and carries her over to the desk. Laying her down on the empty desk he commences to really fuck her brains out. Within a few minutes she's having an orgasm on each thrust. A few minutes later she's laying there unmoving, tired, and well fucked with a huge smile on her face. She's never before had sex this good, and never has she been so overwhelmed with pleasure. Smiling, he holds her tight as he thrusts forward and comes in her twice. Her eyes grow wide as he comes and shoots his sperm into her. He withdraws, "You'll be available when I want you!" It's a statement, not a question.
Although she didn't like it when he took control she finds she liked it more because he did. She nods, "At least up to the last trimester. I was going to give you a condom to wear as I wanted you to come in me, but I'm not protected at the moment, either."
John picks her up and he nods at Mary. She's now able to stand by herself due to a thirty minute rest as he fucked Liz. They go into the en-suite for a group shower. He holds Liz while Mary washes and rinses her. He and Mary have fun washing and rinsing each other. He holds Liz while Mary dries her then they dry each other. Dried, they return to the main room and get dressed. While the ladies sit on the lounge John gets them drinks from the small kitchen hidden in a cupboard. Hot chocolates all round because the ladies need the lift and energy it gives.
As John sits down in a chair after handing out the drinks Mary studies him real close and says, "John, I've always liked you a fair bit, but I wasn't interested as you were such a quiet person and I like my men to be more assertive than you've previously shown. Where the hell did your Commander John attitude come from, today?"
In a concerned tone Liz adds, "Your personnel file psych test shows you as being quiet and easy to command. Nothing about any possibility of giving orders or taking control like you just did. I wanted to help you with the Powerman body but some of the board were concerned. They only agreed because the psych profile said you're very submissive and would be easy to control. They're worried you'd go crazy or something. I can't understand how the psych people could get it so wrong."
John grins, "Those psych tests are easy to fool when you know what they're for and exactly how they work." Both ladies look shocked. "I don't think you were aware of it Liz, but I knew your father well and I spoke with him, at length, before applying to work here. He advised me to rig the psych test as a true evaluation would've caused a lot of trouble. I knew your father through my parents. In the three years prior to their deaths they did a lot of top secret theoretical work for your father. They usually met on weekends when everyone was at the hunting cabin out in the woods having a weekend away. Since I was often with my parents I got to meet him. I wouldn't be surprised to learn some of what they worked on has ended up in this body as they were two of the top theoretical scientists in the country, some would say in the world." Liz is very surprised to hear all of this as it's all news to her. "Your father offered me a good salary to go to MIT and study, provided I signed a ten year contract with Preston. I'd accepted, but the death of my family changed that. Your father offered to employ me in a way that allowed me to look after Brooke. He even had a new job created to allow that. One of the reasons I was the main guard on his lab during the day was because I sat inside with him and we discussed his work. Until the day he died I was his main discussion board. I knew a lot about various aspects of the Powerman Project, but not its current state or the intended final product. Your father was the only person in the company that knew I'm a genius. He got me a copy of the psych test two days beforehand and I worked out how to answer it to give them the profile your father suggested I give them. After mum and dad died he was like a father to me and Brooke. I liked him a lot and I miss him almost as much as my own parents." Both ladies are stunned by this revelation.
Gulping, Liz says, "Well, that explains how you could rig the test results, but not why."
"I suspected the people who killed my parents also wanted to kill me. So I wanted to vanish, and a low profile was the next best thing. Your father helped me develop such a profile and advised me on how to maintain it. I've been living a lie for eight years by living in a way to make people not notice me and to forget me. With my name it was very easy to convince people I wasn't the one who was believed to have been killed with my parents. It's now clear I can no longer do that, so I now have to take charge of my life again and I have to take full control of it. To do that I have to go back to being what I was before my parents' murder and for me to be my real self. You just happened to get caught up in the first instance of it." Liz nods in understanding. While putting down his cup John stands then he heads for the door. Liz stands and goes to unlock the door to let him leave the lab. He's on his way home now he's been released from medical care.
The ladies sit around resting for an hour before making notes in the office's stand alone high security computer files on the 'test' and the results. It's just going on noon, yet they feel like they have done a full day's work already. The test didn't go exactly as planned and they got a few surprises, but they're very happy with the test results and the outcomes. They're happy with the results from both a technical and personal perspective.
__________________________________
Day 01 - Friday
John arrives home for the first time since the explosion eight months ago. He's spent all of the time in hospital or the labs. The house is clean and tidy. He'd expected it to be messy because Brooke is living here on her own. Walking through the house he looks out into the backyard. The pool and enclosure are finished, they're ready for use, and both are very inviting. He thinks, 'They've probably already been used by Brooke.' Sitting down in the lounge room he goes through the mail Brooke hasn't yet taken to him at hospital or the lab. There's nothing of interest except the one about his new credit / debit card awaiting collection at his local bank. It was sent there for safe keeping until he's released from hospital. It's lunchtime and John decides to have something to eat. Liz had explained he needn't eat anything as his body has a power cell and vials of drugs needed for his biological parts. The system can also derive some power, minerals, and vitamins from what he consumes so eating will extend the life of the built-in resources. After checking what food is in the house he heads to the bank for his card and some money. It's only a short walk and it's a nice sunny day which is ideal for taking a walk in the sun.
At the bank he gets his card and withdraws some money. He does some grocery shopping and he walks home carrying the shopping. He smiles as he knows he'll never get tired by walking now. While putting the groceries away he thinks about what to do for Brooke's eighteenth birthday in eight days time. He goes upstairs to lie down and think about the events of the last year. He takes a nap as well as old habits are hard to break and this is an ideal nap time.
A few hours later talking nearby wakes him up. Getting up off his bed he can tell the sounds are from the bedroom window overlooking the back of the house. John's room is upstairs at one end of the house which runs across the front of the large block. His room is the full width of the top floor of the house with the front windows looking down onto the lower roof of the front half of the lounge room, the front garden, and the street. The back window used to look out to the backyard. It now opens into the pool enclosure. He goes to the window and he looks down.
Three nude teenage girls are swimming in the pool and four more are lying on the grass sunbathing. He wonders what's going on until he sees Brooke walking out from the house with a tray of glasses and bottles of drink. She puts the tray down on a poolside table and the girls gather around for drinks. John uses his telescopic ability to focus on the faces of the girls. They're all friends of Brooke he's known for some years. He smiles as he realises they're not little girls any more but are very beautiful young women, including Brooke. He's wonders, 'When did they grow up so much?'
Having a thought he grins, goes downstairs, and through the house. There's plenty of noise from the girls as he walks through the lounge room and into the pool area. The girls are sitting around the poolside tables talking and laughing. No one notices him walking up to them. When two metres away he smiles while saying, "Well, Brooke, I see you've christened the pool." The girls turn toward him when he speaks, then they all scream and dive into the water to hide their nude bodies. Sitting down on a chair at the tables he pours himself a drink, "Suddenly sitting around the pool nude seems to be a problem for you ladies, why?"
Stammering and stuttering an embarrassed Brooke says, "Because you're here now, Uncle John."
He laughs, "Yes, I am. And walking over from the door I've already had a very good look at what all of you have to offer." They calm down as they realise he's not angry with them. Brooke and some of the girls start to smile at his choice of words. "You know I'll get an even better look when you decide you'll have to leave the pool to visit the ladies or get hungry or go home. So you may as well be comfortable, accept I'm going to enjoy viewing your physical charms, and get out of the pool right now instead of later."
One of Brooke's friends, Rachel, sighs and walks up the pool's steps. She strikes a pose at the side of the pool to give John a good view of her body. She walks over to the table and sits down opposite him. She says, "He's right, girls, bite the bullet and come get your drinks. Who knows, we may even be able to talk him into playing games with us." They all think over Rachel's words. One by one they leave the pool and walk to the tables. Mandy, Jessica, Melissa, Nataly, Wendy, and Tina. The girls represent the full range of teenage beauty. Their skin tones go from fair to a milk coffee colour. Short or tall, average build or slight, they're all fit and trim with firm breasts of varying sizes. They're soon sitting around the tables talking, except Brooke as she's still embarrassed and not sure what these changes in her Uncle John's behaviour mean.
John puts his drink down. "Excuse me a moment." He walks over and he squats by the side of the pool where Brooke is holding onto its side. "You'll get out of the pool now, Brooke." She blushes, stammers, and shakes her head. He grabs hold of her wrists and he stands up. He raises his hands above his head, thus lifting Brooke out of the pool until her head is above his. Surprised at this show of strength because he's much stronger than she remembers him being she looks at her friends while he stares at her peach sized breasts. In almost a whisper only she can hear he says, "Very lovely, Brooke." She blushes from head to toe. Putting her down on the side of the pool he places a hand in the small of her back and he pushes her toward the tables. As they near the tables he slides his hand down to give her bottom a squeeze and pat before pushing her toward the last empty chair. He sits down, "Brooke, you look beautiful with that full body blush. Come to think of it, you're all beautiful in your own ways." They smile and blush while being both embarrassed and happy about the compliment as well as the change in his behaviour. They sit and chat for a while. When it starts to get late he asks, "Brooke, when do the girls have to be home?"
Evening
She laughs and says, "Uncle John, have you lost track of the days. Today is Friday and they're staying overnight so we can go to soccer in the morning as a group. Rachel has her licence and is driving us in your mini-bus. They go home Sunday evening. But it's about time we had something for dinner. Can I order pizzas, please?" He nods, and she picks up the cordless phone to place an order for twelve pizzas with several large bottles of drink. They all like cold pizza and you get a ten percent discount for ordering twelve pizzas. The Pizza people promise delivery in twenty-five minutes. John sits there admiring the girls' charms as they chat and the girls grin back at him. When the pizzas arrive he pays for them. Once the door is closed behind the delivery boy the girls come in to help carry the plunder out to the grass. They sit down on the grass to consume pizzas and drinks as they chat.
After eating they lie around talking. One of the girls, Mandy, raises the subject of sex. They get embarrassed by John's presence, but they stay with the topic while some watch him out of the corner of their eyes. He's aware of their interest. Brooke is the youngest of the group and Rachel is the eldest, as she's turned nineteen. The discussion reaches a point about why some of the experienced girls at school say sex hurts and others say it doesn't, that it's great. The girls are used to asking John questions about school work and he always gives them a full answer, often helping them to understand the work. But they have never tried asking about anything personal before. Mandy decides today may be a good day to try because of his more relaxed behaviour She turns to him, "Uncle John, you're older than us, so you must've had experience with this, do you know? Can you tell us why this is so?"
He smiles as he likes this turn in the conversation. "I think I can, only I won't give any practical demonstrations in front of anyone who hasn't yet turned eighteen. Since that only applies to Brooke and she's your hostess you don't get to start an orgy tonight." They all nod, and a few have slight smiles when they realise he hasn't ruled out private activities later. "Who here's a virgin, someone that's never had a real penis inside her vagina?" All but Rachel put up their hands. "Whoever has inserted something like a dildo, vibrator, or hairbrush handle, etcetera inside their vagina is to lower their hands." Two girls blush and lower their hands. He turns to them, "The first time you slipped something into your vagina did you feel a resistance and did it hurt slightly?" They both nod. "That's because you broached your hymens, busted your cherries. Most girls are born with a small flap of skin that partially seals the vagina at the entrance, that's their hymen. When you first have sex this is broached and it can hurt a bit or a lot, depending upon how the broaching is done. This is called 'losing your cherry,' understand?" They all nod. "OK, well some girls are born without a hymen, some break them by accident through sport or exercise, some by self exploration. But most don't broach it until they have sex for the first time. If their first partner is loving and careful it'll hardly be noticed when it goes. Most will experience some small fleeting pain, and some nothing. But if the partner knows little and he rushes things the sudden broaching can be very painful. Also, sex is like any exercise activity. You use muscles and you have to work the muscles in with care until they get used to the activity. Added to this is: the vagina needs to be stretched, and the first few times it has to be done with slow care." He stops for a drink as they nod to show they understand him. "Usually it takes a few times before a young woman can enjoy a casual or quick sexual encounter because it takes her body that long to adjust to the new activity. With a knowing and careful first partner the situation is different while the pain is minimised and the pleasure maximised as he takes his time making it 'just right' for you. The important thing is to make sure the vagina's internal fluids are flowing freely before attempting entry. Few boys know this. Most pain comes because he's in a hurry and the girl is almost dry. No fluids and you have too much friction in a very sensitive area causing lots of pain. Rachel, have you had enough experience to understand all of this?"
She replies, "No, I lost my cherry about two months back and I've not had sex since, because it hurt a lot. But I think I'll be learning the rest of what you said in the very near future." She winks at him and the other girls smile at her intentions. Realising he's likely to have a bedmate tonight John smiles back at her. Brooke watches this interplay and she bites her lip as she realises she would like to spend the night in bed with John doing what Rachel wants to do with him.
He turns to the group, "Until now we've been talking about genital sex where the male places his penis in the female's vagina. But there are other forms of sex. Oral sex is where a male or female uses their mouth to sexually stimulate another person; it's called pussy eating, pie eating, muff diving, head job, blow job, and cock sucking. Digital sex is where someone uses hands or fingers to sexually stimulate another; it's often called feeling someone up, finger fucking, and a hand job." John stops for a drink, and he notices some of the girls' pussies are damp while some are squirming, so it's clear they like the subject. "When someone has a finger working a girl's pussy and a mouth on her clit as their tongue works it to a fare thee well so she's having an orgasm it doesn't matter if the mouth and hand belongs to a male or another female. The same applies to a hand fondling a breast or kissing as the gender of the people doesn't affect the sensory input. When a male's penis is enclosed in a warm wet mouth and a tongue is wrapped around it teasing it the gender of the mouth owner doesn't change the pleasure of the act itself. The difference between giving head and a blow job is simply a case of keeping your mouth on the penis and you keep sucking as you swallow while he ejaculates, that's a blow job. Stop sucking before he comes and it's giving head or cock sucking. For a heterosexual female knowing how to suck cock is very important. After a male ejaculates it normally takes a few hours before he's stiff and ready to have sex again. When you deftly suck his cock you can get it stiff and ready to go much quicker. Also, it'll stay stiff and ready to use much longer the second time around." The girls all stare at him in shocked wonder. He's answered all the questions they wanted answers to but they were too afraid to ask.
Brooke asks, "So, being a lesbian or gay isn't wrong?"
He smiles at her, "There's a lot of difference between enjoying the pleasures offered by a member of the same gender and being a lesbian or gay. Many people are bi-sexual and they enjoy sexual encounters with both men and women as individuals or in groups. It all comes down to respecting your partner or partners and not forcing them into doing something they don't want to do. For example, if Rachel's boyfriend walked in here and asked to suck my cock I'd let him. If he asked me to suck his I'd say no as I don't like doing that. But if Rachel asked me to eat her pussy I'd take her upstairs and you'd soon hear her screams of pleasure as she orgasmed." They all look at Rachel while she sits there smiling and licking her lips. Her pussy is sopping wet at the thought of John eating her. "Being lesbian or gay simply means you don't want to have any sex with members of the other gender. I think that's foolish as we're designed for the maximum sexual pleasure from a member of the other sex. Most people are against homosexual encounters because of early training and cultural conditioning. One thing against homosexual behaviour is it does nothing to propagate the race. It takes heterosexual encounters to breed." John stands up, "Anyway, we better do some more swimming because if we continue this discussion much further I'll have to take Rachel or someone upstairs to fuck their brains out."
Stripping off he lets them all get a good look at his flaccid penis. He goes over to the pool and he dives in. All of the girls follow and get in the pool. They're soon playing a game of water tag; one person is 'it' and they have to tag another while the rest have to keep out of the way of the person who's 'it' without leaving the pool while swimming about as part of the chase. This is a nice fun way to get exercise. Many people take opportunities for private talks during the game.
After an hour they take a break. They stay in the pool as they talk in groups. Mandy and Rachel are in the same group as John. He feels a hand on each thigh and both are moving toward his penis. The girls glare at each other when their hands meet at his dick. He says, "Easy girls, no fighting as there's plenty for all." They both turn to him and smile.
Rachel says, "After all this, how come you haven't got a woody?"
He smiles, "I've better control than most. Get a good hold and feel what I can do." When they both have a hold of his dick he makes it go stiff. Their eyes go wide as they feel it stiffen, they go wider when he changes to a 2M. For a few minutes they enjoy playing with his dick. A couple of the other girls notice the action and he soon has four hands on his dick as they talk. He feels the pressure of a wave front wash over his dick, followed by Brooke rising out of the water in front of him. She'd swum under water and got a good eyeful of his dick.
She looks him in the eye while blushing and saying, "Very lovely and quite impressive, Uncle John."
He smiles at her, "I'm glad you approve. While you're here, have you thought about what sort of party you want for your eighteenth birthday and what sort of presents you want?"
She grins, "For a present I want your dick. For a party, how about a pool orgy with all of my friends? Think you could manage that, Uncle John?" The girls around her are at first shocked, then they all smile.
He returns her grin, "If my memory serves me right your birthday is tomorrow week and next week is the last week of school for two weeks. So let's make it a two week long party? The girls can arrive any time from Friday after school to stay as long as they want. The whole two week break if they want. Only rules being they keep the house tidy and they're available to me for sex when I want them. They can ask me for sex when they want. No jealousy about who I fuck. No one not yet turned eighteen, as I don't want to go to prison. You can sell the idea to the parents as a way to get the girls out of their hair for the holidays while they have the time to themselves. Put it in terms of me allowing you to have a long sleepover because you've been such a good and brave girl while I was in hospital. OK. Oh, we can go shopping Saturday and I'll buy everyone a 'thank you for coming gift.' I think Victoria's Secret would be a suitable shop for that and your birthday present." Brooke has an ear to ear grin, as do the few girls nearby who hear his offer.
While saying, "Oh, yes please, Uncle John," Brooke surges forward to give him a hug and a kiss, so he makes his dick flaccid. The girls holding his dick are surprised as it goes limp and it slips from their hands just before Brooke reaches him. Rachel smiles when she realises if he hadn't made his dick limp Brooke would have had a pussy full of Uncle John dick well before she got her arms around him.
He smiles and winks at Rachel, "I told you I have a higher level of control than most. And it works both ways." Rachel is stunned, and very pleased by this news. He lets go of a jubilant Brooke. "I think it's time we got out of the pool, have showers or baths, and get ready for bed, don't you?"
Brooke laughs. "What that means is you want to sneak Rachel and Mandy off to your room to fuck their brains out, don't you?"
He laughs, "No it doesn't. I wasn't going to sneak anyone off. I intend to be quite open about it." With that he places an arm around each of the girls and fondles a breast with each hand. "Ladies, want to join me in the bath, followed by a brain destroying fuck?" They both nod as they smile while they exit the pool as a group of three. The rest of the girls watch them go, with huge smiles too. The trio stops to pick up John's clothes before heading into the house. The girls clothes are with their gear in the rooms they were assigned to sleep in.
__________________________________
Private Fun
John leads the two girls upstairs to the big bath in the master bedroom en-suite as it's big enough for four people. They sit in the bath while it fills with water. He picks up a washer and he enjoys washing both of the girls. They're all washed by the time the water is up to their bellies. John switches to a 2T and he has his stiff dick poking out of the water. Both of the girls are smiling as they look at it. Reaching forward he turns Rachel around to pick her up and lower her onto his rigid pole.
As Rachel slides down on John's dick she leans back onto his chest. Mandy watches Rachel moan in pleasure as his stiff dick vanishes inside Rachel. Once she's well seated with his dick filling her while his arms go around her to fondle her breasts he switches sizes between a 1T and a 2T over and over again. His dick is growing and shrinking inside her as if he's thrusting in and out. After some minutes of this she moans and melts back against him with an orgasm, soon followed by two more. He lowers one hand to play with her clit. Wanting to get in on the act Mandy leans forward to start sucking on Rachel's breast. Rachel has several more orgasms in quick succession. John stops all action and he lets her settle down. At his signal Mandy sits back up.
Rachel moans and says, "How did you get that fucking action without moving, it was heavenly."
He smiles, "I'm glad you liked it. It's all a matter of control, and I doubt anyone else can do that. Was that a much better experience than your last heterosexual genital sex encounter?"
"Oh yes, way better! I wish I'd had you before him."
"So do I. Are you protected or should I come in your mouth."
"Yes, I'm on the pill, but I want to be greedy and have both."
Mandy smiles, "Me too, please. I'm on the pill as well."
John grins, "Let's get out and dried." Lifting Rachel off his dick he goes limp and stands with her still in his arms, they're impressed by his strength. Mandy stands up and they all get out of the bath. They have a fun time drying each other before moving to his king sized bed.
On the bed John reaches around Mandy and fondles her breasts. He turns her around and kisses her. Their tongues dance in their mouths as he caresses her. Breaking the kiss he lowers her to the bed and he lays beside her while he caresses her body. Rachel lies on the other side and fondles Mandy's breasts. Mandy lies there with her eyes closed and moaning. John signals Rachel to kiss Mandy while he sucks on one breast and he plays with her pussy. Mandy writhes under their pleasurable assault. As he kisses his way down her body he spreads her legs. When her legs are wide enough he spreads her labia and kisses her clit. She humps her hips at him as he sucks her clit. Slipping a finger into her vagina he finds it wet and ready, so he adds a second finger and he starts to finger fuck her while sucking her clit. He leans his weight on her hips to hold them down as he adds a third finger and then a fourth. Rachel stops kissing her to suck on one breast as she fondles the other. Mandy moans and writhes with pleasure. She heaves as an orgasm washes over her, then another, and another. He stops working on her vagina and kneels between her thighs. He goes stiff with a 1T. Rachel watches his dick go from flaccid to rigid pole in an instant. She smiles at the sight, in anticipation of watching what's to come.
Seeing movement in the corner of her eye Rachel turns her head and sees the bedroom door is open with four of the girls there watching them while playing with their pussies. John whispers, "Signal them to be quiet and to come closer to watch as they're next after you again." Rachel smiles and looks at her voyeuristic friends. She puts a finger to her lips and motions for them to move closer. They approach the bed to stand at the side near John and Mandy. Smiling, they look down at his stiff dick. Brooke and Wendy aren't with them as they're still swimming.
John lowers his body until his dick is touching Mandy's pussy. With a free hand he reaches down to rub the head of his dick up and down her pussy to get it wet. Each time he rubs it over her clit she moans and writhes. With it at her vaginal entrance he lowers himself further as he slides his stiff dick into her pussy, she smiles at the feeling of his entry. She experiences a very short and small pain as he pushes through her hymen. He continues until their groins are rubbing together. Mandy is moaning and saying, "Fuck yes." He withdraws until only the head of his dick is in her, then he slides back in. After doing this several times he speeds up, and she's soon humping her hips up at him during his forward thrusts. She starts coming each time their groins meet. He switches to a 2T as he starts to thrust forward again. This time his thrust is slower so the head of his dick has time to expand along her love tunnel. Her eyes open for the first time since lying down on the bed. Her eyes go wide at the feeling of his dick filling her vagina, and then bigger again on seeing the audience; and she has her biggest orgasm yet. Several times he withdraws and re-enters her, she comes on each entry. Each time she comes her pussy squeezes his dick in the most delicious manner as her muscles ripple along it. He's in heaven, and so is Mandy.
Stopping with his dick deep in her while she heaves in orgasm he waits for her to finish coming before he comes in her. Feeling him shoot his sperm in her causes her to come again. As she writhes on the bed he reaches down to play with her clit, which starts her on a multiple orgasm. She comes for some minutes. When she settles down again he goes flaccid and he withdraws his limp dick.
John moves off the bed and he stands up. The girls can see his dick has some drops of sperm on the end, and they lick their lips. He walks around the bed to beside Mandy's head to lay his dick on her lips. She opens her eyes at the contact, and seeing his dick on her lips she opens her mouth to take it in. Turning her head she takes more of his dick in her mouth and she sucks on it. He tells her how to suck dick and all of the girls listen to his words. After a few minutes of this nice exercise he makes it stiff. Mandy smiles around his dick as it goes rigid while she sucks on it, and the watching girls sigh. Pulling his rigid dick out of her mouth he tells her to sit up. When Mandy is sitting up against the bed head he places his dick back in her mouth and she sucks it again. A minute later he tells her to open her mouth wide, keep it open, and be ready to swallow. Mandy sits there with her mouth open wide with the head of his dick resting on her lips and pointed at her tongue. The girls are watching close as he comes. His sperm shoots out, hits her tongue, bounces to the side of her mouth, up to the roof, and falls onto the back of her tongue before sliding down her throat. She moans in pleasure as she likes the taste and the feel of it. The watching girls are fascinated with this as they play with their pussies. Two come just from watching him come in Mandy's mouth. As he finishes coming he goes flaccid and slips his limp dick deeper into her mouth. So she starts sucking on it again while making sure to get as much sperm out of his dick as she can. A little later he goes to a 2T and he withdraws his stiff dick from her mouth.
Rachel is lying on the bed beside Mandy and playing with her own sopping pussy. She watches as he walks to the end of the bed, fondling each girl's breasts and bottom as he walks by. Standing at the end of the bed and right in front of Rachel he reaches up and grabs her ankles. He pulls her down the bed until her arse is rubbing against his dick and her legs are straight up in the air. He lowers her legs to the sides and he rests his dick on her pussy. He rubs it up and down her pussy, she moans each time it touches her clit. Thinking, 'This is a fun evening,' he smiles at her while asking, "What do you want, slow and easy or quick and hard?"
In anticipation of the pleasure to come she gives a cheeky grin and says, "Quick and hard with plenty of cream, please."
He thrusts hard and fast the full length of her vagina. She's so hot and ready she comes as soon as their groins meet. He changes to a 2M as he commences his next thrust. The extra girth makes a tighter fit and she comes on each thrust. Several thrusts later he switches to a 3M and he starts her on a multiple orgasm. The feel of her pussy clutching at his dick and rippling along it is exquisite. He stops, waits until she starts to settle down, then he comes in her. The feel of his warm sperm starts her coming again. A little later she settles down and he goes flaccid.
Withdrawing from Rachel's juicy pussy he walks around the bed and pulls her up the bed to rest. Sitting her up against the bed head he places his limp dick against her lips and she starts sucking his dick. Rachel has an interesting technique. She holds his dick head in one side of her mouth while wrapping her tongue over the tip of it and running her tongue around it. He waits until she's drawing her tongue back from exploring the tip and he comes. Rachel is a bit surprised and almost chokes when his limp dick shoots warm, tasty sperm onto her tongue tip and along her tongue. She swallows as it bounces off the back of her mouth and it goes down her throat. He waits for her to finish swallowing his sperm and sucking his dick clean. He changes to a 1T and he leaves his stiff dick in her mouth for a minute before pulling out.
John walks around the bed as he approaches the watching girls. Seeing Jessica has fluids running down her legs he steps up to her and rubs his rigid pole along her wet pussy as he takes her in his arms and kisses her. He lifts her up and kisses his way to her breasts. She closes her eyes and moans. He leans forward and lowers her to the bed, laying her across it as he kisses his way down her body while he spreads her legs wide. Reaching her groin he licks the length of her pussy. She comes as his tongue slides over her clit. His sucking on her clit makes her come again, and again. He stands and rubs the head of his dick along her pussy and clit to cause another orgasm. He slides his dick to her vaginal entrance and he pushes in through her hymen. She opens her eyes and starts to speak. He leans down and kisses her as he continues to slide his dick into her wet pussy. It seems she wanted to enjoy the show yet not join in quite so much, or she's still scared about sex. Either way, it's too late. She clenches her vagina a bit. She's so wet he slides in anyway. With his body on hers and his mouth on hers she can't move or object. With gentle care he continues to move his dick deeper into her tight velvet love tunnel. He breaks the kiss, "Jess, relax, it was way too late when you walked in. Tensing up like this will only make it harder on you. Relax and let your body tell you what it wants and how it feels." She gives him an uncertain look, while he has them stay still for a minute. Her pussy relaxes and her whole body seems to go boneless. Reaching between them he fondles her breasts. In a few minutes she's moaning and smiling. He lowers his hand to play with her clit. Her eyes open and go wide as she has her first orgasm with a dick inside her. Rubbing her clit again makes her come again. This one is stronger, she humps her hips up at him and achieves a deeper penetration as she shoves her pussy up. She drops back to the bed with a huge smile. He follows her down while pushing his dick all the way into her vagina again. He reaches her full depth and stops for a moment. It's still enough to cause her to come again and to hump at him as she tries to get more of his dick in her. He withdraws, re-entering her a bit faster. She comes and moans on each forward thrust. Some orgasms later he stops with their groins together as he enjoys the feel of her tight pussy. In the middle of her next orgasm he changes to a 2T as he delves deeper into her. The feeling of being so full sets off another orgasm, followed by a third when he comes in her and she feels his warm sperm shooting into her, filling her up. They stay like that for a few minutes as she catches her breath.
Looking down at her smiling face he goes flaccid and starts to withdraw from her. As he does she looks up, "I better call mummy to ask for one of her 'morning after' pills and arrange to get on the pill." Seeing the sudden look of concern on his face she realises he hadn't intended to get her pregnant and is concerned for her. "Don't worry, if I do get pregnant I can't think of anyone else I'd rather have as the father. That was marvellous, despite my worries about my first fuck."
John looks at the crowd then he picks out two, "Do you want to sleep here with me in case I want to fuck someone during the night or first thing in the morning?" One nods while the other shakes her head, but the one not asked nods. So he has two bedmates for the night. "Right, everyone needs another bath, come along." He picks up Jessica and carries her to the bath with the rest of them following him.
__________________________________
Baths
After running more hot water John sits in the bath with Jessica in his lap. Picking up the wash cloth he washes her all over. He must have done a good job as she has another orgasm while being washed. He stands and grabs a towel from the pile beside the bath. After drying her upper body he picks her up out of the water and he places her on the bath mat before drying her lower body. Picking up Mandy he washes her the same way before doing the same with all of the girls. Each gives the same reaction to how he washes their breasts and pussies, they orgasm. When he starts to wash himself the girl who didn't wish to sleep with him, Tina, takes the washer off him and she washes him. She leaves his dick until last. After washing his dick she leans in and she takes it in her mouth to give it a good suck. He gives her a stiff 1T as something better for her to suck on. She smiles around his dick as she sucks on it harder and licks the head with her tongue. He looks down, "Do you want me to come in your mouth?" She lifts her mouth off his dick and nods. He waits until she sucks on his dick again. Reaching down he holds her head still and pulls back until the very end of his dick is resting on the tip of her tongue. He comes and shoots warm sperm into her mouth, it bounces off her tongue and onto the top of her mouth, only to fall back down on her tongue. The next spurt hits the pool of the first to splash sperm around the inside of her mouth. She doesn't swallow, so the inside of her mouth is soon coated with his sperm from the next few spurts. She takes her mouth off his dick when he stops coming. Smiling, she stands and opens her mouth to show them how her mouth is coated with sperm. With her mouth open she runs her tongue around her mouth and swallows it all.
She turns to John, "After I tell mum what I'm going to do I'll spend the night with you and I expect a couple of loads in both my mouth and pussy. OK." He smiles and nods. The girls leave for their beds.
John gets out of the bath and is drying himself when Brooke walks in. She takes the towel off him and finishes drying him. "The news all over the house is we now have three non-virgins and will have two more before breakfast. With another one or two lining up for tomorrow. You're not wasting much time seducing my friends. How come the sudden change in behaviour, Uncle John?"
Giving her a gentle smile he says, "Many things, Brooke love. The explosion at work has made me realise how mortal I am. Also, I've known you lot for several years and I still thought of you as little girls. But seeing you all out there in your natural beauty made me realise you've all grown up and are now young women. Seeing so many sexy young women at once, added to my mortality, made me want to spend a lot of time making love to a lot of sexy young women. And here they are - ready, willing, wanting, and waiting."
She gives him a pensive look, "Uncle John, you never have been able to lie worth a damn. I know what you said is all true, but that's not all. What's the rest of the story?"
"Sorry, Brooke, I'm not sure you're ready for the rest. You may be, and probably are, but I'm not ready to talk about it yet. Please, let's leave that alone for now. Ask me on your birthday as I may be ready to talk then." Picking her up he kisses her on the forehead, puts her down, and pats her bare bum as they leave the en-suite. She leaves the bedroom as he climbs into bed between two sexy eighteen year old girls. He's soon asleep with a big smile on his face, which is matched by his bedmates' smiles.
__________________________________
Day 02 - Saturday
Waking at 6:00 a.m. John is momentarily surprised to find two nude teen girls in bed with him. It takes a moment for him to catch up with yesterday's events. He turns to Melissa, the girl on his left. Leaning over he kisses and sucks her right breast. She moans and moves in her sleep. He moves his hand down to her groin and spreads her legs. Using one finger he plays with her pussy so it's soon wet. It seems she's having one hell of an erotic dream as she humps against his hand. He inserts a second finger, then a third finger, and a fourth so she's soon moaning and humping his hand hard. He keeps this up until her pussy is very wet. Getting off the bed he spreads her legs wider as he changes to a stiff 1T then he climbs back on between her thighs. Lowering himself to her body he rubs his dick up and down her pussy, she moans. He enters her, moving his dick into her love tunnel. He breaches her hymen and continues a slow gentle entry. Her eyes fly open and she gives a small scream as she realises this unusual erotic dream is real. While smiling at him she heaves her hips at him and impales herself on his dick more. He maintains his position inside her as they drop back to the bed. She wraps her arms and legs around him as she kisses him.
She breaks the kiss with a huge smile and says, "I'm not on the pill, please don't come in me. But do fuck me senseless." Starting a good thrusting action he does as asked. Fifteen minutes and many orgasms later she's lying on the bed motionless and moaning, with a huge smile. He withdraws from her and climbs off the bed. He moves to his other bedmate, Nataly.
Smiling at him Nataly spreads her legs wide as she takes her hand from her wet pussy, "I'm on the pill and I came three times watching you two. Fuck me good and fill me up, please." He moves between her thighs and he places his dick ready for action. He slides in as she's one of the girls who admitted to popping her own cherry. He covers her mouth with his and starts their tongues dancing as he thrusts in and out. She's soon writhing underneath him and unable to hold the kiss. He breaks the kiss and speeds up his thrusts as she moans while having orgasm after orgasm. After some time her pussy is starting to dry out. On the next thrust he changes to a 2T and fills her vagina with more dick. She heaves in a stronger orgasm. He comes and fills her as she requested. Her eyes pop open as she responds to the feel of his sperm in her with an orgasm. He lays there for a moment before withdrawing.
He stands and enters the en-suite to start a bath before returning and carrying the girls into the bath one at a time. Once they're all in the bath he washes the girls. He gets out of the bath before lifting them out and drying them. He lets the girls lean on him as they walk back into the bedroom. The girls sit on the bed and smile as they watch him dress. He heads off to start breakfast as they go to get dressed. In the kitchen he finds Brooke cooking bacon and eggs for everyone. She looks up, "I gather Melissa and Nataly will be along soon." He nods. She places a plate of food before him, "That was an interesting yell I woke up to about forty minutes ago, who was it?"
He smiles, "That was Melissa. She was surprised to wake up and find her erotic dream of being fucked was a reality. She seemed happy with things after the initial surprise." The girls around the table laugh. Melissa and Nataly walk in on the end of the laughter.
With a bit of feeling Melissa says, "I heard how badly you unfeeling people reacted to my wake up call. I hope he does the same to you."
Brooke smiles and sighs, "So do I." John smiles at her while some of the girls nod in agreement.
John turns to Rachel, "I'm glad you've already agreed to drive today. As I'm going to need some practice lessons before I try to drive again. I don't want to risk you lot, not while I'm relearning." Both Brooke and Rachel give him a funny look. Rachel nods to acknowledge her status as the designated driver. He adds, "I haven't driven for so long my muscles don't remember how and driving is mostly a group of muscle memory actions."
At 8:00 a.m. they're in his mini-bus and driving down the road with Rachel at the wheel. John is in the middle of the back seat with a girl on each side and a breast in each of his hands. Three blocks down the road Rachel stops to pick up four more members of the team, two are twins and the other two are their cousins. As the girls get on the twenty seater mini-bus the girls stop and stare at John. He has a girl's breast in each hand, something he hasn't done before. They sit down in vacant seats and ask the others what's going on. They're soon told as the bus is full of smirking schoolgirls. Arriving at the playing field they meet up with the last member of the team, Sera Weatherall. Her mother, Gwen, always takes her to the games and practice.
Gwen and Sera watch with amusement as Brooke makes everyone wait on the mini-bus until she's ready for them to get off. Placing John at the foot of the stairs she gives him instructions and hustles Sera onto the bus. The girls line up in shirt number order, starting with number one, Melissa (the goal keeper). John lifts them off the bus from the next to last step, gives each a kiss, and places them on the ground. He does this with every girl, finishing with number thirteen, Jessica.
__________________________________
Soccer and Hurts
The girls run onto the field to start their warm up routines and pre-game practice. John sits down on the sideline bench beside Gwen while saying, "Hello, Gwen. The girls tell me you've been doing a good job of filling in as the manager / coach during my hospitalisation."
She nods, "Someone had to. The other mothers either work to make ends meet and don't have the time or they're not interested in seeing the girls have a happy time. Anyway, I heard you were a basket case." He gives her a look of surprise. Despite the media circus about the explosion and John the actual full extent of his injuries had been kept extremely confidential. She adds, "I've friends at the emergency centre you were taken to. Some of them know you and it broke their hearts to see you like that."
Surprised at this knowledge he gives her a weak smile, "Things aren't always what they seem. I'm not sure I'm ready to talk about it yet. When I am, I have to tell Brooke first."
Gwen gives him a weak smile in return, "Yes, sometimes the hurts are too big. Maybe I should tell you mine first. I'll think about that." He gives her a penetrating look, but she just shakes her head. They turn to watch the start of the game as Brooke and Jessica walk up and sit down. Being in a public place Brooke cuddles up to John and pulls his arm around her to hold on to while Jessica puts her hand in his other hand. Gwen's eyebrows go up at this behaviour.
Five minutes before the end of the first half Sera falls down with a sharp scream. The referee stops the game as he waves John and Gwen onto the field to treat her. Sera is rolling about on the ground holding her right thigh and groaning. Kneeling beside her John lifts her lower right leg and he uses it to push her knee into her chest. Reaching around her leg he feels her thigh as it's clear she's strained the muscle. He rubs her upper thigh fast and hard, the pain settles down. John picks her up and carries her to the sideline while Brooke takes her place on the field. Sera is the largest girl on the team, she's as tall as John with a solid Junoesque figure and well developed breasts, and she out masses him by fifteen percent. He carries her off the field with ease and he sits her on the bench. Gwen is surprised as last year she was needed to help him carry any injured girls off the field, plus he's just out of a long stay in hospital.
At the bench John rubs Sera's thigh with a liniment and straps it up with a wide compression bandage. After setting her foot back down on the ground he sits beside her with Gwen on the other side of her and Jessica is on his other side. It's soon half-time and they gather around for a summary of the first half. Gwen and John mention some problems they'd noticed in the girls' play and ways for the girls to take advantage of the opposition's weaknesses they had seen.
The second half starts and Nataly is sitting it out so Jessica can play as the girls rotate who sits out. Nataly and Sera were talking during the half time briefing by Gwen and John. The adults return to the bench as the team returns to the field. Nataly smiles at Sera as she nods at John.
Sitting between Gwen and John Sera gulps and asks, "John, am I too fat and ugly for you to fuck?"
Both adults look at her in surprise. John turns to look at Nataly as she tries to look innocent. "Did you put Sera up to asking that now?" While looking worried she nods. "Nataly, remind me later to give you a ten hit spanking on your bare bum for embarrassing Sera." Gwen watches and listens with interest. He turns to Sera, "Sera, you're not ugly and you're not fat. Oh, don't go on, we all know you eat a bit too much and are a bit overweight. But fat for a girl is when her belly sticks further out than her tits and she's not pregnant." Sera laughs at that picture. "I'll also admit you're not in a position to push the top make-up models out of their positions yet. Regardless of your physical beauty, true beauty is more than skin deep. Skin is the dust cover to the book that's the person. The person is their heart, mind, and soul. Thus true beauty is a person with a beautiful heart and soul. Remember, what you see isn't always what you think it is." He stops to think as she sits there looking at him. "Sera, if your mother doesn't threaten to call the police for me corrupting you, although I think Nataly has already done that. Then I'd be honoured to make love to you and teach you the physical side of sex. Provided this is what you really want, you've turned eighteen, and you're prepared to stay at my house for a weekend or longer to do so." Sera smiles and hugs him. Gwen watches this with a surprised look.
Sera grins, "Thank you, I do want learn about sex. Nearly all of the boys I know say I'm fat and ugly. The girls on the team don't see me that way. But like you, they say I could lose some weight."
Gwen stands up while saying, "Nataly, you and Sera stay here. I think John and I need to have a private talk." Then she starts to walk away.
John also stands up while saying, "Nataly, please mention Brooke's birthday party arrangements to Sera while we're talking." John follows Gwen to a spot about thirty metres away.
Secrets Revealed
Gwen looks at John, "Sera and the girls are only eighteen or nineteen and Sera turned eighteen last Thursday. Don't you think that's a bit young for you?"
"I don't know how old you think I am, but I turned twenty-seven a month ago. I was only nine when Brooke was born. I'm not going out of my way to seduce the girls, nor am I going to reject them."
Gwen is surprised and it shows on her face, "Sorry, I thought you were about a decade older than you are. I never met you until after Brooke's parents died, and you've always seemed so sure and mature to me. Also, knowing your brother's age I thought your were older than him." She turns away with a very pensive expression.
A moment later she turns back saying, "John, I think it's about time you learned something about Brooke."
He holds up a hand, "I knew she's not my brother's biological daughter as the blood types don't match. They checked compatibility when she was in hospital after his death. However, I'd like to know how you know that, and anything else you can tell me about her."
"Oh, I didn't know you knew. OK, here goes, and I may end up in court for this. Four of the girls on the team are my cousins." John is surprised as he wouldn't have guessed it because their behaviour never showed it. "Sera and Brooke are half sisters to at least one of them. I don't know which one and the fathers aren't interested in sorting it out. If I try to take any action the gratuity Sera and I get from them may be gone. Brenda, Brooke's mother, got a single payment when she got married."
John is stunned, and his face reflects this. It's clear there's more to this so he looks at Gwen and raises one eyebrow. She sighs, "OK! Years ago my parents went away for a holiday and left me with an aunt. My best friend's parents went with them so my best friend, Brenda, stayed with me at my aunt's. The aunt had three daughters in their twenties who were all married and were all six months pregnant. Their husbands were rich brothers who had very good jobs. One Saturday my aunt and cousins were off for the day at a charity event. The husbands were in the house doing something for my aunt. Brenda and I were out at the pool swimming in small bikinis. Late morning we went inside for drinks and the men were sitting at the kitchen table. No one else was there, just us five. We were only thirteen but well developed for our ages and looked a lot older. The eldest looked at Brenda as she bent to get a drink from the bottom of the fridge. He said, 'That's one sexy schoolgirl ass, bet you guy's would like a piece of that.' Another said, 'I wouldn't mind a piece of both these cute chickies.' They stood up and we ran. But they soon caught us and removed our bikinis. One held Brenda and played with her breasts while another held me down on the table as the third tied me to the table. They tied Brenda to it too. They spent the next three hours taking turns raping us. My aunt wasn't feeling well and she returned early. I've no idea how things would've gone if she hadn't. She saw what they were doing so she pulled out a pistol she carried in her purse and she chased them off. She called some friends and a doctor. The men returned thirty minutes later to find two armed security guards ready to blow their balls off."
Gwen stops to catch her breath as talking about this is bring back all of the old emotions. "The next week at school we were right out of it and get sent to the counsellor. We're sitting there not saying anything when this high class counsellor walks in and speaks to the school counsellor. After that we're seeing the new counsellor instead of gym and sport each week. She was being paid two thousand dollars a week to come to the school to conduct our sessions. Someone recognised her as the top rape counsellor in the state, so the whole school soon learned we'd been raped. Most kids and staff cut us some slack after that."
After another short break to calm down again she adds "After six weeks we're starting to get through the thing when we find out we're both pregnant. Brenda had been the strong one until then, but she totally collapsed at the news. Somehow that news went around the school very quickly. The next week we're in a counselling session and getting nowhere as Brenda is like a stone. Someone knocks on the door very hard. The counsellor opens the door, and there stands your brother, the school captain, the big man at school. Walking in he stands in front of Brenda and he puts out his hand while saying, 'Hand it over.' She looks straight ahead, stone faced. He slaps her. She blinks and looks at him. He shoves his hand in her face, 'Hand it over.' She shakes her head. He says, 'Hand it over or I'll spank you.' She shakes her head again. The counsellor has shut the door and is watching this with great interest as he's already got more out of Brenda today than she did. Pulling up a chair he sits down and he pulls Brenda to him. He lays her across his lap, lifts her skirt, and he spanks her bum, several times. She's crying and saying, 'No, no, you can't have them.' Sliding her off his lap he grabs her by the arms and says, 'Your mother is in the front office. She's hysterical because she knows you've taken her new bottle of sleeping tablets. Now hand them over.' Brenda says, 'No.' He says, 'You left your diary open on your desk and your mother read it, so she knows what you plan to do. She showed me the diary and some entries in it.' Brenda's eyes go wide and she violently shakes her head. He says, 'I now know you love me and have done so for some years. That's why your mother thinks I can get you to hand over the tablets. I think she's right, and I'm not leaving here without them. I'll give you a strip and cavity search if I have to.' Brenda's eyes go very wide. She starts sobbing and reaches into her pocket. She pulls out a bottle of tablets and she gives it to him. Smiling, he stands, and sits her down while saying, 'Thank you. You'll stop thinking of suicide right now, got it.' Going to the door he says over his shoulder, 'I'm not having the girl I love and wish to marry kill herself.' Brenda's eyes go very wide as her mouth drops open just before she faints."
She sighs, "The counselling went a lot better after that. Six months later a judge approves their marriage. A lawyer had us sign waivers and your brother gets a big payment. I've a monthly allowance for life and a house. Brenda and I remained good friends. We made sure to keep Sera and Brooke at the same schools etcetera so they would be good friends like we were. It's just coincidence my cousins have their daughters at the same school. And no, I don't know if they know. I've never asked as I'm afraid of losing the monthly allowance and that would hurt Sera's living because I wouldn't be able to pay the school fees without it. The Masters girls are my cousins, and I don't think they know that."
Having told her great secret she stands there crying. John takes her in his arms and hugs her until she settles down. The game is finishing so they go to the bench and Gwen sits down, still crying. John stroking her hair, "We have to tell them as they should know they're family." She nods. "Did you drive or catch a cab?"
She looks up, "I knew Rachel would have your bus so I caught a cab to simplify lunch." He raises his eyebrows, "We're all going out to lunch today to celebrate Sera's eighteenth birthday last Thursday."
The girls come to the bench happy. They just held the competition leaders to a 1-1 draw. The first game that team hasn't won this year and the competition is little more than half over. They're all happy until they see Gwen crying.
John gets them organised and onto the bus. As they drive away John finds out the restaurant they're having lunch at is The Great Dragon Chinese Restaurant. He hands his mobile phone to the Masters girls and tells them he has to talk to their mothers today, over lunch at the restaurant as it's very important and urgent. They look very surprised, but they ring their mothers and pass on the message. The women agree to come to the restaurant in an hour or so.
__________________________________
Saturday Lunch
They're having a good time at The Great Dragon with many different types of dishes and everyone having some of each dish. The girls all have presents for Sera. John gets Sera's attention, "Sorry, Sera, but I was only turned loose yesterday afternoon and no one told me about your birthday or the party until this morning. Will you accept a rain cheque to go shopping Monday. I think two items from Victoria's Secret may be enough to make up for me not bringing a gift." Sera is surprised. She loves looking in the VS catalogue but she can never afford anything in it. This makes her very happy and her wide smile shows it. Gwen is surprised and happy too, especially for how happy it makes Sera.
Gwen twigs to what he said and sits up, "Three items and I tag along. You're not taking my daughter shopping for sexy underwear without me. I know your game, you just want to look at a pretty girl in sexy underwear."
John smiles, "Guilty as charged. But I'll only pay for three if the third is a negligee and I get to demonstrate the correct way to remove it that night." The Masters girls look stunned, surely he's not publicly offering to seduce Sera. Not in front of her mother.
Gwen smiles, "Sera, are you happy with that arrangement, and would you like me to supervise the demonstration?" Every one except the Masters girls are grinning while the Masters girls are in shock.
Sera says, "John, do you think you can handle a double team?"
Brooke chimes in, "Sure he can. He triple teamed Mandy, Rachel, and Jessica last night then double teamed Nataly and Melissa before breakfast today. Why do you think they were so fired up and full of energy today. I wonder if screwing the whole team senseless before the game will improve our playing much." Gwen and the Masters girls are stunned by the news.
Sera turns to John, "What say you get mum a nice negligee as well and fuck us both senseless." Both John and Gwen nod. The Masters girls can't believe what just happened despite having watched it happen.
John winks at Brooke, "You probably know we now have a nice pool at home." They all nod. "When we're finished here we can all go for a nice swim, if you want." They smile and nod again. "Oh, there's only one rule about the pool. I don't know if Brooke has told you, but the pool area is textile free. No clothing allowed, none at all." The Masters girls aren't sure what happened to John in the hospital, nor are they sure if they like the change, but it does sound interesting and promises to be fun. Brooke takes time to explain the long birthday party and its rules. She invites them to attend for all or part of it, whatever they wish. They all promise to see what they can arrange with their parents to attend the party.
More Revelations
A little later the Masters girls' mothers arrive and wave at John. Their daughters are close friends of Brooke so they know him from school and sport functions as well as community activities. They live in the same street but they have never been inside each others' houses. The ladies walk in further and stop dead upon seeing Gwen in the corner. John stands and excuses himself as he goes over to them. Leading them to a table in another corner he asks if they want anything to eat or drink. They select light snacks and fruit juice drinks. He looks at them, "I see you recognised Gwen, your cousin." They all start when he mentions the relationship, then they nod. "Why do you avoid her?"
Barbara, the eldest, replies, "Because we feel guilty about what our husbands did to her and Brenda. We don't know if she'll forgive us for leaving them there like that, and we're afraid she won't."
He nods, "Well, that answers the question about if you know what happened. I do hope you've made your husbands' lives hell for that."
Deborah, the youngest, smirks, "Mother made sure we knew. Those bastards only wanted to laugh about their fun. Well, we made sure they paid compensation, and then some." He raises an eyebrow, "After our girls were born we had them take some extended leave and visited a very special holiday resort. Two months at twenty thousand bucks each, but they're now very well trained submissives and we've come to like being BDSM doms. Care to joins us sometime?" She asks as she smiles at him while fluttering her eyelashes.
John laughs, smiles, and says, "Sounds interesting, and I'm sure Gwen would like to watch you put them through their paces. I'm sure I'd love to see the expressions on their faces as I come in their mouths after you make them suck my dick." They smile at that thought. "But if I come along it would be with the expectation of being the senior dom in the house and I get to fuck the three of you senseless as well."
They gulp and Julie says, "I do so love the idea of watching their reactions to you coming in their mouths as we've not thought to have them suck each other off. I don't know why we missed that, and I like the idea. As to being submissive to you, I'm not sure I can do that now."
John smirks, "Oh, I'm sure I can make you do it, and enjoy it too. But the main thing I want to talk to you about is I need to run DNA scans on your husbands to ascertain which are Brooke's and Sera's fathers. I think it's past time the girls got told that they're cousins or half sisters."
The women look at each other for a moment, finally Barbara says, "You don't need to do DNA tests. Peter and Jerry are both sterile, very horny but sterile. All of the girls are half sisters sired by Steve." The other two look at her in shock as it's clear they didn't know this. "When we got married the boys wanted us to swing as a group. I was against it. Steve told me about the situation. I checked it out by supervising tests at a top fertility clinic. Steve is the only one of them that can sire a child. I knew how much my sisters wanted children so I agreed to the sharing despite how much I hated it then. I agreed because I couldn't deny my sisters a chance to have children of their own. Steve ended up getting us all pregnant, as intended. All of our children are his."
Sitting back a stunned John says, "Well, that is a revelation. I'll take your word for it. Now how about telling the girls and letting Gwen know all of the details too." They sit there for a moment, then one by one they nod agreement. John signals Gwen to come over. When she arrives he tells her what he's learned. She's stunned by the paternity revelations, and she laughs at what happened to her attackers. She also accepts the offer to assist in some of their husbands' control sessions. He says, "Leave the girls to me. I'll sort it out over the coming weeks. Probably as I let them seduce me." The three sisters sit up and they take notice at that line.
Gwen says, "The girls gave me the low down. Yesterday afternoon they talked him into giving them the male view point on sex and pumped him for knowledge of the problems when a girl loses her cherry. It turns out he knows quite a lot, especially about how to make it the best it can be for the girl. After that some of the girls decided to trick him into having sex with them. When they tried to sneak into his bed he made a point of making it obvious and gave an open invitation to anyone interested. Five of the girls are singing his praises, and very loudly too."
John interrupts, "I've not put the word on any of the girls and I won't. Except during the coming school holidays I'm giving Brooke a break long sleepover party and during that period any girl who's staying overnight is giving me permission to make love to her. Otherwise they can arrive at breakfast and they leave by eight p.m. So far my problem seems to be scheduling volunteers through my bed at a high enough rate to keep them all happy. I won't seduce your daughters, but I won't reject them either." The women stare at him, and then they all give slow nods.
Gwen laughs, "Don't worry. Sera and I will double be teaming him Monday night, her idea. I'll get back to you by next weekend about how good he is as a first for Sera and for an experienced woman like me. Also, can I assume we don't have to go on avoiding each other now?" They stand and give her a long overdue hug each before leaving the restaurant.
Standing up John says to Gwen, "Please stay here for a moment." He goes to Brooke and brings her to the table with Gwen. He sits her down in Gwen's lap, "Better give her a hug, Gwen, as I think she'll need it." They both look at him with concerned expressions. He takes a deep breath, "Brooke love, there are some things you need to know. Some I can tell you now and some will have to wait a few days, OK." She nods. "First, you should know we're not blood kin as your father was my brother, but he wasn't your biological father."
She says, "I know that, Uncle John. I've known ever since mum and dad died. When the doctors were upset about some of the blood tests I asked a nurse some questions about blood and paternity. We may not be blood relatives, but we're very closely related by love."
John is surprised and Gwen interrupts, "She's real smart, this one. I wouldn't be surprised if she knows it all too."
She smiles at Gwen, "Don't worry, I won't say anything to anyone until you say I can tell them. But I gather from the recent visitors we're all somehow related, correct?" Gwen and John nod.
John smiles, "Yes, Sera and the Masters girls are your half sisters. You all share the same father."
She smiles up at Gwen, "Is that why you always go to so much trouble to see Sera and I spend so much time together?" Gwen nods. "Oh, Uncle John, I know what both a basket case and a cyborg are, too. So you don't have to tell me the details, just admit it, OK."
Gwen is shocked by the mention of a cyborg as that option had never entered her mind, but it makes sense. She looks at John. He says, "Yes, you're correct. They could only save my brain, spinal cord, half of one lung, and some other organs, including my testicles. They're safely lodged within my chest and stomach area. I don't need much sleep, food, or oxygen, and I even have an internal emergency air supply. The rest of me is a computer controlled mechanisms activated by my brain, much the same as normal biological parts. Some bits have the same sensory capability, some don't, and some have more. Like my new dick, it's much more capable than my old one. My surface material feels just like skin." Seeing the expression on Gwen's face he says, "Before you ask, yes, I can keep an erection for hours, and I only come when I want to. I really enjoy the feel of an eager pussy on my dick more than that of an ejaculation." Both ladies smile.
After that revelation they all stand up and they walk over to the party table to join the rest of their group. Everyone is wondering what the conferences are about, but none are prepared to ask as they know they'll be told when they should be told. The rest of the party goes very well and they all have a good time, especially Sera.
On the way to the Smith house Rachel stops to let the Masters girls off. Before she can drive away the girls come running back with small bags in their hands, and they climb in the bus.
That was a preview of Power Tool ~ Revised 2021 ~. To read the rest purchase the book.