A Better Man - Book One
G. Younger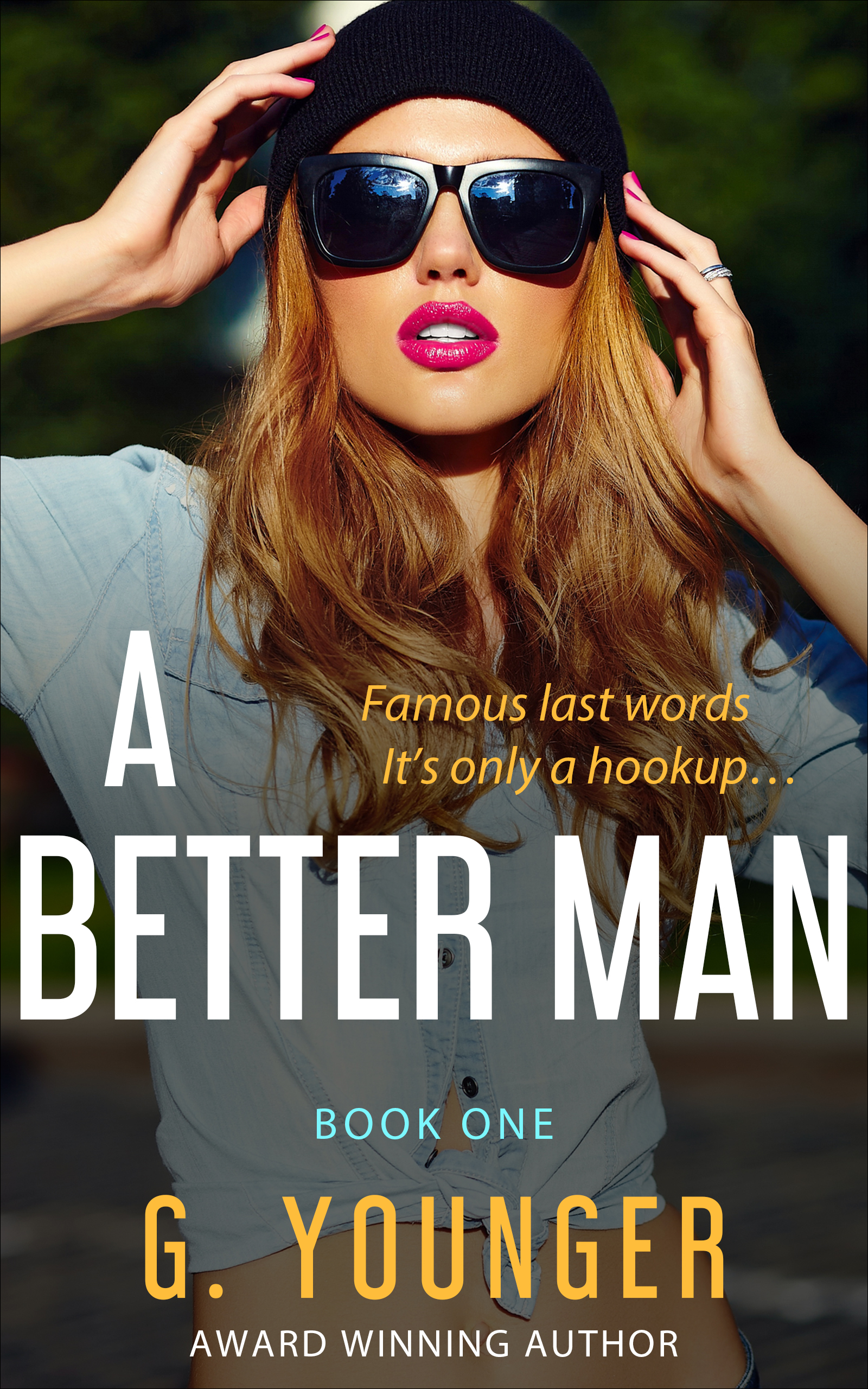 A Better Man: Book One
Advanced Reader Copy Edition Version 2.0: July 29, 2020
Copyright ©2020 G. Younger
ISBN-13: 978-0-9988371-3-0
Author: Greg Younger
Developmental Editors: XofDallas and Bud Ugly
Line / Copy Editors: Bud Ugly, TheMikeBomb, Zom, and Old Rotorhead
Last One Through: Bud Ugly
All rights reserved. No part of this publication may be reproduced, distributed, or transmitted in any form or by any means, including photocopying, recording, or other electronic or mechanical methods, without the prior written permission of the author, except in the case of brief quotations embodied in critical reviews and certain other noncommercial uses permitted by copyright law.
This eBook is licensed for your personal enjoyment only. This eBook may not be resold or given away to other people. If you would like to share this book with another person, please purchase an additional copy for each recipient. Thank you for respecting the hard work of this author.
All characters depicted in this work are fictitious. Any resemblance to real persons, living or dead, is purely coincidental. Names, characters, places, brands, media, and incidents are either the product of the author's imagination or are used fictitiously. The author acknowledges the trademarked status and trademark owners of various products referenced in this work of fiction, which have been used without permission. The publication/use of these trademarks is not authorized, associated with, or sponsored by the trademark owners.
◊◊◊
Table of Contents:
Prologue
Chapter 1
Chapter 2
Chapter 3
Chapter 4
Chapter 5
Chapter 6
Chapter 7
Chapter 8
Chapter 9
Chapter 10
Chapter 11
Chapter 12
Chapter 13
Chapter 14
Chapter 15
Chapter 16
Chapter 17
Chapter 18
Chapter 19
Chapter 20
Chapter 21
Chapter 22
Chapter 23
Chapter 24
Chapter 25
Chapter 26
Chapter 27
Chapter 28
Chapter 29
Chapter 30
Chapter 31
Chapter 32
Chapter 33
Chapter 34
Chapter 35
Chapter 36
Chapter 37
Chapter 38
Chapter 39
Chapter 40
Chapter 41
Chapter 42
Chapter 43
Chapter 44
Chapter 45
Chapter 46
Chapter 47
Chapter 48
Chapter 49
Chapter 50
Chapter 51
Chapter 52
Chapter 53
Chapter 54
Chapter 55
Chapter 56
Chapter 57
Chapter 58
Chapter 59
Chapter 60
Chapter 61
Chapter 62
Chapter 63
Chapter 64
Chapter 65
Chapter 66
Chapter 67
Chapter 68
Chapter 69
Chapter 70
Chapter 71
Chapter 72
Chapter 73
Notes from the Author
◊◊◊
Prologue
Lexi
"We want to welcome Lexi Andon, David A. Dawson's personal assistant. Unfortunately, Mr. Dawson wasn't able to be here today, so we got the next best thing," Cassie Krieger of In The Know announced to her TV audience.
Lexi let a touch of irritation touch her eyes at the backhanded slam Cassie had just given her. Many people underestimated Lexi because she was young and good looking. In Hollywood, it was easy to make that mistake because everywhere you turned, there were beautiful people.
Reflecting on it, Lexi realized most people sometimes forgot that Lexi's father was Paul Andon, an executive for one of the largest film companies in the world. They'd been responsible for the Star Academy movie franchise that David was currently starring in. Lexi wasn't a typical Hollywood kid who was off in their own world; she'd paid attention to what her father did—but hardly anyone knew that about her.
As soon as she'd graduated high school, Lexi had decided she didn't want to use her father's influence to make her career. Instead, she'd set her eyes on one of the most promising young actors to hit Hollywood in recent years, namely David A. Dawson. The plan was to leverage that into bigger and better opportunities.
"David sends his regrets. He is currently in New Zealand, wrapping up the filming of his most recent Star Academy movie," Lexi answered with her best smile.
"It sounds like David has been busy."
"Yes, besides wrapping the last two Star Academy movies, he finished filming his part in the upcoming James Bond movie, Devil May Care. In that one, he plays James's son, Ian Bond," Lexi related.
"I think we have a clip," Cassie said.
"Yes. This is the first time anything has been released to the public. In this scene, Ian comes upon a terrorist attack," Lexi said to set up the scene for the audience.
The video switched to the clip. When it started, Lexi couldn't help admiring David. There was a reason he'd been recently named one of the sexiest up-and-coming actors in Hollywood. He'd gotten his start modeling when he was in high school. He was six-four and had a body that made women swoon.
One of her favorite pastimes was to sit back and watch women either check him out or fall all over themselves trying to get his attention. Lexi was amazed that he took it all in stride and, for the most part, ignored it. He was too focused to be distracted. It took quite a lot for someone to catch his attention.
What amazed Lexi even more was that he was never rude or dismissive. He always had time for people, but he was firm about his refusals. It was a hard act to pull off and not have women feel rejected or mad when David didn't succumb to their advances. He had a flair and quiet authority that somehow made it okay.
The scene began with David in running clothes, jogging in London. There was the sound of an explosion, which prompted David to jump into action. What he found was chaos on the iconic Tower bridge over the River Thames. You could see a double-decker bus in flames and traffic beginning to pile up.
There was a second explosion that rocked the bridge. People began to jump out of their cars and run away from the carnage. David fought his way through the utter chaos.
There was a cutaway scene that showed another bomb. When the camera switched back to David, he spotted it.
"Run!" he screamed as the bomb detonated to end the scene.
"Oh, my. That looks exciting," Cassie observed and then turned back to her guest.
"It does have a lot of action in it, as you would expect with a James Bond film."
Cassie smiled and then got a serious look. Lexi knew what was coming next and prepared herself not to react if she was asked something outrageous. David's main PR guy, Frank Ingram, had given her a set of talking points to help her navigate an interview like this.
"Tell me what happened in India. I understand that David refused to film there," Cassie said, digging for dirt.
Lexi internally sighed in relief; she'd been prepped for this question. She sent a silent word of thanks to Frank and his team. She paused a moment to show thoughtful contemplation, another trick Frank had taught her. It kept her from rushing her answer. Frank had pointed out that pacing was necessary when building trust with your audience. He said it showed that she was confident.
"They'd planned to film in northern India. I understand it is beautiful and would have made an excellent backdrop for the film. David was first concerned when he did his homework on the region. He'd run across an article that discussed births in the area. During one time period, there were 216 children born in several surrounding villages. Not a single one was a girl.
"The question was, was this a fluke occurrence or something more sinister? David asked me to look into it," Lexi said.
"What did you find?" Cassie asked as she leaned forward in interest.
It was one thing to watch someone like David give an interview and know what he was doing, and another for her to do it. Lexi found that being the one on stage was harder than she realized. She had to tell a story, one that was engaging and held the audience's interest.
"Indian baby girls are being aborted simply because of their gender. For families living in poverty, boys are deemed to be more desirable since they are considered the main breadwinners. Families chose to simply never have a girl because she is considered a burden," Lexi explained.
Cassie gave her a shocked look. Living where they did, it was easy to forget the reality of real poverty. What seemed deplorable for us could make perfect sense if you went to bed hungry at night. Frank had told her it was okay to show outrage, but not to go over the top with it.
"Isn't that illegal?" Cassie asked.
"India made it illegal in 1994, but the practice still persists."
"What was the other concern for not filming in India?"
Lexi looked at the camera and grimaced. This was the part that genuinely disturbed her. In her mind, she could come up with no justification for what happened.
"There was an incident. I understand that there are Muslim nomadic tribes in the area where we planned to film. The local population is Hindu, and there are religious tensions," Lexi said to set the stage.
"What happened?" Cassie prodded when Lexi paused.
"An eight-year-old girl left her camp to tend the horses, and she went missing. Her body was found a week later. It was discovered that she was taken to a small Hindu temple, drugged, raped for five days by a group of men, and then killed with a rock.
"When David heard about it, he told Chubby Feldman, the director. Chubby looked into it and agreed that they would have to find another location to film. Neither the studio nor David wanted to have that taint the movie. I was glad they made the right decision," Lexi said with conviction.
"That's terrible," Cassie admitted and then switched gears. "David is one of the most eligible bachelors in Hollywood, yet we haven't heard a peep about a love interest."
Lexi laughed because she was amazed. She'd just described a horrific event, but Cassie showed no interest in digging deeper. Frank had a term for it: 'NIMBY' or 'Not In My Back Yard.' If it didn't affect someone directly, they could just brush it off and ignore it.
Cassie had just shown Lexi that she wasn't a serious journalist. But that should be expected on a show like In The Know. They were geared toward reporting the latest starlet exposing herself as she got out of a car, or a pop star getting drunk and making an ass of him or herself. So, switching to David's love life fit that storyline better.
The real reason David hadn't been linked with other actresses on set was that Lexi had hooked up with him. She'd made it clear that they were both young, good looking, and had needs. It was understood that was all it was, just a hookup.
It wasn't as if others hadn't offered David similar opportunities. Both his publicist and agent had told him that if he wanted to maintain his All-American Boy image, he shouldn't be seen acting like a typical Hollywood Bad Boy. It was bad enough that he'd had five children before graduating high school.
Granted, one was adopted, but the optics were still far from ideal.
On a football recruiting trip, he'd met a young lady at the campus check-in. He'd asked her to show him around campus and go to dinner with him. David, and a few of his other campers, went out as a group. They were accompanied by some of the sorority sisters of the girl in question.
It was all pretty innocent until the second night when David had been invited to fulfill a fantasy one of the sorority girls had. That night he'd spent time with both the girl he'd asked out the day before and her sorority sister. One of them ended up having twin boys and the other a little girl. They'd held off telling David about the children until after they'd been born.
In the meantime, he'd gotten a classmate pregnant, and she'd had a little boy.
Being who David was, he hadn't shirked his responsibilities. He had a healthy family support system, and his parents had stepped in to help with the raising of the children.
The last child was that of a friend who found herself in a tough predicament. She and David had actually dated for a while. She'd broken up with him and taken up with another guy who'd then gotten her pregnant right as they were ready to go off to college. The father had actually signed away his parental rights to his son, not wanting anything to do with having a baby at such a young age.
David and his family had opened their doors and let her and her son move in with them. They'd given her a job as a childcare helper, which allowed her to take college classes. David had always treated her son as one of his own and made it official last spring.
Now he had all his children under one roof in his new home in Malibu.
"The poor guy's schedule has been bananas. Since the beginning of May, he filmed his James Bond movie, and then in August, he was off to New Zealand and Australia to film the next two Star Academy films. Because of the compressed schedules for filming, many days, he's been on set upwards of eighteen or more hours a day. I challenge anyone to find time for a love life when that is happening," Lexi said to deflect the question.
"Why is his schedule so compressed?"
When David had agreed to film the movies, he'd bypassed his first semester of college. A deal-breaker would have been to miss the second semester.
"He'll enroll at the University of Oklahoma for the spring semester in just a few weeks."
"Does he still plan to play football?" Cassie asked.
"That and baseball."
David had been one of the top recruits for both sports coming out of high school.
"Will he continue to act while in school?" Cassie dug.
Lexi had to admit that Cassie had finally asked a good question.
"He did get a waiver from the NCAA that would allow him to act while he's in college, but for now, he will focus on getting his degree and playing ball in college. David wants to be a normal student-athlete," Lexi answered.
The NCAA waiver had been touch-and-go. The NCAA and its member institutions wanted to control the image rights of their student-athletes. David, with the help of his legal team, had come to an agreement with the NCAA powers-that-be. His being a model and actor had been a sticking point for his eligibility.
The NCAA has specific rules that preclude such activities. Their contention was that student-athletes gain the fame that makes them marketable from their athletic abilities. The schools provide training and opportunity, so they should reap the benefit. David had garnered his marketability before entering college, which the NCAA recognized, and they had finally provided him with a waiver.
Then there was a fly in the ointment. A shoe company and university had approached David and two of his teammates with money if they would go to the suggested school. David reported the whole scheme, which turned into a mess.
The NCAA investigator, Stewart Chadwick, had wanted David to conduct further meetings with the bad actors, to the point of committing to the school, to help the NCAA get the goods on them. Unlike the FBI, the NCAA didn't have the same investigative powers where they could compel people to talk. The investigator was trying to do an end-around, to the point of seriously jeopardizing David's sports career.
'Fat chance of that,' Lexi thought with smug satisfaction. David had refused.
The investigator tried to coerce David to force his cooperation with the threat that the investigator would pull David's eligibility and waiver if David didn't help them. David called his bluff and found himself ineligible for a while.
What the NCAA didn't know was that David had also talked to the FBI. They were in the process of building cases against various shoe companies for offering money to high school athletes to attend schools they sponsored. However, no one but the FBI knew it at the time. It turned out that the FBI was more interested in the basketball side of recruiting, so they'd shelved David's case.
David and his legal team had arranged a meeting with the NCAA to work out his issues. The meeting was hijacked by the FBI, and the NCAA was forced to back off. The FBI didn't want it getting out that they were investigating shoe companies. They'd suggested that the NCAA might want to reinstate David's eligibility. The NCAA approved his eligibility but had slow-walked his waiver that would allow him his image rights.
While he was filming in New Zealand, the story broke that the FBI had made their move on the shoe companies. The NCAA, fearing that David would talk about them knowing about the investigation and doing nothing, had finally come to their senses. They'd given him the waivers he needed to either act or, more importantly, promote his films. There was a lot of language in the agreements indicating that the waivers were an exception, due to his unique history.
'David became famous as a model and an actor long before he became famous as a football player,' Lexi mused.
The NCAA's rules were based on the assumption that any college football player's fame came from football, not something else. Once they'd seen—or rather, been forced to see—the light, they latched on to this particular fact like manna from heaven and fell all over themselves to get the waivers in place.
The NCAA was currently facing legislation enacted in several states to allow student-athletes to control their rights. The laws would enable the student-athletes to make money through advertising, appearances, and the like. It might also mean that they would get paid for stuff like jersey sales and other items that universities currently controlled. If the market truly opened, the NCAA's member institutions could take massive financial hits.
"But I'd understood that he was approached about doing the new Star Wars movie. What's going on with that?" Cassie asked.
Lexi bit her tongue because Cassie had been on the cusp of uncovering what had happened behind the scenes at big-time football schools. Instead, she was back to more familiar topics.
David's agent, Ari Gould, had pushed for David to skip college and act full time. David had actually won the role of young Han Solo but turned it down because it would have meant he would have had to leave high school to film it.
Ari hadn't been happy when that decision was made. But then the Star Wars movie had tanked relatively badly in comparison to all the other films in the franchise. And David then won his Academy Award for Best Supporting Actor for his role in The Royal Palm. That was followed shortly by his filming the James Bond and Star Academy movies.
Ari had gone behind David's back to see if they were interested in his client doing another project. David had been furious and fired Ari. Frank, his publicist, suspected that Ari leaked the information as a parting FU.
"David's made it clear that he wants to focus on his family and school for now. After college, he'll see if there is still interest in him doing more movies. Then again, he might just play football or baseball," Lexi explained.
"You can let him know that we'll miss him on the big screen, and he needs to hurry up and get back to acting," Cassie said.
"I'll let him know, but remember, you won't be missing him for long," Lexi assured her. "The three movies are due out this year. Starting with Devil May Care this Memorial Day, followed by the second Star Academy around the fourth of July. The final Star Academy in the trilogy will be out around Christmastime."
"What about you? Will you still be David's personal assistant while he is in college?"
Lexi wondered that herself because everything had been perfect while filming. She'd made herself indispensable to him. Lexi organized and catered to his every need so he could focus on his craft. He'd said many times that she was the best PA he'd ever had.
Looking back, Lexi had to admit to herself that hooking up probably hadn't been the best decision. Lexi had found herself in David's bed most nights. In her fantasy world, that would have continued, but he'd made it clear from the start that it didn't mean anything.
She'd made the mistake of announcing that she loved him during a particularly nice orgasm a week ago. After that, David had pulled back.
He'd claimed that since they were wrapping up the shoot that she probably should head back to LA. She'd found herself on a flight home the next day.
Kent, her boss, had been happy to have her back. He wanted to dump their problem child, Gwen Larkin, back in her lap. Gwen was mentally unstable, but was currently a key figure in a highly rated TV series. One of the benefits of going with David overseas was that she was able to fob the nutjob off to one of her colleagues. Gwen would require almost 24/7 babysitting to keep her from doing crazy stuff that would get her in the gossip rags.
So far, Lexi had fended Kent off by saying she needed time off for a short vacation.
"I'm back in LA. I'm sure I'll still help David out as needed, but I'll have other clients to keep me busy."
The alternative Kent had given her was time off to go to college to get her degree. The company did more than PA work; they also helped celebrities manage all aspects of their lives. To do that effectively, having a college degree would help.
Lexi's long-term plan was to get into management at a studio, so she was leaning towards going to school. If nothing else, it would make her parents happy.
"Thank you for stopping by today and giving us the scoop on what David A. Dawson is up to. Maybe you could talk him into stopping by when he gets back into town," Cassie said.
'I doubt he'll show up,' Lexi thought but plastered a smile on her face.
"I'll let him know."
Cassie seemed happy, so Lexi was able to make her escape. David was going to owe her for this one.
◊◊◊
Chapter 1
David
Tim, Wolf, and David were fifteen hours into their sixteen-hour flight from New Zealand to Norman, Oklahoma, home to the University of Oklahoma. That was where they planned to go to school and play football.
"Could you imagine if we'd tried to do this via a commercial flight?" Tim asked.
"My luck, I would've had some little kid either screaming or kicking my seat the whole way," Wolf replied.
Their original flight to New Zealand had been a nightmare. Tim and Wolf had flown out in June, nearly three months before David arrived, to help set up and start filming the last two films in the Star Academy trilogy. David had been in Europe shooting the latest James Bond offering. Without David along, they'd had to fly commercial. For the flight home, the studio had sprung for a private jet.
"I don't think they allow rug-rats in first class," David said with a little smirk.
"Whatever," Wolf said, not taking the bait.
He'd gotten his two best friends' jobs in his movie. The financial windfall was enough for both Tim and Wolf to decide to gray-shirt and enroll for the spring semester instead of the fall. They'd had a lot more free time than David had had and were able to enjoy traveling all over Australia and New Zealand.
The copilot emerged from the cockpit.
"The tower in Norman wanted to let you know that Coach Michaels will be there to meet you. I let them know we're still on schedule."
"What time is it here?" Tim asked.
The copilot looked at his watch.
"It's nineteen hours behind … that would make it two-thirty local time," he said and then went back up front.
"We didn't rate the head coach when we came for our recruiting trip. Why do you think he's meeting us today?" Wolf asked.
David had caught that, too. One possibility was that their Heisman-winning quarterback, Hayden Walsh, had announced his plans to go pro. The coach might be greeting them to jumpstart David on his quest to lead the Sooners as next year's quarterback. David had been rated the number one recruit his senior year and had decided on Oklahoma specifically to win national championships.
But in the back of his mind, he didn't think the head coach would be there when one of his staff could have done the job. Oh, well, he would find out soon enough.
"Before we left, I got confirmation we got a triple in Headington Hall," Tim said.
"I got that too. Did you get yours?" Wolf asked David.
David shrugged.
"I'm not sure. Lexi handled that stuff."
"Not that I'm complaining, but why did she go home a week early?" Tim asked.
Lexi was his PA and acted as his gatekeeper, sometimes to his detriment. She'd pissed off his friends more than once when she'd stopped them from 'bothering' him. Tim and Wolf had admitted to each other, though, that with the compressed filming schedule, David had been run ragged. He was lucky if he got five hours of sleep on any given evening.
It wasn't that David was afraid to work hard. He'd put in more hours than anyone he knew during high school to become an elite quarterback and baseball player. He was almost invariably up at the crack of dawn, hitting the pavement running when most everyone else was snug in their bed.
But the past half year had been nonstop. If it hadn't been for Lexi taking care of him, David didn't know how he would have survived. She made sure he was where he needed to be when he needed to be there, and she'd been tasked by David and others, including the director, with keeping all distractions away from him. That sometimes meant that his friends and family were stopped in their efforts to get ahold of him.
He grinned when he thought about the time Lexi had learned that her gatekeeper duties didn't apply to his mom. All his friends loved his mom but knew that you never crossed her. In David's junior year, she'd actually dragged his former best friend, Alan, out of the stands by his ear when he'd defied her.
It hadn't taken long for everyone to figure out that if they really had to talk to David, to have his mom call. Lexi had even interrupted filming one day when she called. That was saying a lot when she was more afraid of David's mom than of Chubby Feldman, the legendary action director who'd filmed the James Bond movie. When he started to object, Lexi simply told him it was David's mom. They were lucky Chubby found it amusing.
"We were almost done, and she'd done such a good job I decided to reward her and let her go home early," David explained.
Tim and Wolf looked at each other.
"I call bullshit," Wolf said.
"He's right. It was more than that because you were lost without her to boss you around," Tim agreed.
"She said she loved me," David confessed.
They both looked as confused as he'd felt for the last week. If he'd known that might happen, he would never have gone along with Lexi's scheme to hook up. Lexi had made a convincing argument. Instead of following the typical Hollywood routine where two actors become romantically linked, she would help fill his sexual needs.
Lexi had sold it as a way to prevent any friction on the set if things went south. She'd reminded David of what happened in the romantic comedy he'd been in, Love Letters. The two leads, Halle James and Ben Cowley, had gotten interested in each other. Halle was one of David's best friends, and he'd warned her that Ben was also dating Isabel Alexandra, the smoking-hot actress of Baywatch fame. It turned out that he was right, and that Ben never intended to leave Isabel. The results were not good when Halle had finally realized it wasn't the best idea she'd ever had.
There were many other instances where a relationship had caused problems, so he'd relented. It didn't hurt that Lexi was David's type: athletic with model-quality looks. He also knew that sex with her was more than satisfactory, and that was selling it short. Between the sheets, they clicked.
The final reason he'd accepted was that Lexi and he had a history. When they first met, David was convinced she was the typical 'mean girl.' He'd had numerous people who'd met her warn him to be careful. Even when David first hired Lexi, he'd been cautious.
Then she made it her mission to prove him wrong. They'd had a few rough patches, but all in all, she'd done an excellent job as his PA. He'd come to think of Lexi as an integral part of his team. Sort of his Girl Friday, who just happened to be there for him in more ways than was probably appropriate.
When Lexi said she loved him after the last time they'd made love … David had panicked. He was of two minds. David had a girlfriend explain to him once that if you said you loved someone within 24 hours of sex, it didn't count. A good orgasm wasn't much of a foundation for love, so it was possible she didn't mean it.
There was another possibility, though, which was why he'd sent her home: she really might mean it. The honest-to-God truth was he'd never made that leap of logic to even entertain that possibility. He'd instantly realized that if two people worked together as closely as they had, day in and day out, for seven months, feelings could develop.
What made him even more skittish around Lexi was yet a third possibility, something his Uncle John had explained to him. It concerned what was called 'grooming.' It was a process that happened in stages to tie someone to someone else. In its most insidious form, it was used by predators to lure underage children.
The stages include: targeting the victim, then building trust; filling a need or finding something missing in the target's life and providing it; creating a 'special' relationship; introducing sex; and finally, reinforcing the connection. The same steps could be applied to dating, but the difference was the intent.
David could see that Lexi had accomplished each of those steps. If so many people hadn't warned him about her, he would have probably never doubted her actions. In the back of his mind, though, he knew Lexi was smart enough to con him. David had already seen her fake-cry on demand to get her way.
If it had been anyone else, and he'd have taken the declaration at face value. In the light of day, he'd connected the dots that they were about to wrap up filming, Lexi was going back to LA, and he would be going to college. Was her announcement of love a way to bind them closer together?
David had almost instantly decided that if he had those kinds of doubts, then he didn't want her as a distraction on set. He still had work to do, and with her there, he would have been focused on trying to figure out if she really meant it or not, rather than on making a quality film.
The big question now was … what if she did? What if she really loved him?
"That is an epic bad idea," Tim said.
"Almost as bad as when you thought you could sleep with an entire women's volleyball team," Wolf reminded Tim.
That brought David out of his Lexi funk. A volleyball team had stayed at one of the hotels the guys had been at. The first night, Tim had gotten lucky and brought one home. His lucky streak had lasted three nights, with a different girl each night. There was a lot of alcohol involved, and sound judgment had gone out the window.
On the fourth night, each of the three girls figured out about the other two. Wolf had sent David a video of them going at each other in a pub. Tim made his next big mistake when he decided he should be the peacemaker.
The three girls' focus had turned from each other to Tim. He'd ended up with a pitcher of beer on his head, several lumps, and a cut over his eye. Then the girls had thoroughly and loudly listed his shortcomings as a man for all to hear.
Back at the room, after Wolf and David had done what they could for Tim's bruises and abrasions, the guys had time to reflect on what happened. The three of them had concluded that if something like that ever occurred again, it was better to just leave.
"Why do you think I sent Lexi home? I don't have time for girls right now."
"Says the man who has a hot stripper waiting for him when he gets to school," Tim rejoined.
David sometimes wondered why he had friends. On their recruiting trip to Oklahoma, the university's then-current starting quarterback, Hayden, had been their guide, and he'd taken the three boys to a gentlemen's club. They'd witnessed a work of art named Tawny Greenwalt, aka Mercedes.
After the club, the group had gone to a party at Hayden's apartment, and David had learned that the goddess lived upstairs from Hayden. Tawny and David had bailed on the party and had gone to her place to talk. It wasn't that he didn't want to spend some quality time with her, it was more that he'd found a friend. His best relationships had started that way. If something happened between them, he didn't want it to be just a one-night stand.
"I haven't really talked to her since that night," David explained.
"But you'll be looking her up," Tim said.
"Yeah, I might," David admitted.
"That's my boy. Get Lexi out of your head. If she got her claws in you, we would never see you again," Wolf predicted.
Lexi had said on more than one occasion that the two of them were terrible influences on David. He could see her putting her foot down if he came home with glitter on his face from some stripper's boobs. It would, of course, be all their fault if that happened.
"So, are we set on the plan for today?" David asked to get them off of their Lexi rant.
"We might want to get Lexi back just to organize him," Wolf teased.
David flipped him off.
"Sign our financial aid docs, get our class schedules, and then we go to our dorm room and see what it needs," Tim listed off.
"I already know that we need a giant big-screen TV," Wolf said to make his priorities clear early.
Tim and David rolled their eyes because he'd been politicking for that for the last several weeks. They'd both come up with reasons why they didn't want one. Of course, they were just pulling his leg.
"We'll have to see if there is room for one," David said.
"I'm not sure we need the distraction," Tim added.
Wolf gave them a determined look and let it go.
"Do we really have to have cameras in our unit?" Wolf asked.
"It's either that or my mom will insist that a security guy sleeps on the couch. Plus, there won't be any in your bedrooms. Only I have to carry that burden," David said.
The downside of fame and money was that a person having both had to protect themselves. On more than one occasion, David had been happy that there was always a camera on him, be it a bodycam or cameras where he lived. It helped eliminate that whole he said/she said situation. More than one celebrity had been shaken down that way. The easiest method was to say that sex was nonconsensual after the fact. Nine times out of ten, people believed the accuser.
Wolf snorted.
"Like you would hesitate to make a sex tape."
From being a model, David was not body-shy, and his friends knew it.
"The problem is that my security team won't let me have access to them," David shot back.
Over the speakers, the captain told them that they were preparing to land and to put on their seatbelts.
"I'm so ready for this," Wolf said.
"Today begins our drive for a national championship," David said.
"Hell, yeah," Tim agreed.
A new chapter in his life was about to begin. David relaxed in his seat as he thought of what was to come. His hope was that he could just be an average college student-athlete. He would prefer to let the whole David A. Dawson actor persona fade into the background while he went to school.
He still had some movie commitments, like voice work and then the publicity tours, but he'd been promised that would be kept to a minimum.
What he really needed was to be treated like any other guy and maybe sleep for a month.
◊◊◊
Chapter 2
Coach Michaels
Oklahoma's head football coach, Bob Michaels, had been summoned to the athletic director's office. While it wasn't unusual for him to meet with Dr. Wilken, they'd just met two days ago to talk about their upcoming bowl game. The athletic department was in charge of the logistics, and he'd wanted to make sure everything was on track.
In the past, he'd been confident that everything was being handled. But Dr. Wilken had suddenly been thrust into the job as the interim athletic director. His old boss, Tug Candis, had unexpectedly retired due to health issues.
Tug had been in charge for the past seventeen years. He knew all the ins and outs of running a smooth operation. In contrast, the best characterization that Coach Michaels could come up with was that Dr. Wilken was 'muddling through.'. Coach Michaels didn't think anyone in the department would be happier than him when they found Tug's replacement.
"Hey, Becky. I've been summoned," he said as greeting to Tug's long-time assistant.
Truth be known, she was probably more responsible for the success of Oklahoma's athletics than anyone else. Coach Michaels knew that if you really needed something done, you went to her.
"Bob," she said, which brought him up short. Becky had never used his first name before. "I tried to stop it, but they've made up their minds. Don't lose your job over what he's going to tell you."
As she was saying that, she'd pushed him out into the hall so her boss couldn't overhear them.
"What's going on?" he asked.
"The new compliance guy we hired from the NCAA rejected the waiver we were granting David Dawson."
"Son of a B… We had that worked out," he said, stunned.
"Go make your case, but I'm telling you he has made up his mind. Dr. Wilken is worried he'll look weak if he grants it," Becky shared.
"Why couldn't Tug have waited to retire?" Coach Michaels complained. "This will cost us, mark my words."
She simply nodded and went back into her office, where she announced him. Bob put on a neutral look and walked in. He saw that Dr. Wilken was with a young man in his mid-20s.
"Bob! Thanks for making time for me today," Dr. Wilken said, a little too excited.
"We need to make this quick. I'm meeting with Darren Ludlow for lunch today to talk about signing David Dawson, Tim Foresee, and Wolf Tams to financial aid agreements. He's doing a piece to welcome them to Sooner Nation. He plans to write a big spread for Sunday's paper. It's not every day that we pull the number one recruit. The timing couldn't be better, with Hayden planning to go pro."
Dr. Wilken visibly flinched. Coach Michaels really didn't have a lunch meeting with the local paper's lead sports reporter, but he soon would if this meeting went south.
"Bob, I'd like you to meet Stewart Chadwick from the compliance department. He has something to share with you."
A glimmer of hope cracked through when he saw Dr. Wilken toss the grenade to the source of all this nonsense.
"It concerns David Dawson. We're not going to be able to provide him a waiver for his image rights. The long-term implications are too grave to allow it," Stewart announced.
Both men braced themselves for the coming explosion, which would have happened if Becky hadn't warned him. Instead, Coach Michaels put on a confused face before trying to reason with the two … well … idiots.
"Tug Candis already agreed to it and signed a letter of understanding to that effect. David will probably take in more money from his movies than all of us together make in a year. Part of that pay requires him to help with promotions when the films are released. At the time he verbaled, he made it clear that giving up those rights was a deal-breaker.
"What I need to know is, what changed? What is making us go back on our word?" Coach Michaels asked.
"Nothing changed. It has been our policy all along that all student-athletes sign a blanket document granting us the use of their likeness. Without it, we couldn't function," Dr. Wilken explained.
"Even the NCAA provided him with a waiver because what he needs it for is something he's created on his own before he steps on campus. This isn't going to change how we do business. A little common sense would dictate that we would work with the young man on this. Unless we all missed something before, I would strongly recommend we stick with what we promised," Coach Michaels said.
"We have several concerns. A good example is our upcoming bowl game. We, as a university, had to grant them image rights for all our football players, coaches, and anyone affiliated with the program to allow them to both promote and televise the game. If we give up those rights to David, he could potentially refuse to grant the bowl committee the use of his likeness for the promotion of the game. That could be a huge problem for us," Mr. Chadwick said.
"Did you even read the letter? He is granting us the rights to his image for football and baseball activities," Coach Michaels countered.
"There is a clause that says that for marketing purposes, David has veto power," Mr. Chadwick added.
"That was explained at the time. David has a public image beyond football. One, I might add, he pays a PR firm to manage. What he's protecting himself from is some marketing guy deciding he's the bad boy of football, or being asked to make excessive appearances. It's intended to limit us from turning him into some kind of show pony as the face of the program. He is serious about getting an education and doesn't want his athletics to affect that," Coach Michaels reasoned.
At the time, Coach Michaels had wondered why David would be worried. Then the whole Heisman hype had hit for Hayden Walsh. He'd had to step in to limit all the press requests for Hayden so he could focus on football. The marketing arm of the athletic department had naturally wanted the exposure that winning a Heisman by one of Oklahoma's players would give the university.
"The decision has been made. I suggest you get David to sign it," Dr. Wilken ordered to show that he wasn't backing down.
Coach Michaels could have taken this to the Board of Regents or the university president if he'd had time. He suspected that Dr. Wilken had deliberately waited until this morning to spring this on him. David and his friends would be here in a couple of hours to sign their financial aid packets that would give them scholarships. Part of that paperwork was the one granting the university the almost exclusive right to use their likeness.
He could try to sell David on the idea that he could make this right after that fact, but once he signed it, there were no guarantees. Coach Michaels couldn't, in good conscience, do that to the young man. If he couldn't get this worked out, he would advise David to not accept a scholarship.
"He'll walk, and I predict the other two will as well," Coach Michaels said. "Wolf Tams is one of the better tight end prospects and one that I planned to use next year. Tim Foresee is a bit of a project, but he could start his junior and senior years for us. Those were three key recruits I was counting on to fill out this class."
Coach Michaels had another thought.
"And you two need to remember something: none of these three has signed a National Letter of Intent. Without those in hand, they can walk and enroll at another school without any consequence to them. They won't have to sit out any time at all."
Coach Michaels could tell from Dr. Wilken's stunned expression that the idiot had thought they were locked in. If they'd signed the National Letters of Intent and decided to transfer, they would have to sit out another year before playing ball at their new school. Glancing over at Mr. Chadwick, though, Coach Michaels could see he was trying mightily to hide a smirk.
"That's not really a problem. All you have to do is have them sign their enrollment and scholarship papers before you tell them," Chadwick said, showing that the man had no morals.
Coach Michaels had to fight hard to master the upwelling rage that now threatened to consume him.
"I doubt David will leave," Dr. Wilken said doubtfully, but then he firmed up, obviously reciting a prepared litany. "We are the University of Oklahoma and just produced the latest Heisman winner. He picked us because he knows that we are his best shot at both winning a national championship and landing in the first round of the NFL draft."
Coach Michaels shook his head in disgust. This idiot was making a colossal mistake. Heaven help them if they ever met David across the field of play.
"David can make one phone call, and every top program in the country will roll out the red carpet for him. We've never had a quarterback with his raw talent step on this campus, and I include Hayden in that statement. I have him penciled in as next year's starter, and everyone knows that I hate to play freshman quarterbacks. He is the exception to that rule," Coach Michaels tried one last time.
"Like I said. The decision has been made."
"That's fine and dandy," Coach Michaels said, and then turned his gaze unblinkingly on Mr. Chadwick. "However, if you think for one second I am going to be the front man for your little scheme to defraud these young men by getting them to sign binding documents without telling them about what it means to David, you're dead wrong."
He thought for a second and continued.
"Like you said, we're the University of Oklahoma, and we do things the right way. I'll meet with them and try to salvage this, but I don't hold out much hope."
Coach Michaels made a mental note that as soon as Dr. Wilken was gone, he would make it his life's mission to get Stewart Chadwick drummed out of the university.
◊◊◊
He went back to his office, where he found his brother, Tom, who was his defensive coordinator, waiting for him.
"You will not believe what Dr. Wilken did this time," he said without preamble.
"I have a healthy imagination. Why don't you just tell me?"
"He just jerked the waiver David Dawson needed so he could promote his movies."
"I thought we agreed to that already, and him coming was a done deal."
"It was, but some jerk in the compliance department got into Dr. Wilken's ear. The long and the short of it is we just lost our starting quarterback for next year," Coach Michaels said.
"And we turned away the kid from Texas. Do you think he'll still be open to us?" Tom asked.
"I don't know. Tell Charlie to get in touch with him soonest. We need to come up with a way to not make this worse than it already is. David will never sign, but Wolf Tams and Tim Foresee are both with him, and they plan to sign today."
"Have them come here first, and we separate them from David when we tell him," Tom suggested.
"It's bad enough that we're going back on our word to David, but you don't know what else that weaselly little compliance prick tried to get me to do. He actually wanted me to wait until after they'd signed their enrollment documents before letting any of them know, including David.
"I have to be able to look at my face in a mirror, to begin with. We aren't some desperate program that has to stoop to underhanded tactics. I won't try to deceive any of them," Coach Michaels said.
Tom looked embarrassed by his initial comment.
"You need to go to them. Making them come to the football offices sends the wrong message."
What he loved about his brother was that he might want to go a bit too far, but when he had a moment to think about it, his moral compass was just fine.
"He's flying in on a corporate jet over at the university's field. I'll have them contact them and let the guys know to be looking for me. Doing this there lets them know I'm taking this seriously."
"Do you want me there?" Tom asked.
"No. I don't want them to feel like we're ganging up on them."
"I'll give Charlie a call. I think he's in Dallas, seeing that receiver we want. After he's done with that, I'll send him to Houston," Tom assured his brother.
"Tell him to do what it takes. We may have to start Jordan Murphy, but we need him after that. We'll have to save a scholarship for a transfer to back up Jordan," Coach Michaels planned.
He could see the domino effect that losing David was going to cause. If he'd come, he would have had both spring ball, all summer, and then preseason practice to get ready. The kid from Houston wouldn't get here until summer school started. They would lose five months of his learning the offense.
Jordan would be a junior. The party line would be an open competition at quarterback, but Coach Michaels knew that unless David fell on his face, Jordan would not win the job. He would then turn into the security blanket in case the pressure got to David, or he was injured.
The kid from Houston, while a top prospect, couldn't be expected to walk in and be the backup at Oklahoma. He might be ready by the last third of the season, but he couldn't trust him early on.
Coach Michaels mentally prepared to put on his kneepads so he could apologize to David and hopefully keep the other two.
◊◊◊
The University of Oklahoma Westheimer Airport was designated a regional business airport servicing general aviation aircraft, including business jets. Coach Michaels had arrived early enough to watch the plane carrying the guys land.
He put on his game face as they made it to the building. The first thing he noticed was that David looked tired. He had dark circles under his eyes as he stretched at the entrance. Wolf and Tim were joking with him, and he saw a little smile touch David's lips in response to whatever had been said.
"Coach Michaels, you didn't have to come to pick us up," David said as he led the group to say hello.
It wasn't lost on him that David had been the one who'd initiated the conversation.
"I need to talk to all of you before we get to campus. They have a small conference room this way," Coach Michaels said as he led them. "How was your trip?"
"Much better than the flight out. When you're with David, you get the perks," Tim said.
"I'm so ready to get started. Working for the last several months just highlighted how good college kids have it," Wolf added.
Once they got to the conference room, everyone took a seat.
"What's wrong?" David asked.
"Our interim athletic director called me to his office this morning and informed me that we are reneging on the waiver we agreed to."
Tim and Wolf rocked back in their chairs. He was impressed when David didn't say anything for a minute as he thought through what that meant. David took a deep breath and then looked Coach Michaels in the eyes.
"That's a real problem. I can't play football or baseball without it."
"I was afraid you would say that. Would you consider enrolling to give me time to fix this?" Coach Michaels asked.
"Would I be able to play baseball or football without an agreement in place?" David asked.
"No. Even as a walk-on, we have to have something signed so you can be shown on television. I would have to see if you would be able to practice or not," Coach Michaels said and then took a deep breath. "I hate what has happened, and I'm sorry, but I don't have all the answers. This is uncharted territory for me."
"Thank you for the offer, but I have a real problem with the athletic department breaking their word with me. I'm going to have to find somewhere else to go to school," David said.
The words were spoken casually, but there was a tightness in David's face that told Coach Michaels he wasn't happy. This was going just as badly as he'd feared.
"I don't blame you in the least. If you need me to make calls on your behalf to explain you were forced into this, let me know."
"What about my teammates?" David asked.
"I'm not sure I want to stay after that," Wolf said.
David turned to look at him, the stormy eyes changing to look at his friend with understanding and compassion.
"Before you make a hasty decision, I want you to remember why you picked Oklahoma. It's one of the places where we felt most at home when we visited campuses. On Saturdays, you'll be playing ball in front of a sold-out stadium. If I end up somewhere like Northwestern, it'll be more like playing high school ball."
Coach Michaels would be forever grateful David had said that. It would've been easy for the young man to let his emotions reign and take Wolf and Tim with him wherever he ended up. David had put his friends' welfare first.
"I want to assure both of you that we didn't offer you scholarships just because David was coming; you earned them on your own merit. We have plans for both of you," Coach Michaels added.
"I don't know, David. The plan was the three of us would play ball together," Wolf replied sadly.
The conflicting emotions were there on his face for all to see.
"I understand, but we all knew that at some point, one of us could get hurt or transfer, and we'd have to break up the band. It just might be happening a lot sooner than we expected."
Neither Tim nor Wolf looked happy, so David added to his comment.
"Look. I can't ask you to give up an opportunity like this. It would be ten times harder to find a spot for the three of us this late in the game. Take the scholarships and play ball here. You both know that's what you want. If it weren't, we would never have all three agreed to come here.
"Plus, who knows what the future holds for me? This might be the wake-up call I needed. After what I went through doing the movies, I seriously need a mental break. Taking the first semester off to just be a college student looks pretty damn appealing right now. You both know how much work it is to play ball, go to school, and all the rest," David said.
"And you planned to play baseball, too. I never could figure out how you were going to do it," Tim admitted.
"Like I said before, you could do that here," Coach Michaels said.
The guys laughed. He had to admit, it sounded weak when it came out. He knew that David's best bet was to go elsewhere.
"Are you guys going to sign?" Coach Michaels asked.
Tim and Wolf looked at each other and then at David. He gave them a little head nod.
"I'm still in," Tim said.
"Me, too, but I'm not happy about what you did to David," Wolf agreed.
"I'm not happy either," Coach Michaels said and then turned to David. "In my wildest dreams, I never thought something like this would happen. All I can say is, best of luck. If circumstances change, I'll welcome you with open arms."
"I appreciate that, Coach," David said and then turned to his friends. "You guys are set with transportation back home?"
"Yeah. Our flights are booked," Wolf said.
"I think I'll see if the pilots are up to taking me to California. They'd planned to stay overnight and take me back tomorrow, but I want to get home and see my family," David said.
Coach Michaels watched with Tim and Wolf as David walked back to the plane.
"Come on, guys. Let's get you set up. If you'd like, I know my wife is making lasagna tonight. Could I interest you in a home-cooked meal?"
◊◊◊
He dropped Tim and Wolf at the admissions office. While they dealt with that, he called Darren Ludlow.
"I've got a story for you. Want to hear how our interim athletic director and our compliance officer lost us our starting quarterback for next year?"
"You've got to be shittin' me," Darren said.
"Do me a favor. Call the university president and Board of Regents for comment," Coach Michaels said.
"You looking for some heads to roll?"
"You got it. Those two need to go. Make sure it's clear that David Dawson is the victim in all this. Tug set it all up for everything to go smoothly for David, and those two blew it up in one morning. Call Becky, and she can get you the dirt," Coach Michaels said.
"Can I use you as a source?" Darren asked, hopefully.
"Hell, no. You can say you got it from my brother, though," Coach Michaels said with a laugh.
They had a standing joke that if something negative had to be said, his younger brother was the source. Darren knew Coach Michaels was joking. He also knew that if he'd given him access to Becky, he was dead serious about getting rid of whoever was involved in losing him a recruit.
"I'll have a bottle of the good stuff sent over."
"If you get them fired, I might even let you come over and drink it with me," Coach Michaels said.
◊◊◊
Chapter 3
Coach Clayton
USC's head football coach, Coach Dylan Clayton, had a dilemma on his hands. He'd received word from his recruiting coordinator, Bryant Franzese, that David Dawson had backed out of his commitment to Oklahoma and was interested in coming to play for USC.
He'd had Bryant call Coach Michaels to get some background as to why David was making a change. He had to chuckle at what a boneheaded move their interim athletic director had made. Bryant had also sent him an article from the local paper in Norman calling for the athletic director's head.
Coach Clayton's dilemma stemmed from his system for recruiting and handling his quarterbacks. He wasn't one of these guys who just kept recruiting top talent and then letting them fight it out to see who came out on top. He didn't want his starting quarterback continually looking over his shoulder, worried that one minor mistake would see him on the bench.
He was a believer in having one clear number one recruited every two years. That would give the future number one a couple of years to get settled and learn the offense.
USC's current situation was a textbook example of how and why he wanted it to work. Ridge Townsend had been their starter for the last two years and was projected to be a top-five draft pick in this year's NFL draft. Even though Ridge was leaving a year early, they'd picked up Matt Long. Matt had had a chance to redshirt and was set to take over this fall as the starter with four years of eligibility.
Last year they'd recruited both David and Matt. Coach Clayton had sat David down and assured him that if he accepted, they would back off on Matt's recruitment. It wasn't like Matt was a consolation prize or Plan B type player, though. He ranked as the number four quarterback and the tenth overall recruit in the nation coming out of high school.
As tempting as it was to take the number one ranked quarterback and number one overall recruit in David, it went against what he believed. David would walk on and be at a serious disadvantage because of Matt's year of experience in the program.
Working against David was that he gave the lion's share of coaching and the playing time in practice to his starter. David had sat out to make movies and would walk onto campus without having taken a live football snap in over a year. High-level college football wasn't something you could just show up for after that kind of layoff and do well. He would require practice time that would eat into what they planned to give Matt.
Having both highly rated quarterbacks would mean that one would have to sit on the bench. That wouldn't be fair to them because he felt they both had the potential to play on Sunday, after graduation.
With that in mind, he was leaning towards not taking David, as crazy as that sounded. Before Coach Clayton called David back, he wanted to get his brain trust together and talk about it. That included his offensive coordinator, Coach Wyatt Thomas, and defensive coordinator, Coach Jackson Farrow, to get their thoughts.
Coach Clayton was on his way to meet with them. They had a small conference room where they talked about strategy. He found both men waiting, so he took his seat.
"Bryant got an interesting call. David Dawson pulled his verbal from Oklahoma and has put out feelers to see if we are still interested. I talked with Coach Michaels at Oklahoma, and he's okay with it, says David has a legitimate beef with Oklahoma's administration."
"My first instinct is to say absolutely. My only concern is what this will mean for Matt. He might transfer if he hears that David is coming. I'd hate to see that since we invested so much time into Matt, and he is going to be a good one," Coach Thomas said.
"Do you really think that David, who hasn't touched a football in over a year, could come in and displace Matt?" Coach Clayton asked.
"When you put it that way, maybe not. But when we recruited them, it was obvious that David has the higher ceiling. While Matt might get us to a national championship game, David could win it for us," Coach Thomas said to give his evaluation.
"It sounds like we're splitting hairs," Coach Clayton said and then made his opinion known. "I'm leaning toward saying 'no.' Matt has earned his shot, and I don't want to muddy the waters with a quarterback controversy before he has even had a chance to take the reins."
"If you two idiots don't want him, I do," Coach Farrow said to weigh in.
Coach Farrow had kept out of it to this point because David's best position was on offense. But David was more than a quarterback. He was, first and foremost, an athlete. In high school, he'd played defense at times. When he did, he showed that he could play almost any position on the defensive side of the ball. Coach Farrow was excited because he could move David all over the field, from stand-up defensive end to cornerback, as situations dictated.
Coach Farrow also felt that you put your best athletes on defense. While schools like Oklahoma loaded up the offensive side of the ball, when they met better teams outside their conference, they ran into problems. Defense won championships, in his opinion.
"We don't have any more scholarships for your side of the ball. You used them in the early signing period," Coach Thomas pointed out.
"This surely warrants giving me one more, don't you think?" Coach Farrow asked.
"What if we offered him a preferred walk-on spot with the promise of a scholarship when one opens up? He can afford tuition, to start with. It shouldn't be long until we have someone leave for one reason or another, and we could give him one then. We could sell it as if we'd known he was coming, we would've had a scholarship on hand," Coach Clayton floated.
"Why take the risk of him going elsewhere?" Coach Farrow worried.
"If he threatens to do that, we'll give him a scholarship. But we make it clear that we're offering him a shot to play defense and not take over at quarterback. If he doesn't accept that, then we take a pass," Coach Clayton said to make the final decision.
"I want to take the lead on this," Coach Farrow said.
"Go tell Bryant. He has enough on his plate and will be happy to let you handle it," Coach Clayton said to conclude the meeting.
◊◊◊
Coach Farrow
He wanted a chance to sell David on this before Coach Clayton could mess it up. Coach Clayton's focus was on his precious offense and some rather rigid ideas on how to build a team. Coach Farrow had no doubt that David could beat out Matt if given a fair shot. After all, he'd seen the tape from both and had actually seen the two of them go head-to-head at a football camp, where David was clearly the better quarterback. But David was also both excellent and flexible on defense. No, the best thing would be to get him into the fold and use him defensively, with the possibility of still going offensive down the line if the change was needed for some reason.
He swung by Bryant's office to get David's information and to let him know that he'd been put in charge of his recruitment. Bryant was thankful because he had his hands full working to fill out this year's class.
Coach Farrow confirmed that they were still willing to give David his waiver. Bryant smiled and assured Coach Farrow that they'd agreed to the waiver request and would make it official as soon as David decided to come to USC.
When the coach got to his office, and discovered David lived in Malibu, he called David and set up an in-home visit for that very night. Coach Farrow wanted to be in front of all the decision-makers, which he assumed included David's parents, when he worked to sell him on the idea of playing defense.
◊◊◊
David lived in a gated community of higher-end homes. The guard at the gate gave him directions, and as he pulled into the drive of the given address, the gate magically opened. A large, Samoan-looking man pointed to where he wanted the car parked.
"Coach Farrow?" the security man asked as he got out of his car.
"Yes. I'm here to talk to David."
"Right this way."
As they walked to the front door, Coach Farrow couldn't help but take in the property. It was evident that making movies paid well.
When they entered the house, he was led to a big playroom where David was sitting on the floor next to a short table where his five kids were coloring with markers.
"Daddy! Help circle," the redheaded boy of the bunch said.
"Hey, Coach. Give me a minute, and we'll go upstairs," David said and then helped the redhead draw a circle. "You just take your time and go slow. Start with little circles and then try a big one."
A redheaded young woman came in.
"Carol! Don't draw on Coby," she said as she rushed over to take the marker out of Carol's hand.
"I'm too young to know what child-safe markers are," David said, standing up. "You got this, Peggy?"
All the little ones started to clamor for their dad not to leave. David reached into his pocket and pulled out small suckers.
"Bribes," he admitted.
Peggy didn't look impressed, but it distracted them enough for David to make his escape. As he and Coach Farrow walked upstairs, he explained.
"Being away filming, I was only able to talk to them via video chat. Now that I'm home, they want to be with me all the time. I figured I better do just that until I go off to college," David said.
"My two are older. My boy is a junior in high school, and my daughter goes to USC. She's a freshman. When they became teens, they didn't want much to do with me anymore. Enjoy it while you can," Coach Farrow advised.
David took us to the kitchen, where two women were cooking.
"Mom, Rosy, meet Coach Farrow."
"Carol Dawson," David's mom said to introduce herself. He could see where David got his good looks. "Rob should be here shortly. I sent him to pick up some wine."
"Get out of there," Rosy chastised David when he stuck his head in the oven to discover what smelled so good.
"Oh, man, she's outdone herself tonight—both red and green enchiladas. Rosy is the best cook … besides my mom," David announced.
Coach Farrow gave him points for the save. The kid had learned what took him five years of marriage to discover: never compare women to each other.
"Are the adults eating on the roof deck?" David asked.
"Yes. We'll feed the horde down here," Carol said. Turning to Coach Farrow, she asked, "Would you like a beer with dinner?"
"I'll wait for wine," Coach Farrow said.
"We'll go up and get everything set up," David said.
Coach Farrow followed him up to the roof and was instantly jealous. He could never bring his wife here because she would insist they remove their roof and set something like this up. Firstly, it had great views of both the hills and the ocean. It was also set up for adult entertaining, complete with an outdoor kitchen, wine fridge, fireplace, and the topper was the ten-person hot tub. The space took full advantage of why people lived here, namely the weather.
David grabbed some cleaning supplies so he could wipe down the chairs and a substantial redwood table. The table was cut out of a solid piece of wood; you could tell by the live edges. While David did that, Coach Farrow followed behind, setting the table for eight. It looked like he was going to meet more than just David's parents tonight.
They'd just gotten done when people began to come upstairs. Coach Farrow was introduced to Ashley and Scarlet, two women David had met on a recruiting trip to Alabama. They were the mothers of three of his children: Allen, Dawson, and Carol. Peggy was the little redhead, Dave's mother. David's parents, Rob and Carol, were the last to join them.
Coach Farrow sat back and watched their interaction throughout dinner. He came away with the conclusion that they'd built a stable family atmosphere. He could tell that Rob and Carol were mainly responsible for making everyone feel at home.
After dinner, the girls cleaned up, leaving David and his parents to talk to the coach.
"There has to be something that's come up. I'm curious why they sent you," David said.
Coach Farrow was at first taken aback that David had figured it out. He was also impressed with his natural confidence in taking the lead in the discussion. Usually, when a family sensed something wasn't right, one of the parents stepped in to deal with it. It was refreshing to see someone David's age take charge and do it in a way that wasn't overbearing or immature.
"Remember when you came for your recruiting trip, and Coach Clayton talked to you about his quarterback philosophy?" Coach Farrow asked and waited until David nodded. "He wants you to know that Matt is penciled in at quarterback. We aren't going to offer you a scholarship to play ball at USC to be a quarterback."
Coach Farrow waited for the blowup he knew was coming. Instead, the three Dawsons just stared at him. It was the most unnerving thing he'd ever experienced. Before Coach Farrow knew what he was doing, he began to babble everything he knew.
"While Coach Clayton doesn't want to create a quarterback controversy, which would surely happen if you were recruited as a quarterback, I want you to play defense. I can see you playing multiple positions based on the situation. With your size and speed, you'll be a difference-maker. I personally think you may have as much potential on my side of the ball as you would at quarterback.
"But I have one other problem. I used all my scholarships for defense in the early signing period. You would have to be a preferred walk-on, to begin with. We can get you through the admission process through the athletic department and get you placed in the athletic dorms without a problem. You would just have to wait until a scholarship freed up to get your schooling, room, and board paid for," Coach Farrow ended in a flourish.
Coach Farrow felt like a complete ass after he'd said all that in a rush. He held his breath to see what the response would be.
"What about the waiver?" Rob asked.
"Sorry, I forgot about that. I confirmed that we are on board, and David wouldn't have any issue with that."
"Would there be any problem with David playing baseball?" Carol asked.
Coach Farrow rubbed his forehead before answering. While he would prefer that David focus entirely on football, there was no way he could see to prevent his playing baseball under the circumstances.
"No, that would be fine. I can even talk to the baseball people if you want."
Finally, David weighed in.
"Would I be required to attend preseason training as a preferred walk-on?"
"Technically, 'no' …"
"Would I have to live in the athletic dorms? Could I live elsewhere?" David asked.
Now Coach Farrow was confused. Why would David not want to work out and live with the team?
"If you wanted, but we want freshmen to live in the dorms," Coach Farrow answered.
"Technically, David will be a sophomore. He took enough advanced placement classes in high school to bypass his freshman year. He plans to get his undergraduate in two and a half years," Carol said.
"I'm seriously considering pursuing the five-year BA/MBA program USC offers," David added.
Coach Farrow suddenly felt he'd not been prepared for this meeting. He should have known that.
"I think living in the dorms would be good for David. It helps young men get acclimated to college life since this is their first time away from home," Coach Farrow said.
"You may not realize I've been living away from home for the past seven months while I filmed my movies. So I'm not really worried about living away from home. I'm going to college with a purpose; I'm not going to party 24/7," David said.
"Well, I'd have to see about you living off-campus," Coach Farrow hedged.
"I'm fine living on campus, but I have a specific request. I want to live in Sandoval Hall and want to room with Alejandro Sandoval," David said.
"I … uh … I … uh …" Coach Farrow stammered before he gathered his thoughts. "I'm not sure I can get you into Sandoval Hall, let alone be Alejandro's roommate. There's a waiting list to get in, and most have to demonstrate a need …"
Then he got it. Sandoval Hall was a new dormitory that had formerly housed medical offices. Umberto Sandoval had wanted a high-security residence hall to house his two children. The building had been miraculously transformed over last summer so that it was ready for the fall. It was called 'The Palace' around campus because it housed high-profile students, and the accommodations were equivalent to what you would expect to find in an exclusive condominium.
It had instantly filled up with students whose families had either connections or money. It was also the only residence hall where you had to pay a premium over the standard amount paid for campus housing. The extra money went for security, amenities, and the like. He'd heard rumors about the food.
"Never mind. I get why you would want to live there," Coach Farrow finished.
"It's part of the deal I had to make with my parents. It was either live there, or I will have to have a security guy following me around. I want to go to school and be just a normal student. You met Manaia; he kind of stands out," David said, referring to the Polynesian man Coach Farrow met when he arrived.
"Even if I could get you in, I'm not sure I can displace whoever is living with Alejandro," Coach Farrow said.
David got a big smile on his face.
"I'll let you in on a little secret. Both Alex and his twin sister Natalia live there. They live in double suites. Alex has been bragging about how nice it is that he doesn't have a roommate. I want to surprise him and crash his perfect little setup," David said.
"If he's living alone, then I can get it done," Coach Farrow said, feeling more confident.
"And you can't tell Alex who his new roommate is. You might have to tell his father, Umberto, but he'll go for it," David assured him.
Coach Farrow didn't really know what to say but nod 'yes' to that.
"Aren't you even going to ask David to come to USC?" Carol asked.
"My mom sells real estate. She's been teaching me to ask for the sale," David said to clue him in.
"No, I get that. I was just processing all this," Coach Farrow said and then cringed. "Sorry. Would you honor us by attending USC?"
"Absolutely," David responded.
"You don't know how much David wants to play defense. In high school, he would've never come off the field if the coaches hadn't made him," Rob chuckled.
"Now that I know you're coming, clue me in as to why you don't want to work out with the team."
"I already have a trainer, Cassidy Hope. She's the daughter of my high school coach and is on scholarship at USC for rowing," David explained.
"Don't worry. Cassidy will have him in shape," Carol added.
"But we have some of the best strength and conditioning people in all of college football," Coach Farrow objected.
"I'll make you a deal. I'll meet with them periodically so that you're confident in the training I'm doing. Let Cassidy work me out, though. She knows how to get the most out of me," David compromised.
"Plus, she would hurt him if he didn't let her," his dad added.
They all laughed when Coach Farrow looked confused.
"Just wait until you meet her and see her work me out, and you'll understand. I contend that without her, we wouldn't have won three state championships in football and one in baseball. We were always the best-conditioned team in the state, hands down," David assured Coach Farrow.
"Welcome to the team. Can you come to campus tomorrow? We can get your waiver signed, get you enrolled, and assign your dorm room. You'll also need to pay for school."
"Yeah. Let's get this done," David said and then raised a finger as he thought of one more thing. "I don't want there to be an announcement that I'm coming to USC."
"Why's that?"
"David wants to try to be a normal college student. At some point, word will get out, and he'll have to deal with all that. But he wants to just be a regular guy for as long as he can," Carol explained.
"I'll make that happen. Can you be at the football offices at around ten tomorrow?"
"Yeah. I'm looking forward to it," David said.
◊◊◊
On the drive back to campus, Coach Farrow couldn't help but think that he'd made the right call in getting David Dawson to commit. He made a prediction that by the end of next season, David would be their starting quarterback. In the meantime, he would take advantage of having someone like David play defense.
He made the prediction based on what just happened. David hadn't thrown a fit when he was faced with being told 'no' about playing the position he was most suited for. Coach Farrow had no doubt that David could learn both the offense and defense. He had exhibited quiet confidence in himself that he'd only seen a couple of times in his career with kids that age. One of them was Ridge Townsend, who was about to be drafted in the top five of the upcoming NFL draft.
Matt Long was still a boy, maturity-wise, compared to David. He would've had a meltdown if he'd been faced with David's situation today. That told Coach Farrow that when things got tough, Matt would more than likely focus on the problem. He'd be so wrapped up in that, that he wouldn't be able to quickly move on to the solution. In football, stuff happened quickly that didn't go your way. In many ways, a quarterback had to have amnesia about what just happened so he could focus on the task at hand.
What he did know was that Coach Clayton was big on how his process worked, and inflexible about it to boot. But! He was also about winning games. He would ride the Matt Long experiment until it failed. Then he would be open to David taking charge. If that ever happened, Matt would probably need to transfer or pray that David was off to the NFL soon.
Matt was a typical 18- or 19-year-old, after all. He was living the dream and had been handed the keys to the football program. Like giving the keys to your sports car to your teenage son, you shouldn't be surprised when he wrapped it around a tree. That was probably the biggest reason Coach Clayton liked to wait until a player had been in the system two years before starting them at quarterback. It gave them a year to get playing big man on campus out of their system and settle down into the job.
David had already had to grow up. Any young man with a family to look after had to face some hard truths. David also had the advantage of living in the public eye because of his acting success. From the way he talked about wanting to be just a regular student, it was apparent that David had moved past wanting to be the big man on campus.
That would allow David to focus on what mattered and not all the trappings and popularity. David wouldn't be tempted to do things that would get him off track.
Coach Farrow looked forward to working with him.
◊◊◊
Chapter 4
David
There was a lot for David to do today. Coach Farrow had pulled some strings and called to let him know he was set to move into Sandoval Hall. David had to go to USC to register for classes, and he planned to swing by the dorm and see what he might need or want to bring with him.
He'd dressed down for this. The clothes were casual Midwestern, making him look almost like a bum compared to most people in LA. The addition of his baseball cap and 'birth-control' glasses—complete with a built-in camera, black rims, and clear lenses—reinforced his low-profile look. His acting friend, Halle James, would be appalled at him being seen in public dressed like this, but he didn't want to draw attention to himself today.
After that, David planned to stop in at the baseball offices to talk to the coaches. USC's first game was only three weeks out, and he wanted to find out what it took to walk-on as soon as possible.
Lastly, David wanted to pick up his car. When he'd won his Academy Award last spring, they'd given all the nominees' swag bags full of goodies that ranged from skin-care items to lavish vacations. He'd either donated or given away most of the stuff. One that he ultimately wound up keeping for himself was the use of a high-end car for a year.
David had contacted Drexler Motors, and they told him he could either pick something from the lot, or they would order what he wanted. He planned to use it for his car on campus, so he didn't want anything too over-the-top. The way his luck had been going lately, it would get banged up or stolen.
When it was time to go, David went downstairs from his apartment over the garage to meet Manaia, his security and driver for today. David saw Manaia had pulled out his Dodge Challenger SRT Demon. This was one of four prototypes that Dodge had built to test the Demon's design. When he'd gotten it, it only had a driver's seat and not any other creature comforts, including no radio, to his initial disappointment. Fortunately, his dad and uncle had it worked on to trick it out.
Dodge had included all the bells and whistles performance-wise so they could test the car's limits. That meant that it had more horsepower and beefed-up brakes than what ended up coming off the production line. The car was a beast and a joy to drive.
"Keys," David said, holding out his hand.
"Can't. I'm supposed to drive you," Manaia countered.
"Either you let me drive, or I'll make sure you are the sole driver for the kiddy van. That means driving them to and from daycare, play dates, and the like … forever."
Manaia could see he was serious and just tossed David the keys. Being stuck in traffic with five two-year-olds would make anyone want to blow their brains out, especially if they weren't yours. He wouldn't put it past David to feed them sugar to get them amped-up before the trips, either.
David got in and adjusted the seat backward to accommodate his long legs. He fired up the engine and gave Manaia a grin as it rumbled to life.
"I haven't gotten to drive since I went to make my movies," David admitted.
"That's probably another reason I should drive," Manaia grumped.
David ignored his whining. He pulled the car from the back garage and found his mom standing in the middle of the driveway.
"Did you narc me out?" he asked.
Manaia gave him a sideways look and shook his head 'no.' His mom walked around to the passenger door and opened it.
"Get in the back. I'm going with you."
David was impressed when Manaia did as he was told. It seemed his mom had Manaia better trained than he did.
David didn't even comment that his mom was going with. She would want to review his classes and see where he was going to live. There was no point in fighting it.
"We're picking up Lexi," Mom announced when she had her seatbelt on.
'Frick!' David thought.
He'd been avoiding Lexi since he'd sent her home from New Zealand. If Oklahoma hadn't had their collective head up their posterior, he would have been free of Lexi. Living in the same city might make that harder.
◊◊◊
They caught a break on the ride to USC as they missed most of the morning rush hour. When anyone drove a car like the Demon, they'd naturally want to let it run, not be forced to endure LA's stop-and-go traffic.
Coach Farrow walked David's group over to admissions and got all the necessary paperwork filled out for him to be able to register for classes. He also received his student ID.
They then walked across campus to see a counselor at the Marshall Office of Undergraduate Advising to get him signed up for classes.
David wasn't surprised when his mom took over. She had a folder with everything they needed from his high school days to show he had the necessary AP credits to skip a year's worth of the basics like calculus.
M-W-F
9:00 am – 10:00 am Principles of Microeconomics – 4 units
11:00 am – 12:00 pm Communication Strategy in Business – 4 units
Tuesday and Thursday:
8:00 am – 9:30 am Introduction to Financial Accounting – 3 units
10:00 am – 11:30 am Marketing Fundamentals – 4 units
1:00 pm – 2:30 pm Applied Business Statistics – 4 units
By the time they left there, his head was spinning. David's mother had, on more than one occasion, changed his classes when he was in high school. She'd been behind many of the AP classes he'd taken. Why did he think, now that he was an adult and paying for college out of his own pocket, that she wouldn't decide what he was taking? That would have been crazy talk.
Honestly, when David saw the schedule she'd put together, he was okay with it. Coach Farrow made a token objection that it might be a bit much of a load for the typical athlete. His mother countered that they were all classes he either wanted to take or needed for his major. In the back of David's mind, he wanted to get his degree in Business Administration with a possible minor in Comedy.
Yep, they offered a minor in Comedy, but no one took him seriously, so that suggestion had died a quick death. He could figure out a minor later.
David knew he'd indulged his mother today, but it had to stop, or she would be doing stuff like this when he was fifty. This was probably one of those moments when you picked your battles. This was one that needed to be fought.
"Mother."
His mom surely knew what was coming.
That was a preview of A Better Man - Book One. To read the rest purchase the book.