Pasayten Pete
Graybyrd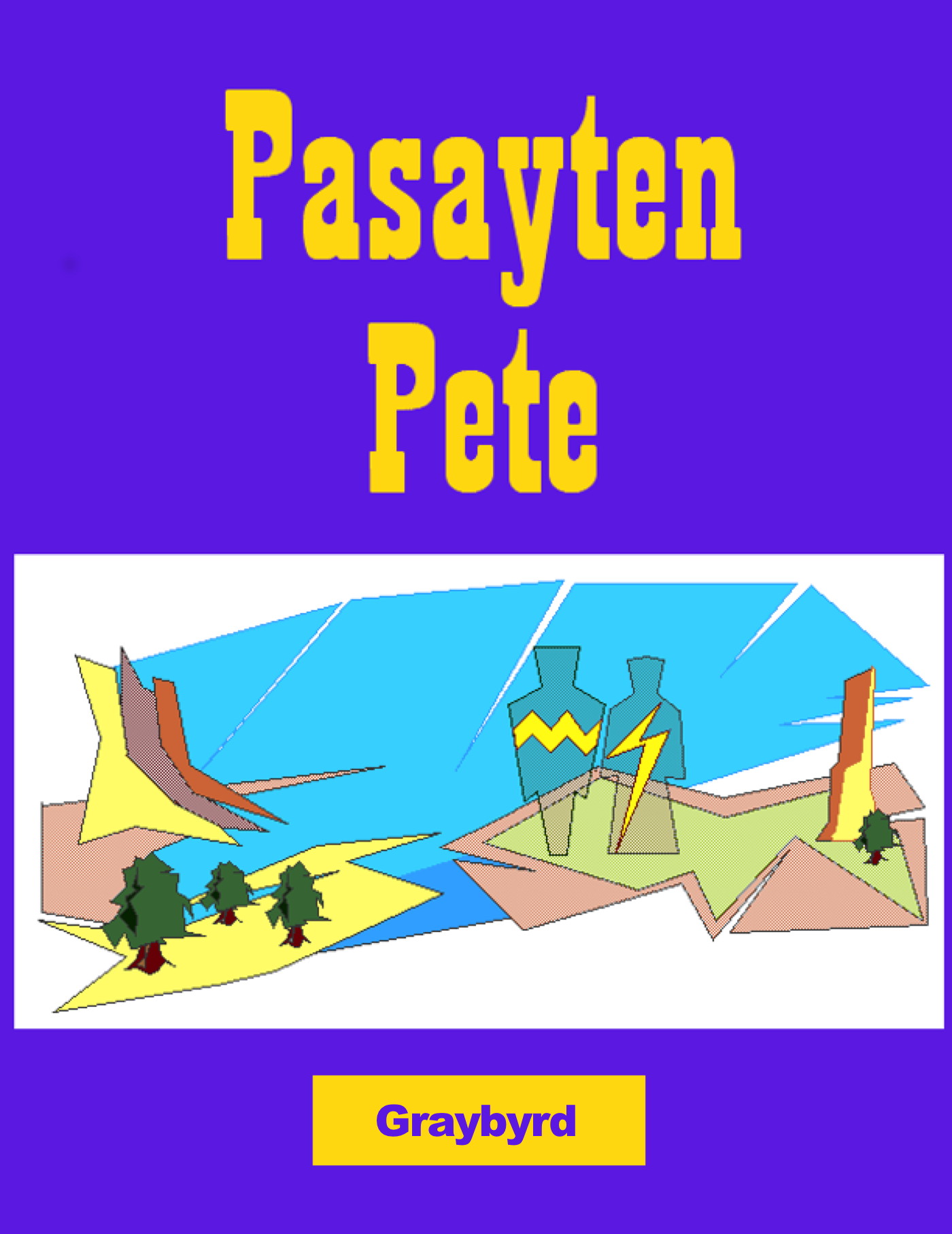 Pasayten Pete
by Graybyrd
Copyright© 2011 by Graybyrd
Description: Pasayten Pete is an obscure north Cascades legend. As a boy growing up in the Methow Valley, Graydon Williams heard tell that Pasayten Pete was a hermit, a lost prospector, or even a creature not-human and not-animal. No one claimed to have seen him or knew anyone who had seen him, but everyone seemed to believe there was something to the legend. Graydon lived the real story.
Tags: No Sex, Paranormal
Published: 2011-02-04
Updated: 2011-03-11
Size: ≈ 75400 Words
Chapter 1: Gypsies
It was just another crummy place to live, a cheap room in a cheap hotel in a cheap part of town, down close to what would have been skid road if this eastern Washington town had been big enough to have a skid road district. The carpets smelled musty, the wall paint stank of stale cigarette smoke; tired light bulbs in filthy overhead globes flickered dingy light and the windows passed gloomy light through their grimy panes.
If the inside of this crummy hotel was bad, the outside was worse. Dirty bricks with chipped edges, crumbling mortar and grimy concrete ledges framed a lopsided metal sign hung over the front entrance. Faded letters proclaimed Empire Hotel.
Graydon trudged up the staircase to Door 3 and their rooms. The front room overlooked the street. A smaller side window overlooked the trash-littered alley. A refrigerator with condenser coils on top, dirty with dust, stood beside a two-burner gas range. Two overhead cabinets, a chipped counter, and a chrome-legged painted table with four chairs furnished the kitchenette.
A faded brown three-cushion couch slumped under the alley-side window. A yellow overstuffed chair, ripped along one threadbare arm, sat by the doorway into his parents' bedroom. Another door opened into the bathroom. A bare bulb hung from a twisted, cotton-covered electrical cord. A hard-water stained lavatory bowl flanked a cast iron tub. A rust smear ran down from the dripping tub faucet. The toilet, a big chunk missing from its tank lid, leaned crookedly in the corner.
They'd lived in this hotel apartment since late winter. Alex Johns had finished up his high-iron job on the Tacoma Narrows Bridge, built to replace the fallen original suspension bridge nick-named Galloping Gertie. It famously flogged itself to destruction in a wind storm. Alex moved the family to eastern Washington to a job at Rocky Reach dam on the Columbia River near Wenatchee. It was one of many dams that turned the free-flowing Columbia into a riverine terrace of stair-stepped reservoirs. Dam-building offered steady work for his step-father.
His first big job had been the Grand Coulee Dam, built in the twilight years of the Great Depression. The federal mania for river damming to generate great quantities of free electricity and canal systems to water the arid western states was abruptly interrupted by Pearl Harbor. US Army draftee Alex Johns was ordered to a remote Alaskan island chain that no one other than a few crazy fishermen and a handful of neglected native peoples had known existed. Japanese military strategists ordered an invasion force to the Aleutian Islands as a feint, a diversion to draw American military assets away from a greater Japanese goal in the middle Pacific.
Alex Johns operated heavy equipment in a battalion construction unit during his war years in the Aleutian Islands, fighting on Kiska and Attu Islands. He survived a sub-zero blizzard with frostbitten lungs. He emerged from the storm carrying three construction crew survivors on his bulldozer. By war's end he'd made buck sergeant; he was discharged following VJ Day with a partial disability benefit, a purple heart, and an attitude that before God could throw another nasty surprise his way, he'd live to purely enjoy himself before he went in the hole. Going in the hole is iron-worker slang for falling to death from the high iron.
He met a red-headed divorcee at a Fort Lewis U.S.O. dance. While waiting for his discharge papers to be cut, he dropped a ring on her finger, put a "biscuit in her oven" on the club's pool table after hours, and agreed to let her five-year-old son tag along while he looked for a job. They packed themselves into a second-hand 1941 Hudson 4-door sedan and hit the road as gypsies, construction camp migrants in a flood of veterans jumping into the American post-war construction boom.
Graydon Williams, tag-along stepson, attended thirteen schools during six years of tramping from job to job, coast-to-coast, before they moved into the Empire Hotel. He'd been bullied and bloodied in fist-fights and humiliated by teachers who resented the presence of construction camp kids, migrant trash, in their classrooms.
He resembled his biological father. He inclined toward studious introspection and escaped into himself whenever his step-father was blustering drunk.
His five year younger half-brother, Alex Jr., was sometimes called cue ball by Alex Sr. who would drunkenly brag about sinking one in the corner pocket late one night in the USO club. Physically, Alex Jr. was a miniature of his father. He was an energetic extrovert. To him, their life was normal; it was all he knew. School and bullies, hostile teachers and frequent uprootings were not factors in his life. His world was mom and dad and big brother. In time he would enjoy a school where he could grow up with friends he'd have for life.
---
Alex Sr. was late getting home, again. It was the second Friday of the month which meant payday, and if Alex Sr. wasn't getting drunk with his buddies at the tavern bar, he was getting drunk playing poker in the back room. If he wasn't getting drunk and rowdy there, he was probably getting drunk at the VFW club while feeding silver dollars into the slot machines.
Dorothy Johns had about given up on following Alex Sr. from job to job. He made high wages as a journeyman iron-worker, a high rigger, and a skilled heavy equipment operator, but he brought home damned little money. Skimping to live, struggling to just get by, and years of his drunken abuse followed by self-pitying promises of "I'll do better, honey!" had worn her down to hopeless acceptance that little would change. She hoped their migrant life, the poverty, the awful living conditions, the constant harassment by bill collectors, his drunken brawling leading to threats of arrest and jail, that it all might work out, somehow but even that hope was dimming. She was exhausted and she feared for herself and her sons. Dee sat up very late that Friday evening, alone in the dismal hotel apartment with her brooding thoughts, trapped alone with her boys.
Monday began another basalt-canyon, reflector-oven day on the Columbia River flats. A copy of the Wenatchee Daily World newspaper lay discarded in the downstairs hotel lobby. Dee struggled up the stairs with a quart of milk, a fresh loaf of Wonder Bread and a small sack of oranges in her hands, and that snatched-up copy of the Daily World under her arm. She sat down at the wobbly-legged table to began scanning the classified ad pages, thinking it was time to look for an escape route.
For rent with option to buy: 160 acre homestead with log house, $75 per month. Methow Valley. Call or write.
Dee Johns read and re-read that brief listing for a long while. She made a fresh pot of coffee for herself and drank most of it while staring, first at that page, and then for a long, silent time she stared out through the grimy window, thinking, weighing the futility of her present life against the possible chance of grabbing a better life. She looked around their shabby room, their cheap and grimy furniture; she hated the bad smell, the constant noise, the sometimes angry and threatening voices of the other tenants. She stared down at the litter and filth of the alley beside their rooms. She shook her head, clearing her thoughts of it all. She stood, drained her cup, smiled grimly to herself and in the next moment she had up-ended her hide-away cookie tin onto the table. She scrabbled through the coins for a fistful of quarters, dimes, and nickels. Her impatient footsteps thumped down the stairs to the pay phone in the lobby.
Alex Johns came home on time that night because it was Monday and payday was two Fridays back and there was no money left for drinking. He'd hit two buddies up for cash to tide him over but they were stony-broke themselves. So everybody trudged along home, sober. He opened Door 3 to see packed suitcases and a battered green foot locker stacked on the carpet. The boys, pale and wide-eyed, sat together on the sagging couch. Dee, her eyes hard and her mouth set in a grim line, waited at the table, the Daily World folded in her hand.
"The boys and I are moving to Winthrop. You can come if you want." And that was the entire discussion as she waved the circled ad under Alex Sr's startled eyes. "We'll need something to carry us and our luggage and I don't think that old car will do it. It's a hundred miles north. Can you find something?"
The next day Alex Sr. skipped work while he scoured the used car lots around town. He went to a finance company and a pawn shop for money. He hocked Dee's new wristwatch that he'd snagged from her dresser drawer that morning while she was in the bath. He got a $100 loan, a $25 pawn ticket, and $50 when he sold the worn-out Hudson. He bought a 1937 Chevrolet panel truck with two bucket seats, a spindly floor-mounted gear shift lever, and a wooden-floored cargo space where suitcases, the foot locker, boxes of blankets, pillows, Dee's kitchenware and dishes, and two boys could be stowed.
He said the truck cost $125, but in truth he also spent $5 for two pints of Four Roses whiskey that he stashed in the floor-mounted tool box under the driver's seat. He'd also dropped $35 in an afternoon poker game at the VFW club. After the poker game and a few whiskey shots with beer chasers, he drove the chalky-blue truck with the bat-wing fenders, fabric panel roof and wire-spoked wheels out to the construction site to draw his pay and punch the job boss in the mouth. His punch loosened two of the man's front teeth and left him unconscious and bleeding on the office shack floor.
"I never did like that sonofabitch," Alex Sr. muttered. He loaded everyone up and drove out of town, following the river highway north. He wore a smirking grin as if moving to the Methow had been his idea all along.
Chapter 2: Homesteaders
Dee Johns found her home at the end of a washboard gravel road four miles northwest of Winthrop. "A place to settle down," she said. They were at Wolf Creek where it emerges from a deep canyon that cuts between the north end of Thompson Ridge and the south end of Virginian Ridge, the western wall of the upper valley.
It was a sweltering 100-mile drive northeast along the Columbia River, then north along the Methow River, following sharper and narrower bends, climbing and winding, crossing from side to side over bridges to skirt along skinny riverside benches where isolated homes and apple orchards lay squeezed between the river and the canyon sides. Finally, hours later, they saw through the cranked-open windscreen of the hot and clattering '37 Chevy panel truck a wooden signpost: "Wolf Creek Road 4 mi."
The house wasn't much. The lower log story was sheathed in vertical planks of rough-sawn lumber. It supported a plank-built upper story. The roof was covered with rusted flat metal sheeting. Two rooms downstairs and two rooms upstairs were divided by a steep and narrow central stairway that ran between enclosing walls, splitting the house cross-wise into equal halves.
A bay window extended the downstairs west end of the house into a tiny fenced yard, where yellow homestead roses still bloomed. Warm daylight flooded the interior. A screened half-porch sheltered the side yard entrance as a work space for laundry and rinse tubs.
The stairway footed at a seldom-used front door opening into a south yard and a pair of young elm trees pock-marked by vertical rows of Flicker borings. A narrow, rock-choked irrigation ditch flowed east beyond the yard, carrying snow field water from Wolf Creek to a barren pasture below the house.
Upstairs, two plank-floored bedrooms were spanned at their backs by a single walk-in closet that bridged the stairway and could be walked through from doorways at each end. Windows in each outside wall provided light and ventilation. Dee chose the room overlooking the west yard and driveway. Alex Jr. and Graydon got the room over the kitchen.
A black cast-iron, pot-bellied parlor stove with chrome trim and a mica-paned fire door heated the main room. Its black steel stovepipe rose up through the floor above to a brick chimney, its base set on a shelf high in the stairway enclosure. A cast-iron wood-fired range with high-backed warming ovens stood against the kitchen side of the stairway enclosure. An under-stair pantry stood beside the kitchen entrance. The two stoves heated the entire house.
Sawdust filled the spaces between the sheathing planks and the log walls for crude insulation. Under-layers of thick felt paper topped with layers of cracked wallpaper covered the downstairs log walls and the upstairs plank walls. Other than sawdust and layers of paper, the house had no insulation. When the wind blew, window drafts would flutter the flour-sack curtains Dee made with her foot treadle sewing machine. Winters in the Methow Valley commonly reached 20 and 30 degrees below zero.
Plumbing was primitive: one cold-water faucet over an enameled cast-iron sink. The sink drained to a dry sump outside the kitchen wall. A weather-beaten privy stood in a weed-choked apple grove 50 feet from the house. The door of the "two-holer" leaned open, hanging from dried and cracked leather hinges.
A smaller two-room, single story bunkhouse stood in fair repair across the main yard. A rock-walled root cellar lay buried under. A woodshed stood beside the cellar entrance. The bunkhouse and cellar doors stood half-open; the interiors reeked a musky stench of groundhog dung scattered on floors and shelves. A fresh groundhog burrow tunneled under the bunkhouse floor beside the cellar entrance.
The farmyard north of the house and bunkhouse lay divided by a shallow irrigation ditch, bounded on its east side by a chicken house with a screened run, and a teetering open-front machine shed. A rough-plank barn stood on the yard's west edge, next to cow sheds and a cluster of four pig shelters in a tumbled-down rail corral. All were in disrepair, boards warped and weathered, pulling loose or broken, long neglected. A log tripod held a long hay-stacking pole balanced in a swiveling chain loop. A rusty cable sheave hung from its narrow tip 30 feet above the ground. The cable lay tangled in coils around the base, buried in years of weed growth. Many years had passed since this homestead had produced either hay or livestock.
The hay-stacking pole was a great ride. Alex Jr. would cling to the end of the hay fork cable hanging from the tip. Graydon would lean his weight on the butt end and heave with his legs to swing the great pole ponderously from side to side, casting little Alex back and forth across the farm yard in a wide loop. This came to a screaming stop the first time Dee came out of the house to collect eggs and saw her youngest son sailing in a high arc at the end of the cable.
The barn held four stalls and a cavernous hayloft. Ladder rungs nailed into the back wall above the first manger rose up through a hatch into the loft. The manger rail and ladder treads were worn down by heavy boots.
The hayloft opened out in a huge maw, capped by a forged iron rail, a cable trolley, and hanging from it a cable ending in a two-pronged hay fork. The 30-inch prongs were tipped with toggles, tripped by a long pull cord from a lever in the fork yoke. A worker would plunge the fork deep into the hay wagon pile and set the toggles, locking the hay on the prongs. The fork and its huge bite would be pulled up by a horse hitched to the far end of the cable. The fork would rise up against the trolley and roll down the rail into the barn. There a hayloft worker would yank the trip rope and dump the load. Another man with a pitchfork would spread the hay, layering it carefully. Shining, polished hayloft floor planks were proof that many summer cuttings had been fed down to the mangers through the hungry Methow winters.
A rickety shop building across the yard from the barn tilted precariously to the north but was braced from going over by cables fastened from corner to corner inside. Behind this shed lay an over-grown garden plot and the posts and sagging wires of a grape arbor. Hardy Concord grapevines still survived, long unpruned and trailing wildly about. A pair of summer apple trees stood in circles of fallen yellow apples, overripe and covered in swarms of feeding yellow jacket wasps. Traces of irrigation feeder ditches bordered the plot.
---
"Leave all those suitcases and blankets and stuff in the Blue Goose," Dee ordered. She grabbed up her broom, a mop, bucket and rags, soap and scouring power.
"Alex, get those buckets and start hauling water from the ditch. Boys, take this cleaning stuff into the house. Everybody, move! We're not moving a single thing into that house until it's clean, upstairs and down!"
Dee Johns took possession of her home with a bandana wrapped around her hair, its corners twisted and knotted across her forehead. She hitched up her slacks and like a conquering General invading a small country, she cleaned house.
Dee and the family were settled in by nightfall. The next morning she took the Blue Goose to town for groceries. She signed an electricity order with the valley REA cooperative. She rented a post office box. There was no need for water, sewer, garbage, or telephone accounts. No telephone wires ran up the Wolf Creek road. The electric service powered light bulbs in the house, a light bulb in the root cellar, a radio-phonograph, and a small Sears-Roebuck water pump set in a shallow well housing beyond the bunkhouse.
Cost to Dee Johns for a home to call her own: $75 a month for rent, $10 a month for electricity, $5 first-year rent for a post office box in town, and her stubborn, grim determination.
Chapter 3: Spirit Dreams
Cottonwood trees flanking the rock-rimmed irrigation ditch behind the house moaned in the rising late-night wind. Graydon heard the swaying branches outside and close thunder booming from the north as an early summer storm moved down the valley. They had spent several days cleaning out clutter and moving in. Alex Senior made a trip in the Blue Goose to buy used furniture: a kitchen table and chairs, an iron frame double bed with springs and mattress, two war surplus barrack cots with pads, an overstuffed couch and chair. Everything came from second-hand stores. Dee had her small collection of cookware and dishes that traveled with them across the U.S.
Wrapped in a surplus wool barracks blanket, Graydon opened the wooden-sash window beside his bed to feel the rising wind blow in. The smell of dust was heavy in the air, the musty wet smell of the first raindrops. He could hear the big drops splattering in the elm tree outside his window, with the rising hissing, sound of the increasing rain rushing down through the cottonwood trees beyond. Chilled air through the window began smelling of sweet elm sap. He marvelled at all he could hear and smell and taste. He savored this new experience.
Coast rain was nothing like this. Coast rain was either a chill, grey wet or a warm, green damp. Here on the east side, the only green was the blue-green of the mountainside Ponderosa Pine forests and the lush green of the river-bottom alfalfa hayfields. All else was yellow and tan grasses, grey-green sagebrush, and a solid golden carpet of sunflowers coating the foothills in late spring. The blossoms would turn to seed heads and the broad leaves would become brittle and crackling when one walked through their overlapping ranks. When the winter snows stopped falling and March winds brought a thaw to the valley, only the thunderstorms would bring rain throughout the summer. The valley survived on snow melt that flowed down from the mountain streams. The surrounding foothills became dried and parched. On a hot summer'a day the scent of pine pitch and cottonwood sap would hang heavily in the air.
"Methow" was thought to be an Indian word for "valley of the sunflowers," but no one could say for sure. The first white men had found a small tribe of natives living at the confluence of the Methow and the larger Columbia River to be welcoming and friendly. A few years later, white man's diseases and guns had killed and scattered the Methow band. None remained to confirm the meaning of their name, not that it mattered. It could mean anything the white man wanted it to mean. Thus, "valley of the sunflowers" it was.
Now the storm began raging outside Graydon's window as the it moved overhead. A flash of lightning framed the stark outlines of the heavy cottonwood limbs and the rising wind brought one of the weaker limbs crashing down. He could hear it tearing its way down through the lower branches and the heavy thud as it impacted the ground. The wind was gusting and the house shuddered as another thunderclap crashed all around them. Alex Jr. whimpered in his bunk on the far side of the room, but didn't wake. Graydon lay still, until a wind gust blew a scattering of cold rain across his blanket. He pulled the window down. Laying back, he closed his eyes and listened to the storm as it passed over and then south down the valley towards the sleeping town.
In the shadows of his sleep he began to perceive forms, whispers, shifting images barely glimpsed in the shadows. The dreamscape firmed. He found himself standing at the edge of a rock-strewn torrent. White water frothed and lashed around the boulders, spilling into grey-black pools that swirled and spilled, down and away. A thick mist hung overhead, obscuring the light. He stood alone, the thundering sounds and cold spray buffeting his face.
He turned and saw behind him an endless sagebrush plain. Upstream and downstream lay thick tangles of red willows. Across the torrent, up the steep slope, he marvelled at the pines towering hugely overhead, long fronds of hairy lichen moss hanging from the lower branches, fed by the billowing mists thrown up from the maelstrom.
The roar dimmed in his ears at the same moment a fluttering bird rushed past his head, striking his ear. He fell to the ground. Glancing up, he saw the bird with outstretched wings, swooping up, soaring up high above the pines. Its momentum spent, the bird beat its wings to continue climbing in broad circles, fluttering upward with an odd, dipping rhythm. It was a nighthawk.
Graydon stood to see the dim overhead gloom brighten in the center and move toward him. He stood rooted, unable to focus on the confusion of light, the shifting glow of light, brightening, moving closer. A form emerged, a dim visage. Around him the world had gone mute. The waters cascading behind him were silent; no sound came from anything, not even the beating of his heart. The expanding light, the visage, moved closer, brighter. Graydon's consciousness contracted. He stood locked in a confined space where he and the specter faced one another.
A tall man in buckskins and face-paint studied him. Long grey hair streamed down over his fringed shoulders. Intricate beadwork patterns covered his shirtfront. His face was stern, solemn. He was a white man with blue-grey eyes, high forehead and thick brows. But his rough cheeks were painted with shining silver lightning streaks and his forehead with a golden sun-burst symbol. He, the specter, stood unmoving, silent. His arm lifted and his hand extended to point at Graydon, then raised to an open-palm gesture of greeting.
Graydon stood, unable to move, frozen by the face and the upraised hand. A long moment passed, the specter's eyes hinted some unspoken message, then it faded and dissolved into the glowing mists. The world around Graydon burst in upon him with brilliant light and thundering sound.
He was instantly awake, alone in his bed. Outside his rain-streaked window the night was rich with fresh rain and cleansed air. He rubbed his eyes, unable to focus on whatever lingering presence might remain in the darkness. He flung open his window to the sweet, chill night. Far down the valley he heard distant rolling thunder. He fell back on his pillow. He soon fell asleep.
---
Purdy
The next few weeks passed quickly for Graydon. Long, bright, sunshine days were filled with chores and hard work, clearing the garden and cleaning the old chicken house and patching holes in the chicken run fence. Dee had her sons busy, getting the rundown homestead repaired and replanted and watered. Alex Sr. had left, catching the bus in town to seek another job outside the valley. He would commute home on weekends once he'd landed steady work but until he did it was Dee and her two sons alone on the Wolf Creek homestead.
Graydon was standing in icy water at creek's edge, struggling to slip another board into place on the log-braced dam that spanned the creek. He was trying to divert more water into the old flume that fed their irrigation canal. It was hardly a dam. It let far more water slip through than it diverted; and there was hardly an irrigation canal, being so old and long-neglected that it was mostly a natural water trace snaking through cobble rocks and brush, flowing down to a corroded steel culvert to cross under Wolf Creek road and out to feed the homestead's half-buried irrigation ditches. Wolf Creek's snowmelt waters gave life to the homestead. It had flowed, untended, for so many years that a permanent stand of cottonwood trees, chokecherries, elderberries, wild roses and grass had survived the hot summers all along the watercourse.
Graydon strained and shoved and pushed boards and poles to fill holes in the barrier, and had clambered off the huge old log to safety on the creek bank when he heard a voice behind him:
"You want to have a mind doin' that, youngster. That's a cold creek and mighty fast too, and you'd have a terrible time getting out with your head intact if you fell in. That water's claimed a life or two."
Graydon whirled around to see a small man in black trousers, black denim shirt, black denim jacket and a battered black hat pulled down over heavy black eyebrows. Dark, deeply-set eyes peered at him from a bronze face bristling with white stubble whiskers.
"S-s-sure thing, mister," Graydon stammered, his heart racing. The strange little man stood smiling at him, a few yards distant. It was apparent the man had walked up the spur road, a faded track that led to the old dam site.
"I'm pretty careful, and that old log doesn't bother me. I can walk it pretty good without falling."
"Well, I was rinsing my coffee cup at the sink and saw you go past, so I thought I'd come up and say 'howdy'. That's my house back down by the road, across from your place. My name is Purdy, Purdy Kendricks. I own most of the ground around here, up to the ridge top and on up the valley some. You're here with your mom and younger brother, right?"
"Yes sir. We just moved up from Wenatchee." Graydon stepped forward and held out his hand. Purdy stretched out his gnarled hand and with a surprisingly firm grip, took Graydon's hand in his.
"Well, welcome to you. I haven't seen anybody in that old place for more than a few years, now. It's good to see somebody wants to make somethin' there."
Purdy paused for a moment, got a thoughtful look, and continued:
"I see your old man's lit out already. He doesn't strike me as a country fella, but I got a feeling your mom's gonna settle in just fine over there."
"Mom's real happy to have a place of her own. We've moved around a lot and never had a place of our own. My step-dad's a construction worker. We'd always been moving, job to job."
"Well, I don't know much about construction jobs and movin' around so much. I've lived here pretty much all my life, me and my cousin Roy, upriver. He's got his own place up at Mazama."
Purdy pulled his hat off, ran his fingers though long dark hair streaked with gray, and pulled a wadded up handkerchief from his back pocket. He wiped his forehead, stuffed the kerchief back, and settled the battered old hat back down over his head.
"If you got a few minutes, walk on down to my place and I'll pour us a cold lemonade. I don't think your mom will mind. There's some things a young fella like you might be interested in hearin'."
"Sure. I'm about finished here. Mom wanted more water comin' down the ditch, and it's runnin' pretty good now."
Graydon followed Purdy down the road, through a wooden gate that opened into a cluttered yard and back porch behind his small cabin. A smaller woodshed and tool room stood off to the side. Purdy motioned to a pair of weather-faded chairs on the shady side of the woodshed, and went inside to get a pitcher and glasses.
Sipping freshly poured lemonade, Purdy peered at Graydon from under his hat brim, seeming to take some measure of the boy. Graydon said nothing, sipping his icy drink, waiting for Purdy to offer some comment.
"Your mom might want some animals for that place," Purdy finally offered. "Ol' Patch lives a mile up the road, on a place of mine that runs next to the river. He's got a bunch of goats, good 'uns I reckon, but there's more than he needs. He'll make yer mom a good deal on a few."
Graydon had never seen a goat; he heard that they stunk something fierce and they were always shown in the comic papers and movie cartoons as eating tin cans and butting people. He kept his silence, figuring that Purdy was offering help and he probably knew a lot more about goats than himself.
Purdy watched Graydon's face, as if he could read the thoughts racing through the youngster's mind.
"Anyways, I'll see ol' Patch tomorrow, and I'll suggest he stop by and introduce himself. He's pretty much of a loner, but he's friendly enough if he feels comfortable around you. I sense that your mom's a pretty capable woman; I think she'll like Patch just fine."
Purdy drank his lemonade and smiled to himself. Graydon sat still, wondering more and more just who this old man really was, and how did he seem to know so much about his family, when he'd only seen them from a distance. How'd he figure his step-dad had "lit out?" He'd only been gone a few days. How'd he come to judge his mom as "pretty capable?" Well, he'd best keep his thoughts to himself and see what more Purdy had to say.
"That's a right handsome rifle you got yourself, son. I had an old .22 Remington pump, myself. I don't recall seein' one with a big walnut stock like yours, and a lever-action, too! That's right rare on a .22 caliber."
Graydon sat upright, eyes wide, then settled back, realizing that Purdy must have seen him across the road, shooting groundhogs burrowed under the rock piles along the field's edge. The rifle was a surprise birthday gift from his real father. It had come parcel post, just in time for his 12th birthday. It was a Marlin 39A lever-action .22 with a 4-power telescope sight. With long-rifle hollow point bullets, Graydon could easily kill groundhogs from 75 yards. They needed to limit the groundhog numbers. The big rodents ate young alfalfa faster than it could grow, and ruined any hope of a hay cutting they'd need for feed if Dee could get a milking animal before winter. They couldn't possibly afford to buy hay.
"Thanks. It's a Marlin. My father sent it. He's in the Navy down in the Panama Canal. He said I'm old enough to have it, now."
"Yep. He's right. You'll be okay with it."
A long stretch of silence settled in. They sipped lemonade and watched small clouds drift over the valley, their swift shadows moving across the grass and sunflower covered slopes of Studhorse Mountain on the valley's east side.
"You heard the legend yet?"
"Legend? No. What legend?"
Graydon's dream came rushing back. He felt a nervous chill. He steadied himself. Nobody needed to think him odd, having crazy dreams and such.
"There's an old legend hereabouts, about somethin' nobody's quite sure of. Some folks think it's a miner's pack mule that got loose and raised cain; others think its some mountain hermit who scared people away; and some few think maybe it's some kinda monster. I don't rightly know myself. I've never seen it or known anybody who did see it, but I've heard stories of folks who thought they saw somethin'."
Graydon sat stone silent. Cold beads of condensation ran down his cold glass, over his hand and dripped onto his leg. He stared at the far mountainside, trying not to think of who he'd seen in his dream.
"Yup. There's a name for this legend. Pasayten Pete. The Pasayten country is high up the headwaters of the Lost River, north of here. Goes up into the high mountains, it does. I figure that's where the story must have started, but I don't see how anybody could winter up there without grub 'n stuff. It gets harsh; too harsh for anything that don't hibernate."
"Could it be an Indian, maybe?"
"Don't know. I don't think anybody's left who's seen it. All I know is that stories have gone around, and most of them is probably nothin' to pay mind to. But it sure seems strange to me that the legend sticks. It gets whispered around."
Graydon finished his lemonade, stood and shook Purdy's hand again, and said he'd tell his mom about the visit and would pass along Purdy's advice about getting some goats from his friend Patch. He let himself out the gate, carefully latched it behind himself, and walked home.
His mind was deeply troubled. His dream had a name: Pasayten Pete.
Chapter 4: Goat Man
His Arkansas drawl was thick like rich molasses, slow and easy. Ezekial Patterson seemed ageless; tall, slightly hunch-shouldered, and he shuffled along with a slight limp. "Patch," as folks called him, was as much a part of the 300-acre river-bottoms as the fields, the willows, and the cottonwood trees. His best pal Purdy dressed all in black with a floppy black hat. Patch wore blue denim that went unwashed once he put it on new from the General Store. The jacket and trousers were crusted with months of grime from living among his milking goats. He once answered a discourteous remark about his laundry habits with a stern denial: "'Course I washes 'em. Ain't a summer goes by that I don't fall in the river!"
His fedora hat was shabby and sweat-stained. Sparkling eyes peered from under that tattered brim, set in a craggy face wrinkled by years of sun and work. Behind his eyes one could sense a sadness, a sorrowful secret. Graydon would learn that Patch had been in the "Great War" and had survived trench warfare and poison gas. He returned home never to speak of it, wanting only to forget. Patch abandoned his roots in the Ozarks to settle in the high Cascade Mountain country of the Methow Valley.
He survived on a small pension and creamery money. He milked several dozen goats out of a herd of more than a hundred, ran their milk through a cream separator, and once a week loaded the cream cans into a battered Model A truck to deliver it to the creamery in Winthrop. His pal Purdy usually rode with him to town. The spectacle of the two bachelors, one short and slight, dressed all in black; one tall and gangling, in grimy blue, was a "normal" eccentricity of Methow Valley life.
Patch was leaning against the cracked fender of his Model A truck, offering to sell Dee Johns three good milking goats and their kids for $35. It would be a strain for Dee's purse, but it was more than a fair price for good milkers.
"Missus Johns, you cain't go far wrong with these nannies. They're right good milkers, 'specially ol' Spot here. She's been givin' me near two gallons a day since she come fresh in March. An' that little Nubian she's about as good, but she's young yet. Give her another season and she'll be a top producer."
Dee considered how much milk and cream she'd get for her family, how much cottage cheese she could make, and how much cream she might sell in town. There would be meat, when they butchered the wethers, the castrated male goats. Every male kid would be "elastrated" to prevent musk and aggression problems as they grew. Few animals are as unpleasant as a mature billy goat. Patch kept one for breeding, confined to a high, strong enclosure separate from the milking herd.
"Thank you, Patch," she said, reaching into her apron pocket for the folded bills taken from her "cookie jar" in the kitchen pantry, hidden away from her husband's thieving fingers.
Graydon became a goat-herd and milk maid, charged with husbanding three milking nannies and their five kids. They'd keep the yearling nannies for milkers and in late fall would butcher the yearling males.
Spot, leader of the herd, wore a leather collar and a bell. The bell would jangle and her udder, heavy with two monstrous teats, would swing ludicrously between her back legs when she ran. The younger nannies gamboled beside her, bleating excitedly. The goats were in heaven at Dee's homestead, with rampant brush, thickets of wild roses, ditch willows, volunteer alfalfa growth, and Canadian thistle with huge purple seed heads. And, oh joy!, just inside the fence by the house stood a tall spray of yellow homestead roses. Spot's palate craved thistle heads and rose blossoms. The yellow roses were irresistable.
Spot nudged the yard gate open, wrapped her curling, grasping tongue around a glorious yellow rose, snapped it off and chomped it, rolling it around in her baggy cheek. Her eyes reflected pure joy. In moments she snagged and ate three more roses. Her joy was not to last. Dee came charging off the back porch with a broom held high overhead, screaming!
"Get away, you filthy beast! Get away from my roses!" Spot fled away through the gate, bleating indignantly, her udder flopping and swinging. She ran splay-legged in an ungainly, lurching gait. Dee ran hard at her heels, swinging her broom from side to side, swatting Spot's flanks.
Thus began the War of the Roses. Whenever the gate was left unsecured by a careless boy or a heedless visitor, Spot would sneak in to feast on the rose blossoms. It became a contest of sorts between two strong-willed females. It became a family legend.
Time rolled over into late summer and Graydon's days were filled with chores: tending a new chicken flock, milking three nanny-goats morning and evening, weeding the garden, mending fences, picking rocks out of garden and field, and digging out irrigation ditches. Otherwise, he was free to roam the fields, the ridges and canyon, with his .22 rifle. No one thought this unusual. It was a matter of personal responsibility and when Graydon proved himself responsible, he earned his freedom.
And there was fishing! Wolf Creek, spilling from pool to pool, was a trout fisherman's delight. Graydon learned to make long, accurate casts with his hand-me-down telescoping tubular steel rod and a level-wind casting reel taped to its cork handle. Nylon braid line, a long leader, and a Colorado single-blade spinner trailed a snelled bait hook. He carried plump night crawlers dug from the ditch banks in a grass-lined pipe tobacco tin that fit his shirt pocket. He stripped line in hanging coils and cast upstream into the tongues of water feeding the deep pools, and let the spinner and worm swirl down through the currents. This was very effective for hooking native rainbows, brookies, and Dolly Varden, the voracious bull trout, a predator fish that usually had trout minnows in their stomachs.
The Methow River ran over gravel bars and under log jams. It was an easy half-mile hike from the homestead, and Graydon spent lazy days fishing there. He worked spinner baits down through the riffles across the gravel bars, or sometimes he would clamber across the driftwood jams, piled up against the channel bends by spring floodwaters. The river pooled up and eddied under the logs and Graydon would lay over an opening, working a single worm or sometimes a salmon egg on a tiny hook, easing his rod tip down close to the water surface, feeding loops of line to let the bait sink down through the swirling current. More than once he fooled a big "grandfather" trout into taking the bait. If he could keep the fish from fouling his line around a snag, he'd take home a centerpiece for dinner that evening. Baked to a golden crisp, it was as succulent as any gourmet's feast.
---
Carefree days of summer fishing

Silver Colorado spinners,
bait in pipe tobacco cans.
Youthful eyes explore the pools,
shadowed forms of fish seen resting.

Balanced on a mid-stream boulder,
reading eddy lines as measures,
he the symphony conductor,
his baton a fishing rod,
laying casts in measured cadence,
guides his lure in swirling currents.

Heart and fish together leaping,
scarlet-sided rainbow streaking,
fishtail-dancing, dark head shaking,
boy and reel together singing,
bent rod whipping, tense arms straining,
high above his head.

Youthful cries of exultation
go ringing around
the canyon,
echoing.
---
Often when Graydon went to the river he would stop back at Patch Patterson's cabin. He delighted in Patch's easy manners, his knowledge of all things "country," his fondness for and dedication to his large goat herd, its playful kids romping around the huge old barn and the rocky fields, and his stories of fishing the river, hunting in the surrounding hills, and of years lived in the valley.
A favorite topic was the great "Flood of '48" that had surged down from the mountains, a spring torrent of sudden snow melt that destroyed most of the bridges from Mazama to the Columbia River confluence 45 miles south. The Winthrop bridge, high on its concrete pillars, survived. The valley was cut off from supplies and aid until emergency river crossings could be improvised. Homes perched high on the benches were safe but the river bottom fields and low-lying roads were flooded. Irrigation headgates and diversion structures were torn out. It was a frantic scramble to get them repaired in time for the irrigation season. Without precious summer water, fields and orchards would die.
Chapter 5: The Fight
The yellow school bus pulled up to their narrow drive on the gravel road, loaded Graydon and Alex Jr, drove a hundred yards to the "Y" intersection of the Wolf Creek spur and turned around. Their house was the last stop. It was four miles to school.
Graydon sat at the window with Alex Jr. beside him. He watched the sagebrush flats roll by, the rock piles and stunted apple trees and lilacs marking where earlier homestead efforts had withered from lack of water. Wolf Creek was a seasonal stream, its waters peaking at flood runoff in early spring. In summer it dwindled until the thirsty gravel alluvial fan stretching outward from the canyon mouth absorbed all the surface flow. Most summers found the creek bed empty where Wolf Creek emptied into the Methow River, but upstream from the canyon mouth there was always sufficient water to support a healthy trout and whitefish population.
Graydon fought his first fight before the week was out. It was the fourth day and he was sitting alone outside, watching kids in groups playing and gossiping. All grades, elementary through high school, shared the school grounds. Recesses and lunch periods were staggered to minimize mingling and bullying between older and younger students. All grades also shared an attached gymnasium between the classroom buildings. The trouble started behind the gymnasium.
Some older boys were harassing two girls, circling around them. A larger boy moved in, pinned a girl against the wall with his left arm braced across her chest, and ran his right hand up her skirt. The girl shrieked and tried to break free. Donny, youngest son of a prominent orchard and potato farm family, forced his hand between her thighs. The second girl, trapped in the circle, blushed scarlet but said nothing. The other boys nudged each other nervously, laughing.
Graydon didn't remember much afterward. He did recall running headlong to hit her attacker full force with a body check, knocking him away from the girl. They fell to the ground together, himself on top. The surprise of the attack gave Graydon a temporary advantage but that lasted only a moment. Donny's friends pulled Graydon off. Donny jumped up and hit Graydon with a round-house punch. After that it was a melee of wild punches with Graydon trying to get inside Donny's longer reach.
"You're new here," the Principal said, frowning at a bloody-faced Graydon whose split lip and swollen eye were evidence that he hadn't done well against the larger boy. "You'd best remember that we don't tolerate fighting. If you expect to get along here, you'd better stay out of fights. Now, what's your story?"
"Sir, he was grabbing that girl."
"What do you mean by 'grabbing?'"
"He had her up against the wall, and he held her there, and he ... he put his hand up under her skirt, sir."
"Well, I don't know about that. I talked to the students who were there, and their story is a bit different than yours. The girls said they were being teased, some, and the other boys said that was about all that happened until you came charging over and attacked Donny without cause."
"No, sir. That's not what happened."
"Son, you better understand something. Donny and his friends have grown up here, and those boys have known each other and attended this school all their lives. Donny's folks own one of the largest orchards in this valley, and his father is president of the school board. Are you trying to tell me that all of those students are not telling the truth about what happened? And I'm supposed to believe you, who's been in our school less than a week?"
Graydon sat silently. He'd long ago learned he could never carry an argument with his step-father, no matter the truth of it, and it was obvious that this situation was similar. His words counted for little. He sat quietly, saying nothing further.
"Very well, then," the Principal said, finally breaking the silence. "Let me warn you, we'll be watching you. This is the first, and last, trouble I'll tolerate from you. Now I suggest you get out of my sight until time for the bus."
The bus took a long, roundabout route, making its rounds out past Twin Lakes, up to Patterson Lake and then back to turn up the Wolf Creek road. It was a mile walk from school to the Wolf Creek junction and Graydon could easily hike it in time to intercept the bus. He walked alone that day and every day thereafter when weather was good. Otherwise he had to ride an hour-long route with Donny and most of his friends and endure their jibes and taunts. There was little danger of more fighting. The bus driver was strict about that. If Graydon sat by himself, away from the others, he could ride in peace.
The girls in his class ignored what he tried to do. They would endure Donny's occasional groping. The girls clustered together so nothing more serious could happen. They were more wary of being associated with a newcomer, a loner labeled as a trouble-maker.
Graydon withdrew into himself. He told his mother about the fight that evening. He only mentioned that he'd been caught up by one of the bullies. He said nothing about the girl, the principal, or the threat.
---
Death and Rescue
He was standing at the edge of a sandy arroyo. The heat was oppressive, the pungent smell of creosote brush filled his nostrils. Coarse sand and gravel flats stretched away on both sides; cactus plots defied approach with needle-sharp spikes. Gunshots and screams erupted nearby.
Graydon seemed to float in his steps toward the struggle. He saw a prone figure laying beside a rock, aiming and firing a rifle. Down the arroyo, a man lay still on the sandy stream bed, another lay slumped on the bank, and a third was scrambling away, bent low, running for three saddle horses that were rearing and jerking their heads against their reins tied to a fallen juniper. The figure, nearly to the horses, raised and whirled to fire a pistol but was knocked backwards by another shot from the prone rifleman.
Two children huddled against the arroyo bank. They were Pueblo Indian, dressed typically for the natives of these desert plateaus. The boy, younger, perhaps eight or nine years old, sat bleeding from his nose. He cradled a broken arm. The girl, perhaps 12 or 13 years, lay slumped with her skirt torn away and her thin brown legs exposed. Her blouse was torn from her shoulders and hung loose to one side. Long black hair framed her face and nearly covered the small cones of her breasts. She was alive, but barely moving.
Another rifle shot barked and the fallen third man flinched and lay still. Blood spread outward and soaked into the hot sand. Nothing moved; the air hung quiet in the heat waves of the desert sun. The boy whimpered, then caught himself, choking back his cries. The girl stirred slightly. She moved her hand to pull her torn skirt across her legs.
Graydon stood at the edge of the bank, looking down at the scene, while the rifleman eased to his feet and walked out of sight behind some brush. He was gone a few moments, then reappeared leading a saddle horse. The rifle was back in its scabbard, its polished walnut stock pointing forward. The horse dug deep scooping tracks in the soft sandy bottom as they moved softly, slowly to the two children. The stranger dropped his reins and the horse stood quietly. His canteen hung from the saddle horn. He pulled spare bandanas from his saddlebags and in words of their language, told the children they were safe, their attackers were dead.
He wetted and cleaned the boy's face. He carefully slit the shirt sleeve to uncover a deformed break. He used his sheath knife to cut slender creosote branches to splint and wrap the boy's arm where it was broken below the elbow. He left the canteen with the boy, and spoke more words. The boy drank lightly and lay back to rest.
Turning to the girl, the man spoke more quiet, reassuring phrases and she hesitated a moment, then sat up, holding her torn clothes to herself. He cut some strips from a bandana. In a moment, she allowed him to tie her skirt back in place. Using the point of his knife, he cut small holes in the torn edges of her blouse and threaded narrow bandana strips through to tie it back over her chest. She was decently covered and seemed more at ease.
Graydon was living another dream. He was an unseen observer in ... what?
One of the dead men's horses whinnied and another horse answered. The stranger stood, turned, and focused his attention up the arroyo, away from the dead men and their horses. In a moment two native men on horseback emerged around the bend. One was quite elderly, gray and gaunt, riding proudly with a flint spear, many feathers hanging from the base of the stone point. A younger man, tall and scowling, rode beside him.
The stranger stood quietly, waiting. The men rode directly to sit their horses facing him, accusingly, looking down to the injured children huddled under the arroyo bank. The younger rider spoke angry words. The girl spoke in reply, and then the boy, and a mixture of expressions crossed the older and younger riders' faces. The younger man dismounted and moved to kneel beside the girl, more words passing between them. Soon, his expression relaxed, and he picked her up to carry her to his horse where he set her astride the wool blanket pad covering its back.
The elder rider turned to the rifleman and uttered a single command. The rifleman nodded, picked up the boy and carried him to his own horse. He mounted and walked his horse to fall in with the Indian mounts. As the rifleman rode past Graydon, standing above on the bank, he turned his eyes upward, looked directly at Graydon and smiled. With a start, Graydon realized he had seen this man before. The eyes! They were the eyes of the ghostly figure from his first dream!
Chapter 6: Lights in the Night
Alex Sr. worked away during the week on a Columbia River dam site. He came home most weekends, making the three-hour drive Friday evening. Often he was quite late, saying he'd gotten "hung up" with friends or late work. Usually his breath smelled of whiskey. He had always been a drinker and enjoyed hanging out in the evenings with his tavern buddies. But now there was a new element: jealousy.
There had been jealous rages before. Once in Wyoming at a rented tar-paper shack on the South Platte river, he returned home from a drinking binge and stormed through the front door. He raged at Dee that he saw strange tire tracks in the dirt driveway. That argument escalated into a shouting and screaming match until Dee, frightened and humiliated beyond reason, grabbed her .22 rifle from the bedroom and chased Alex Sr. from the house, firing shots at his fleeing heels. He sped away in the family car and did not return until the next morning, hat in hand. That was another family "legend" -- the night Dee shot the heels from Alex Sr's boots.
It was a perverse jealousy, for Dee was faithful and Alex Sr. was not. But, he believed that if he could "play around," then Dee would also.
Graydon was asleep. He and little Alex had waited up late that Friday evening until Dee chased them to bed; then they had lain awake for another hour, peering out the upstairs windows beside their bed, looking for a glimpse of headlights on the Wolf Creek road. It was a fun time for the family when Alex Sr. was sober. They'd pack the Blue Goose with a picnic lunch and fishing gear for a day's outing. Or they'd just drive one of the mountain roads up the Methow, or Chewack, or Lost River valleys, sometimes topping out on a high ridge where they could see mountain peaks stretching away in all directions. Or sometimes, during hot summer weekends, they would go to a small lake for a day of fishing, swimming, and picnicking.
Shouts and his mother's protests awakened Graydon from a deep sleep. It had been a dreamless sleep, black and unconscious. Now he was fully awake, hearing the raging argument downstairs. In the dim moonlight he could see Alex Jr. stir in his bed, awake but huddled under his blanket.
Alex Sr's voice raised in anger, a torrent of accusations and curses punctuated by high-pitched, sobbing denials from Dee. A crash meant Alex Sr. had kicked the door, or a table, or a wall. Another string of curses and another crash, and more accusations of "having men visitors" and cheating and playing around behind his back.
Graydon had never heard violent outbursts this angry or furniture crashing against the walls so wildly as he was hearing now. His mother's voice became increasingly hysterical, broken with sobs, and then, while Alex Sr. resumed raging, she went silent. Another crash: Alex Sr. had kicked and punched the kitchen door, then slammed it open again against the wall, amidst sound of dishes and containers crashing and clattering to the floor.
Silence for a time. Alex Sr. had slammed out through the front door, onto the porch, mutterings. Graydon could hear his mother pull a chair out from the kitchen table, its legs scraping against the rough linoleum floor.
The downstairs erupted again in violence: Alex Sr. slammed back into the house. Graydon heard a slap and his mother's scream, amidst more profane bellows.
Graydon stood up in his briefs and bare feet, frightened, unsure, his mind racing with conflicts and fear. He hated Alex Sr. when these drunken rages came upon them, but never before did he fear for his mother's safety. Now he was truly frightened for her. Graydon dare not face Alex Sr. directly. He was no match, physically, for the brawny, barrel-chested man whose great pride was tavern brawling with a pair of huge fists. Graydon was not yet 13, tall but thin, and he hated fighting. He was not at all good with his fists.
But he must do something. If Alex Sr. hit his mother with his fists ... it was unthinkable ... she was small, and Graydon couldn't imagine...
The rifle was in the closet, standing in the corner. It was loaded, 18 long-rifle hollow point rounds in its tubular magazine.
In bare feet, shivering in fear and the cold air of the night, he grasped his rifle and jacked the lever down and back, sliding a bullet into the breech. This also cocked the prominent thumb-hammer back, ready to fire. From long habit, Graydon slid his index finger through the trigger guard. His thumb on the hammer held it down. Downstairs the violence raged but he could hear no blows, only the slamming of his step-father's fist hammering against a wall or door, and more curses.
He eased down the confined, steep stairway, his bare feet feeling for and gripping each board as he descended. He reached the small bottom floor fronting the three doors: one to the outside, one to the kitchen, and one into the front room where the angry shouting continued. He stood there, the rifle at port arms, waiting. He would intercede. If he heard a fist strike his mother, he knew what he would do. He would turn the old porcelain knob, step through the door, and confront the man at gunpoint. At this moment, Graydon did not consider the raging beast in the room to be his step-father. It was a monster, and if the monster hit his mother or turned to charge, he would fire. And fire again, and again. Although it was only a .22 caliber rifle, Graydon had killed deer in the river's cottonwood bottoms with head shots, the bullet aimed between the eyes. He knew well the deadly effect his rifle would have. Shots into the center of a man's chest would be fatal.
He had no idea how long he stood there, listening, the heavy walnut stock warm in his hands, his near-naked body no longer shivering, his bare feet numb on the cracked and worn linoleum floor of the tiny landing. After a time, the shouts had diminished and his mother's voice was hardly heard except for a few soft sobs and gasps for breath.
"It's over," Graydon thought. The enormity of his own position alarmed him. He carefully eased the hammer forward, slid his finger out of the trigger guard, and softly, ever so carefully, moved his feet back up the stairway. He stood the rifle back in its closet corner. He crawled into his bunk and lay awake until dawn. Then he was forced to face the cold light of another day.
---
He Rides Alone

Sheets from his bed must be washed by hand;
hung out to dry in the snow.
Tears of shame from the silent boy's face
fall on the sheets in the water.

Grey water wash in a sheet metal tub
cold on a rough wooden bench.
Red hands struggle to wring the sheets;
chill wind blows through the porch.

Hard words come from the room inside:
"They'll see those stains, so you can't hide
that filthy thing you do each night!"

---

The yellow school bus arrives outside.
Face to the window, he rides alone.

---

Bull Durham comes in a cotton sack
pulled shut with a yellow drawstring.
Quicklime slumps in a brown paper bag
kept in the privy out back.

Stepfather stands over six feet tall
with bandy legs and round barrel chest.
Bag in his hand, he seizes the boy,
grabs and encases his privates.

Jerking the drawstring shut with a tug;
standing upright in self-satisfaction.
"If you piss the bed the quicklime gets wet,
it'll eat your damned pecker off!"

Silent in bed, the tears won't come;
he has fled where his feelings can't go
and he dreams of Shamans in faraway places
invoking protections of magic.

Later that night the door bangs open;
rough hands check the bag is in place.
Morning comes, the wet lime is caked;
in shame, the boy strips it off.

"You're dirty and lazy! Do you know that?"
his stepfather shouts in his face,
"I give up! You're a damned disgrace;
you'll never grow up like a man!"

---

The yellow school bus arrives outside.
Face to the window he rides alone.

---

"You're very intelligent, but you don't fit in.
They think you're a loner, not one of them,"
the Principal admonishes the boy.
"You really should try harder."

---

He has heard and hated this horror before;
the shouting and raging grows wilder each time.
Confusions of anger and fear cloud his mind.
Drunken rage and threats rule this house.

The shouts are ominous, threatening harm;
fists pound the walls and smash the table.

He remembers his rifle and the rock-piled fields
and groundhogs dropped from a hundred yards out.
Stealth-shooter walks a solitary path,
seeking peace in the silence of his ways.

Screams rend his mind, terror grows;
whipping his head from side to side,
self-hatred of his weakness knows
this madness will destroy their lives.

With worried grip he takes his rifle,
the walnut stock familiar in his hand;
down the stairs on stealthy feet,
he waits by the doorway into the room.

Unseen, the reluctant watcher stands,
rifle held ready; steady hand holding
the trigger full back, hammer held down.
Death lies waiting under his thumb.

He hears a slap and his mother's gasp,
In dreamlike judgment he knows:
if he hears striking fists, the sound of blows,
he will step through the door and fire.

Eventually the raging slows,
madness subsides to mutterings.
Shaken, he waits, the mutterings go quiet;
shaking, he prays for escape.

Later he lay several hours awake,
till the dawn, afraid, never knowing.
Had he shot the man and the man had died,
what rightful judgment should come?

A righteous answer to a terrible wrong,
or a wrongful thing to intercede and kill?

The boy is too young, the answer won't come,
In time he gives up and he sleeps.

---

The yellow school bus arrives outside.
Face to the window he rides alone.

"You're very intelligent, but you don't fit in.
"They think you're a loner, not one of them.
"You really should try harder."

---
Chapter 7: Winter Lodge
Winters in the Methow Valley were cold, sometimes bitterly so. Temperatures ranged well below zero. The snow would pile up two and three feet deep. It fell to Graydon to keep the driveway into the Wolf Creek homestead shoveled out when the snow got deeper than the sedan his step-father drove, or the panel truck, their faithful Blue Goose, could break through without chains.
Graydon would wax the flat-bladed shovel and begin cutting blocks from the deep snow, lifting each, and heaving it to the side. It would take him most of a day to move the snow from between the tire ruts. If the snow had fallen that deep, then he would also get out a ladder and cautiously shovel snow off the porch roof and the chicken house, lest the weight collapse them. The other roofs, the house and outbuildings, had been built with steeply-pitched roofs. They would clear themselves. Crashing snowslides would tumble from them before enough weight could accumulate to threaten the structure.
The animals drank the running water of the irrigation ditches, year around. Thick ice would cover the ditches; every day Graydon chopped holes in the ice so the animals could drink. If their small goat herd was confined to the barn, he would carry water inside to fill a watering trough made from a cut-down water heater shell.
He would fork hay down from the loft into the mangers, and pitch their trampled bedding and manure through a shuttered side window onto a manure pile outside.
The sheltering barn, divided into stalls with feed mangers at their head and wooden-bar milking stanchions behind, was good protection during the coldest sub-zero nights. Nestled in deep bedding, the sociable goats would cluster together and their body heat warmed the enclosed space surprisingly well. Each morning when Graydon opened the door he was greeted by a chorus of bleats and jostling bodies. The nannies were eager for feed and milking. He always brought a bucket of feed pellets to supplement their alfalfa hay diet. It was a challenge to get the bucket emptied into their feed trough before an eager goat's nose knocked the bucket from his hand.
Chickens thrived on hot feed -- a three-pound coffee can half-filled with "mill run," a flaked grain mixture bought cheaply from the feed store in town -- stirred into a bucket of hot water from the wood kitchen range. He poured warm water into the chicken house water bowls so they could drink before it iced over again. The chicken run lay littered with bowl-shaped blocks of ice.
Other winter chores included splitting massive firewood blocks to useable size for both house stoves. They'd cut wood from fallen or standing dead trees upriver along abandoned logging roads. Sometimes a block would hold a huge knot. Graydon would swing a sledge hammer to drive a splitting wedge down through the knot until it would snap apart, sometimes violently; he would use a single-bit splitting axe to split the blocks down to fit the stoves. His job was to keep the wood boxes for both stoves full. He would save the larger, pine-knot chunks for laying up the parlor stove fire at night. Despite that, the parlor fire would by morning burn down to ashes and a few embers. Getting up in the morning was done surrounded by clouds of one's breath in the frosty upstairs air.
It was a long, cold run to the outhouse in winter. Pails under each bed were carried and emptied at morning call.
Winter life at the Wolf Creek homestead seemed very closed in for Graydon, sheltered, his world centered around the warm house and the sheltering barn. He swaddled himself in boots, sweater, a heavy coat, hat and gloves, before coping with the frozen spaces outside. Work centered on feed, firewood, chopping ice, carrying water, and shoveling snow. Trips to town were infrequent, and were a challenge. The Blue Goose was reluctant to start and, once started and running, was difficult to steer in straight lines down the rutted, icy roads.
By mid-winter the winterscape expanded greatly for Graydon. He acquired a pair of war-surplus trooper skis, laminated hickory, seven feet long, with leather bindings that laced tightly over his well-greased work boots, and ski poles, a pair of shoulder-high poles with laced leather grips, straps, and wide snow baskets. These skis and poles were used by ski-troopers during the war. They were painted white for camouflage.
Graydon weighed a third what an equipped ski-trooper would weigh. When he strapped them on and took off across the barnyard he literally floated across the snow. A new teacher at school was a ski enthusiast. He encouraged the few students who showed any interest in the sport. Downhill skiing was becoming better known in the rural Cascade region; Leavenworth was making a name for itself with a ski-jumping hill and people were beginning to notice.
Graydon got a beginner's book explaining kick-turns, climbing steps, and long, sweeping telemark turns on long skis. There were some references to Scandinavian cross-country ski history and techniques. Graydon used the spare daylight hours of the short winter weekends to practice.
A kick-turn required that he balance himself on one ski, using his poles to steady himself, while he lifted the free ski upright to get its tail clear of the snow so he could pivot both his leg and the ski around in a turn to face backwards. Right. The first several tries left him laying in a tangled heap of poles and skis. But, he was blessed with long legs so after a few weekends practice he was able to kick-turn and take off across the barnyard in a gliding stride. He was anxious to take off across fields and slopes for some wintertime hikes.
Wolf Creek had to be crossed with extreme caution. Hay-stack mounds of snow covered the boulders and ice but sometimes concealed a gaping hole underneath. An unwary step could lead to disaster. The crossing had to span between gentle slopes that Graydon could traverse with his long skis, down one side at an angle, across the snow packed ice, and then up the other side, carefully lest he slide backwards, bury his ski tails, and fall over in a heap and roll down into the creek.
The snow-covered creek-side slopes were so sheltered by the pines that they were deep, soft, and yielding. He would sink up to his knees in the soft powder, his skis buried out of sight with only their tips breaking out ahead as he lifted each in turn to glide forward. His pole baskets would sink as deeply, and a big platter of snow would come up with each lift as he poled ahead.
He could travel! Deep snow was no barrier between himself and the long, solitary stretches of the abandoned homestead fields on the northwest side of the canyon, tucked under the Virginian Ridge slope. He could climb the spur road beyond Purdy's cabin, up a long grade and its switch-backs, to emerge on the first bench and trek another half mile to Jim and Violet Brightman's ranch.
Their ranch, alone on Virginian Ridge, comprised 300 acres of dry land hay fields, a low-slung house, and a small, sprawling barn that sheltered a handful of cattle, a saddle horse, and a beautiful team of dappled grey workhorses. Jim lived a simple but rich life with his wife and his ranch. The Brightman ranch became a second home to Graydon. The sloping fields above their home were a winter park for long, swooping runs on his oversize, floating skis.
But of all the winter treasures on his solitary treks, the most amazing, secret one was the meadow lodge, hidden in a small circular meadow high up on another ridge slope, south of the canyon's mouth, just below the heavy timber. It had been abandoned and neglected for many years. Perhaps some absentee owner remembered when and why it had been abandoned, but this was not for Graydon to know. What he did know was that a fall hike with his rifle had discovered the two-story building with its huge stone fireplace and hearth. The mortared rock chimney emerged as a massive column up through a roof heavy with thick hand-split cedar shakes. The fireplace room was huge. A kitchen and utility room lay behind. A stairway led upstairs to two empty bedrooms and a game room holding a felt-covered card-gambling table with recessed poker chip trays.
The windows were intact; the outside kitchen door stood half open, sagging on its hinges. The large front door swung freely on its hinges and easily latched shut. Groundhog burrows dug under the kitchen porch steps at the back corner. Apple trees stood scattered out front and a patch of rhubarb still grew where someone had planted them. Several acres of tall grass stretched below the lodge, but small pines and chokecherry bushes were encroaching around the edges. No fences remained except for a few half-rotted posts that had not yet fallen over.
It become a secret refuge for Graydon, welcoming, secluded, with no one and nothing within sight or hearing. It was a long hike from the Wolf Creek homestead, but if he had the best part of a day he could hike over, spend a few hours exploring or resting or hunting; then take his meal beside the huge, open hearth in the main room, and hike back home in time for evening chores.
With skis, he had winter access to his lodge and it became his most closely-guarded winter secret. There was no one to follow his ski tracks once they threaded through the red willow thickets and across the creek, up and through the pine forest, across the snow-smothered meadows, and up to the lodge at meadow's edge. Graydon was in a private universe, silent, deep, and solitary.
By late autumn he had gathered fallen pine limbs and snapped them into useable fireplace lengths. He stockpiled a supply in the woodshed beside the kitchen door and stacked more by the fireplace. He found fat pine, pitch-saturated wood that when split into slender lengths with his pack hatchet, made instant fire starter. He found a broom in the kitchen closet to keep the main room swept and tidy.
Dee Johns must have realized that Graydon was not only quite different from most other boys, but he was also competent at whatever he chose to do. She trusted him to keep himself safe. She never interfered with his long solitary absences that sometimes extended to overnight trips in the nearby hills. All she asked was to know where he was going, and when he would return. A quiet trust developed between mother and son. Of those things for which Graydon would be grateful, this freedom was one he came to treasure the most.
Chapter 8: Spirits in the Fire
Graydon could feel himself evenly balanced on his skis. He could feel his arms bearing down on his ski poles, planted firmly to each side. Otherwise he felt suspended in space, hanging in milk.
His feet ended at his boot tops and no trace of snow or shadow or outline or slope or mountainside existed in his vision. There was no horizon and no sky. It was a perfect "whiteout," that rare condition of light in which snow and sky are perfectly blended together and there is no trace of shadow or highlight. There is absolutely no visual sense of shape, slope, or horizon. It is, literally, like being inside a milk bowl.
This was serious. The condition had evolved around him as he traversed the snowy slopes high on the flank of Thompson Ridge. The lowering cloud cover was illumined by an overhead sun, throwing everything into perfectly diffused light coming from all directions with absolutely no shadows. His ski tips could either be wholly on the snow or projecting over the lip of a steep precipice. There was no way to see. Up-slope he could see the dark shapes of evergreen trees, and across the valley he could see scattered barns and ranch houses and clumps of trees, and he could see the winding cottonwood bottoms on the valley floor, but all of that was hanging, suspended, in shadowless white.
Recalling the shape of the mountainside and its slope as he remembered it, Graydon eased forward, gliding slowly, advancing one ski and following with the other. He braced himself with his long poles, keeping each basket firmly planted beside himself as he eased forward in slow, gliding steps. A moment of panic gripped him when he felt himself falling forward, his skis plunging downward under him. He fell and landed on his face in the snow. He forgot the jeep track gouged out of the hillside. He had just skied off the steep cut bank and fallen onto the road. He got his skis straightened alongside himself, levered himself up and onto his skis, and dusted the dry, powdery snow from his pants and jacket. Steadying his nerves, he realigned himself to resume his trek to the hidden winter lodge.
---
A brisk fire blazed in the great fireplace; his heavy woollen outer pants and nylon ski jacket hung from crossed ski poles leaning against the rock face to dry. Graydon lay on a pad of blankets, stretched out in the light and warmth from the fire, delighting in the memory of the day's travel, part of it in the unsettling whiteout that had finally resolved itself once he'd reached the edge of the timber and could use the trees for guidance across the snowy track. He'd eaten a hot meal, soup and beans and franks with a slice of homemade bread, and was sipping his second cup of hot tea and honey. He'd planned to stay overnight and would resume his ski trek after an early breakfast of bacon, eggs, and biscuits. He had not brought his rifle on this trek. Winter was a hard time for animals, small and large, and he had no wish to kill anything needlessly. Deer, snowshoe hares, grouse, ravens, weasels (called ermine in their winter black-tipped white coats) were winter companions of his field and forest treks. The rifle was not appropriate gear; there was nothing to fear that was not more afraid of him as a human than he of them; only cougar and bear could pose a possible threat and they had been pushed back miles beyond the valley region by hunters.
That was a preview of Pasayten Pete. To read the rest purchase the book.